Those are among some of the most notable contests in Tuesday's primary elections being held in five states.
Trump has also been zeroed in on the 10 House Republicans who voted to impeach him over the Jan. 6 insurrection. Three of them are on the ballot Tuesday in Washington state and Michigan, as are two members of "the Squad," Democratic Reps. Cori Bush of Missouri and Rashida Tlaib of Michigan.
Meanwhile, Kansas voters could clear the way for the Republican-controlled Legislature to further restrict or ban abortion if they approve a proposed state constitutional change. It's the first referendum vote on abortion policy by a state since the U.S. Supreme Court overturned Roe v. Wade in June.
Ohio is also holding a primary for state legislative races on Tuesday, three months after its statewide and congressional contests — a split system that resulted from legal wrangling over redistricting.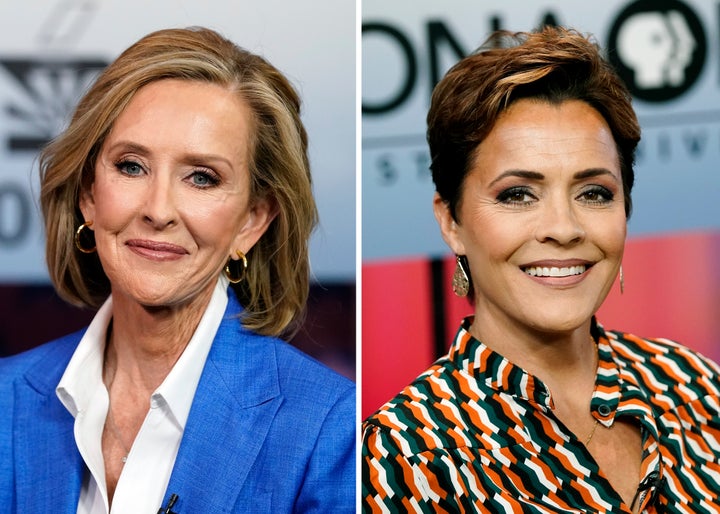 ARIZONA
Trump's endorsed candidates in Arizona all have one thing in common: They have loudly disseminated misinformation about the legitimacy of the 2020 election, despite election officials and Trump's own attorney general saying there is no credible evidence the race was tainted.
Secretary of State Katie Hobbs, a staunch defender of the 2020 election, is strongly favored to win the Democratic nomination for governor.
In the Republican primary for U.S. Senate, Trump has backed tech investor Blake Masters as the candidate to go up against Democratic incumbent Mark Kelly in the fall. Masters, whose campaign has been bankrolled by billionaire Peter Thiel, has called for reducing legal immigration and espoused the baseless "great replacement" conspiracy theory, claiming Democrats are trying to "replace Americans who were born here."
Attorney General Mark Brnovich, another Senate candidate, has been weighed down by lackluster fundraising and fierce criticism from Trump, who says Brnovich did little to advance his election fraud claims. Another top candidate, Jim Lamon, the founder of a solar energy firm, was a fake elector for Trump in 2020, signing a certificate falsely saying that the then-president had won the state.
The Republican primary for secretary of state includes Trump-backed legislator Mark Finchem, a state representative who worked to overturn Trump's 2020 loss; state Rep. Shawnna Bolick, who introduced a bill to let legislators ignore election results and choose their own presidential electors; and state Sen. Michelle Ugenti-Rita, who has long pushed to overhaul election laws. The GOP establishment has rallied around advertising executive Beau Lane in the race.
Ron Watkins, who has ties to the QAnon conspiracy theory, is considered a long shot in his House run. Watkins, a Republican, served as the longtime administrator of the online message boards that became the home of the anonymous "Q." The conspiracy theory is centered around the baseless belief that Trump waged a secret campaign against enemies in the "deep state" and that a group of satanic, cannibalistic child molesters secretly runs the globe.
In the state Legislature, Arizona House Speaker Rusty Bowers, who testified at a Jan. 6 hearing about Trump's pressure to overturn the 2020 election, faces a Trump-backed candidate in his bid to run for the state Senate.