Four people were shot on Saturday during a funeral procession in a western Chicago suburb, authorities said.
According to the Oak Park Police Department, the shooting occurred in suburban Oak Park, Illinois at approximately 1 p.m. on Saturday, June 10.
"The incident is believed to be targeted amongst members of the procession without any impact to any bystanders," police wrote in Twitter post.
Authorities said in a press release that the funeral processional was traveling westbound when a white pick-up truck pulled alongside one of the vehicles in the procession and began firing. No bystanders were shot during the incident.
Police said that two individuals were struck and transported to the Loyola Medical Center. One of the individuals is in critical condition while the other victims is in critical, but stable condition, police said.
FLORIDA MAN ARRESTED NEARLY FOUR DECADES FOLLOWING COLD CASE MURDER IN CALIFORNIA
Two additional victims were shot by stray bullets and transported to Rush Oak Park Hospital and were treated for non-life-threatening injuries.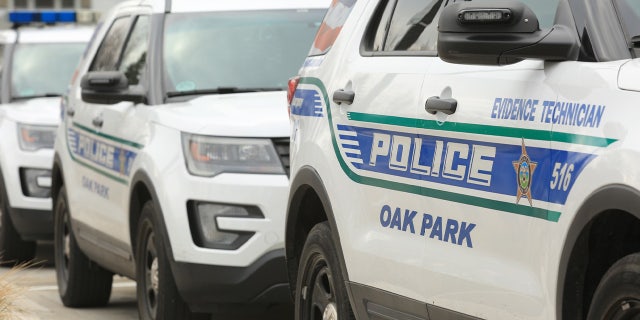 Oak Park Police Chief Shatonya Johnson said that while there is no longer any threat to the community, gun violence "has no place in our community."
MICHIGAN WOMAN WITHDRAWS PLEA, WILL STAND TRIAL FOR 3 YOUNG SONS' DROWNING DEATH IN POND CRASH
"While there is no indication of any further threat to the community stemming from this incident, any act of gun violence such as this does great harm to our collective sense of safety," Police Chief Shatonya Johnson said in a press release. "Our job as law enforcement officials is to bring the individual or individuals responsible for this crime to justice to make clear that senseless gun violence has no place in our community or any community for that matter."
Police officials say the standard protocol is for funeral homes to alert law enforcement agencies along the route of potentially high-risk funeral processions, so officers can assist with traffic flow and the safety of participants. Authorities said that they were given no alert to potential danger prior to the processional.
CLICK HERE TO GET THE FOX NEWS APP
Oak Park police have not released if they arrested anyone or details about the person or people responsible for the shooting.