Texas authorities say that nine individuals were rescued from a rail car Wednesday after attempting to cross the southern border illegally.
U.S. Customs and Border Protection (CBP) officials and the Eagle Pass Fire Department said nine male migrants were found locked in a rail car near Eagle Pass, Texas. All of them were suffering from dehydration and heat exhaustion after being trapped in the rail car for approximately two days, the fire department said.
The rail cars were carrying cases of Corona Extra, and the migrants had to be extracted from a small opening at the top of the stack of beer cases. Eight of the migrants were taken into custody and one was airlifted to Laredo, Texas, for further medical treatment.
In the Del Rio sector alone, there have been more than 200 rescues in the past 100 days, and nine people have died, Border Patrol sources tell Fox News.
HOUSE REPUBLICANS CALL FOR INTEL BRIEFING ON SECURITY THREATS FROM 'OPEN' SOUTHERN BORDER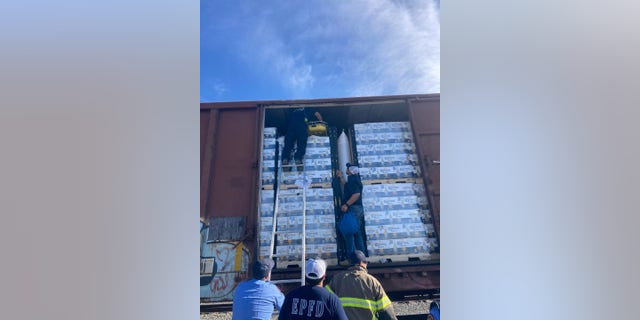 REP. ROY INTRODUCES BILL TO BLOCK ILLEGAL IMMIGRANTS AS HOUSE GOP FIRES UP BORDER PUSH
President Joe Biden visited El Paso, Texas, on Sunday, his first trip to the border amid growing pressure from lawmakers to address record high levels of illegal immigration.
There were more than 2.3 million migrant encounters in fiscal year 2022 alone, topping the then-historic 1.7 million encountered in fiscal year 2021. So far in fiscal year 2023, which began in October, the first two months have outpaced the same period last year with 233,740 encounters in November, compared to 174,845 in 2021 and 73,994 in 2020.
BIDEN DEPARTS EL PASO AFTER BRIEF BORDER VISIT WITHOUT SEEING MOST IMPACTED AREAS, CRITICS SAY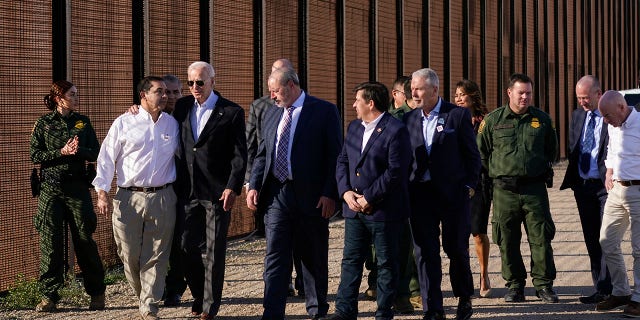 At the border, Biden inspected a port of entry where CBP officers demonstrated how they search vehicles for drugs, money and other contraband smuggled into the United States. Some critics chided the president for not visiting areas most impacted by illegal border crossings, such as Eagle Pass, which was 481 miles away.
"You can look across the ports of entry on the entire southwest border, and that's not where we're seeing the illegal immigration. We're seeing the illegal immigration between the ports of entry," National Border Patrol Council president Brandon Judd told Fox News. "That's the Border Patrol. That's the component of CBP that handles all of this. He did not have any scheduled visits with them."
He added, "You're never going to be able to develop true policies and programs and operations unless you're willing to see exactly what is going on. And he refused to do that."
CLICK HERE TO GET THE FOX NEWS APP
A White House official told Fox News Digital that Biden "visited the busiest port of entry in El Paso to get a firsthand look at enforcement operations. He also visited a federally funded migrant services center to meet with local officials working together with federal officials to support and shelter migrants."
Fox News' Adam Shaw, Ronn Blitzer and Bradford Betz contributed to this report.