The scandalous extramarital affair between ABC News co-hosts Amy Robach and T.J. Holmes is causing "internal drama" at the Disney-owned network – but it's not the only issue causing low morale, according to a pair of current staffers.
"I think it's definitely caused some internal drama and gossip. Everyone's seen the… headlines. I think people thought it would blow over, but new reports keep coming out," a current ABC News staffer told Fox News Digital.
Robach and Holmes have been benched for eight weeks as the network probes whether the lovebirds should be welcomed back to "GMA3," the midday extension of ABC's flagship "Good Morning America" that they hosted together until their affair surfaced last year.
"Absolutely," a second current ABC News staffer told Fox News Digital when asked if the high-profile cheating scandal has affected morale among the rank-and-file.
ABC NEWS BOSS KIM GODWIN UNDER FIRE FOR HANDLING OF AMY ROBACH, T.J. HOLMES AFFAIR: 'IT'S EMBARRASSING'
"It feels like the broadcast people are put on a higher pedestal than everyone else. They're revered. Their thoughts, their opinions are taken into account more than other staffers," they said, suggesting that employees in other departments don't have their grievances taken seriously.
"[The workplace affair] makes the network look bad," the second staffer added. "It's supposed to be a family network. Now all of T.J.'s past transgressions have come out. Even before this story broke, I heard he wasn't a nice person to work for."
The Daily Mail first reported the Holmes-Robach affair in a story that included several intimate photos of the midday ABC News anchors taken throughout November. In the weeks since, the Daily Mail, New York Post, TMZ and other tabloids have essentially covered their every step, keeping scandalous headlines about the Disney-owned network at the forefront. Holmes has since been accused of other affairs with multiple former ABC News employees.
A third source told Fox News Digital that ABC honchos are desperate to find out who is leaking to the tabloids.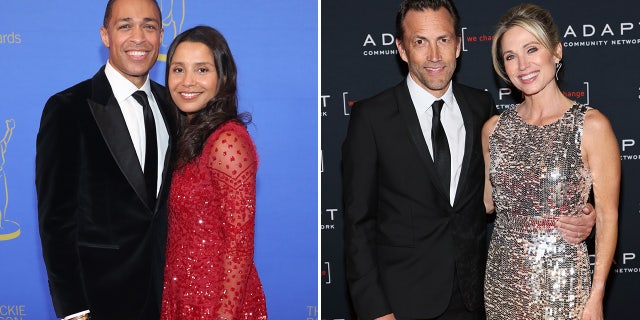 The network first insisted that Holmes and Robach would not be disciplined for their relationship, as both parties were considered consenting adults. They were even allowed to go on air the same week their cheating hit the tabloids, and Holmes and Robach proceeded to downplay it and joke about having a "great week."
The following Monday, ABC News president Kim Godwin did an about-face and pulled Holmes and Robach off the air, claiming the "distraction" had become too significant – but insiders have suggested Disney likely stepped in.
The staffers don't believe the situation was handled well, regardless of whether Godwin or Disney CEO Bob Iger made the call.
"They were on 'GMA3,' joking and making light of the situation. Then, they were on air… flirting," the second staffer continued. "And they weren't taken off-air."
A separate, high-level source pushed back on claims things were handled poorly, saying ABC News couldn't suspend adults because of a consensual relationship but sidelined the duo once more information became available.
Both current employees noted that morale at ABC News has consistently been down — and not just due to Holmes and Robach's affair. Employees dislike a looming return-to-office plan that was put into place as ABC News staffers were already annoyed that an extramarital affair was causing so much negative publicity.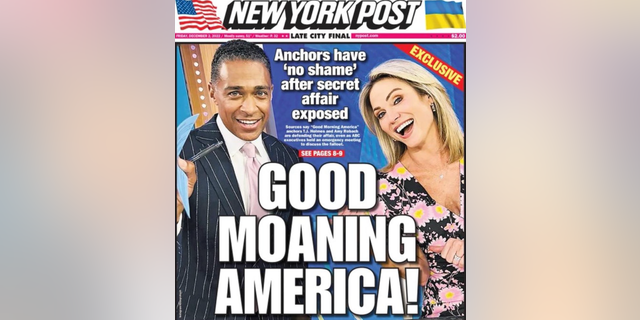 T.J. HOLMES, AMY ROBACH LAWYERED UP AS ABC CONTINUES TO KEEP THEM OFF AIR AMID EXTRAMARITAL AFFAIR PROBE
Earlier this month, Iger announced that starting on March 1 those "currently working in a hybrid fashion will be asked to spend four days a week on-site, targeting Monday through Thursday as in-person workdays," according to an email obtained by FOX Business.
Employees who believe they can perform under the COVID-era work-from-home arrangement learned of the return-to-work policy days after the New York Post spotted Robach leaving Holmes' New York City apartment.
"It's really the recent return-to-office push that is negatively impacting morale," the staffer first explained.
The employees also revealed that a meeting was held this week to address work-life balance where "angry and concerned staffers" engaged in a digital chat. Many were upset about Iger's mandate.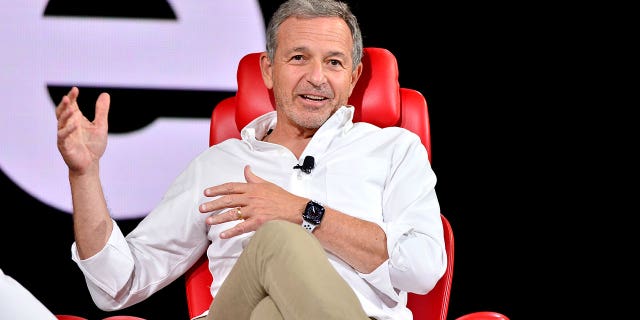 T.J. HOLMES'S ESTRANGED WIFE SLAMS HIS 'LACK OF DISCRETION, RESPECT' OVER AMY ROBACH CHEATING SCANDAL
As the return-to-work drama unfolds, Holmes and Robach have both hired high-powered lawyers and are expected to raise race and hypocrisy issues if ABC News ultimately terminates them. A longtime media executive suggested similar inappropriate relationships involving White men have been overlooked – Holmes is Black. Holmes and Robach have reportedly started mediation with ABC.
ABC News declined comment when reached by Fox News Digital.
Holmes and Robach were both married when their affair began but are now in the midst of divorces with their respective spouses.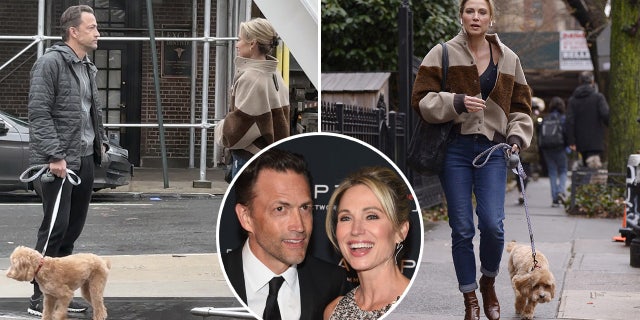 Robach has been married to former "Melrose Place" star Shue for 12 years. Shue and Robach co-wrote a 2021 children's book called, "Better Together," based on their blended family. Holmes has been married to Marilee Fiebig since 2010, and they share one daughter.
Through a divorce attorney, Fiebig recently blasted Holmes' "lack of discretion, respect and sensitivity" after he was pictured kissing Robach in public.
FOX Business' Aislinn Murphy contributed to this report.