The Phoenix Police Department arrested a man on Tuesday for allegedly stealing a statue from the Make-A-Wish Foundation's headquarters of a 7-year-old boy who inspired the creation of the organization.
Troy Burke, 32, was arrested on multiple charges, including for theft, trafficking of stolen property, and drugs, according to jail records.
The statue of 7-year-old Christopher James Greicius was stolen on the evening of Jan. 3. Two people got out of a white sedan and ripped the statue from its position outside the foundation's headquarters.
Portions of the statue were recovered during Burke's arrest. An image released by Phoenix police appears to show the statue sawed into smaller pieces.
Burke admitted to his role in the theft, according to police, who are still trying to identify the second suspect.
JOHN CENA BREAKS GUINESS WORLD RECORD FOR MOST WISHES GRANTED THROUGH MAKE-A-WISH FOUNDATION
Greicius, the inspiration for the Make-A-Wish Foundation, was diagnosed with leukemia when he was 7 years old in 1979.
The Arizona Department of Public Safety made his dreams of becoming a police officer come true by making him an honorary DPS officer two days before he died and giving him a uniform.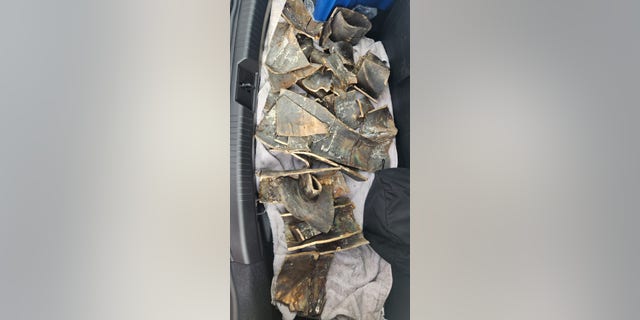 Leslie Motter, the CEO of Make-A-Wish America, thanked police for their work in retrieving the statue.
"Chris' statue is a daily reminder that there's no limit to the impact that a wish can have, and I'm so relieved for our staff, supporters and co-founders — especially Chris' mom, Linda — that the statue was found," Motter told Fox News Digital in a statement.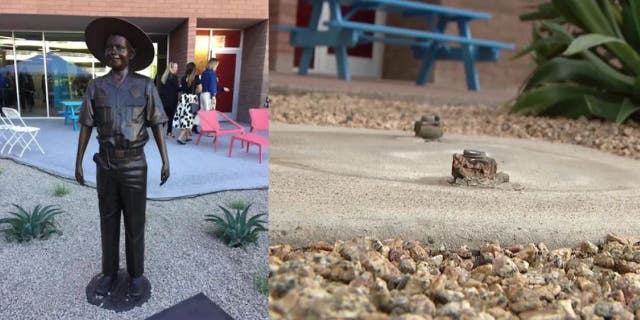 Linda Pauling, the boy's mother, put out an urgent call for the public to help locate her son's statue, noting its importance to the foundation.
"For me, it's every child that needs a wish. It's hope, strength and joy. Hope that they are going to get their wish, strength when they get it, and joy from memories years to come," Pauling told Fox 10 Phoenix when the statue was first stolen.
CLICK HERE TO GET THE FOX NEWS APP
Since helping make Greicius' dreams of becoming a law enforcement officer come true four decades ago, Make-A-Wish has granted more than half a million wishes in nearly 50 countries.
Fox News' Andrew Mark Miller contributed to this report.