Social media critics tore into President Joe Biden on Wednesday after the president compared a small fire in his home to the destruction wrought by the natural disaster in Hawaii and Hurricane Idalia going on in Florida.
Users slammed the president for seemingly making the tragedy about himself and embellishing how destructive the actual fire was to his house.
Several users fact-checked Biden's claims, pointing out that the fire first respondents put out at his residence didn't extend out of the kitchen, a far cry from the damage many people in Hawaii have suffered due to historic wildfires that have killed over 100 people in the state.
BIDEN BLASTED FOR COMPARING KITCHEN FIRE IN HIS HOME TO DEVASTATING MAUI BLAZE: 'ABSOLUTELY DISGUSTING'
Biden made his comparison during a speech on ongoing recovery efforts in Maui, which also included some comments on the state of Florida as it faces Hurricane Idalia.
Attempting to relate to the two disasters, Biden brought up dealing with lightning striking his home and causing a small fire. As he told it from the podium, Biden and his family were forced to stay out of the home for more than half a year for repairs.
After talking about devastation in Hawaii and multitudes of people being without homes, the president said, "I didn't [have] anything like that, but lightning struck my house. We had to be out of that house for about seven months while it was repaired, because so much damage was done to the house."
"Half the house almost collapsed," he added.
Conservatives on social media blasted Biden's words, with some providing the proper context surrounding what really happened at his home.
GOP Rapid Response Director Jake Schneider seemed exasperated with Biden's anecdote, posting to X, "You gotta be kidding me."
GOP comms person Matt Whitlock posted, "Oh my gosh he did it again. Days of terrible coverage for comparing almost losing his car to a wildfire that killed over a hundred people with hundreds still missing …. and he just did it again."
Whitlock stated Biden did it "again," because only days ago, while visiting Hawaii's disaster area, he claimed a fire at his home almost resulted in the death of his wife, his cat, and Jill Biden.
OVERWHELMING MAJORITY OF AMERICANS SAY BIDEN IS TOO OLD TO BE EFFECTIVE IN A SECOND TERM, POLL FINDS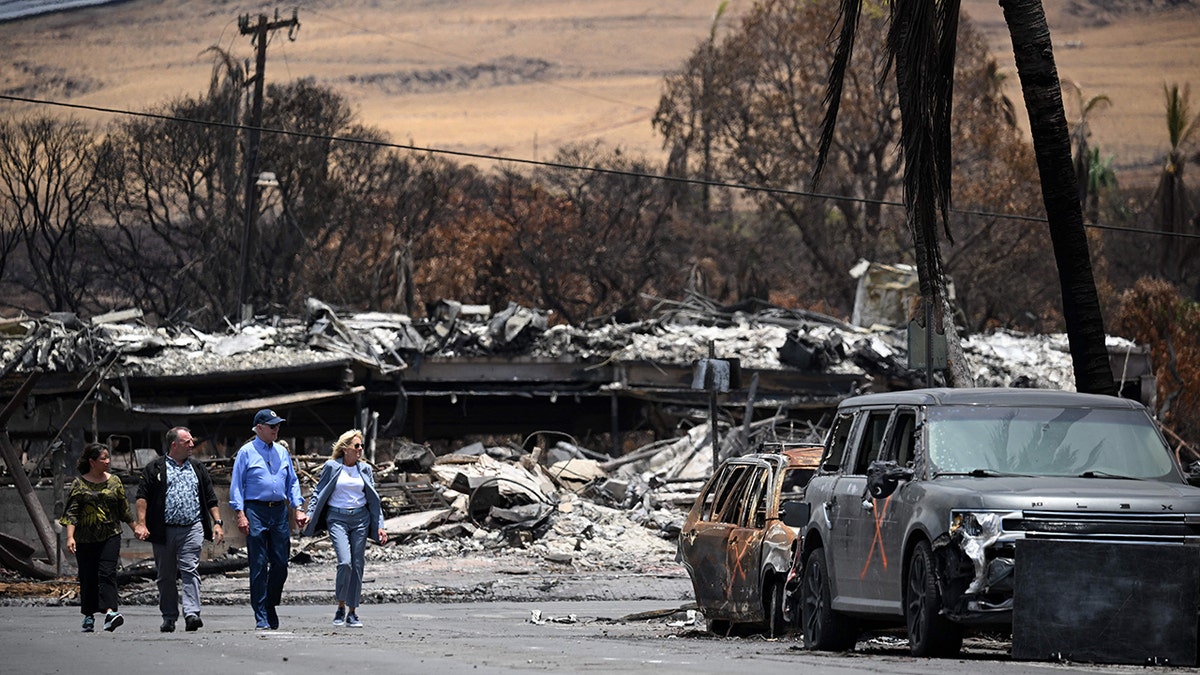 At the time he said, "I don't want to compare difficulties, but we have a little sense, Jill and I, what it's like to lose a home. Years ago — now 15 years ago — I was in Washington doing 'Meet the Press.' It was a sunny Sunday, and lightning struck at home on a little lake that's outside of our home — not a lake, a big pond — and hit a wire and came up underneath our home into the heating ducts — the air conditioning ducts."
He added, "To make a long story short, I almost lost my wife, my '67 Corvette, and my cat. But all kidding aside, I watched the firefighters, the way they responded."
Fact-checking site "Check Your Fact" reporter Elias Atienza shared a report that corrected Biden's anecdote in Hawaii but also applied to his latest rendition.
In his post, Atienza wrote, "The fire department said last year the fire was insignificant. The article he shared with it stated, "This story, while containing an element of truth, embellishes what actually occurred. The fire, which was caused by lightning, was contained to the kitchen and was under control within 20 minutes, according to a 2004 Associated Press report."
And former Sen. Ted Cruz, R-Texas, comms person Steve Guest posted, "Joe Biden is lying about his kitchen fire… again."
He shared a screenshot of an article from an undisclosed outlet that stated, "Lightning struck the home of Sen. Joseph Biden, starting a small fire that was contained to the kitchen. Firefighters arrived to find heavy smoke coming from the house, but were able to keep the flames from spreading beyond the kitchen."
CLICK HERE TO GET THE FOX NEWS APP
For more Culture, Media, Education, Opinion, and channel coverage, visit foxnews.com/media.