RAMALLAH, West Bank (AP) — U.S. Secretary of State Antony Blinken brought his diplomatic push on the Israel-Hamas war to the occupied West Bank on Sunday, meeting with Palestinian President Mahmoud Abbas in the Biden administration's latest bid to ease civilian suffering in the Gaza Strip and begin to sketch out a post-conflict scenario for the territory.
On a stop not announced in advance, Blinken traveled to Ramallah in an armored motorcade and under tight security just hours after Israeli planes struck a refugee camp in Gaza, killing at least 40 people and wounding dozens, Gaza's Health Ministry said. Despite the secrecy and the U.S. State Department's refusal to confirm the trip until after Blinken had left the West Bank, there were protests against the diplomat's visit and U.S. support for Israel as word of his arrival leaked.
Neither man spoke as they greeted each other in front of cameras and their meeting ended without any public comment.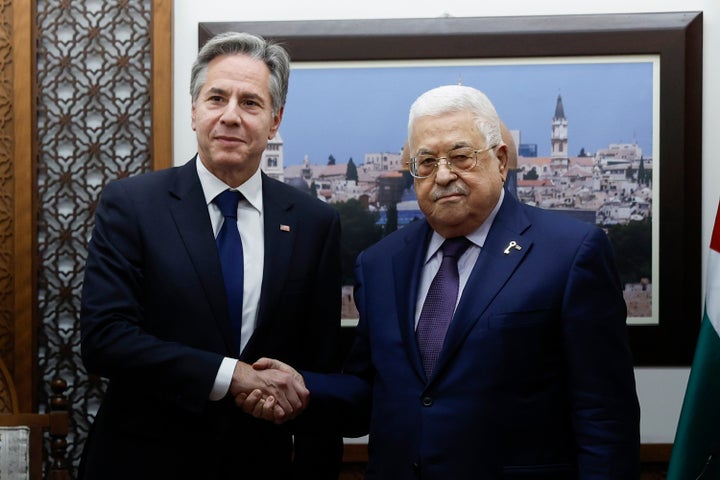 A senior American official traveling with Blinken said stressed the U.S. commitment to pressing Israel to protect civilians in Gaza, increase humanitarian aid supplies and rein in and punish extremist Jewish settler violence against Palestinians in the West Bank.
Blinken also told Abbas that the U.S. was pushing Israel to fully restore suspended tax remittance transfers to the Palestinian Authority. Those funds were partially unblocked last week, but the Palestinians want the whole amount. In addition, Blinken said the U.S. envisions the Palestinian Authority as "playing a central role" in any post-Hamas administration in Gaza, according to the official, who spoke to reporters on condition of anonymity to detail private discussions.
Abbas, meantime, said the Palestinian Authority would only assume power in Gaza as part of a "comprehensive political solution" to the Israeli-Palestinian conflict, according to the official WAFA news agency. Abbas condemned Israel's bombardment of Gaza as a "genocidal war" and urged Blinken "to immediately stop them from committing such crimes," the agency reported.
He called for an immediate cession of the war, and the delivery of humanitarian aid and fuel, and the restoration of water and electricity in Gaza. The Palestinian leader said "military and security solutions" would not bring security to Israel, but that "security and peace" would be achieved only through ending the occupation and establishing a Palestinian state on the pre-1967 Mideast war borders with east Jerusalem its capital, according to the report.
Earlier, the U.S. State Department said Blinken reaffirmed the U.S. commitment to the delivery of humanitarian assistance and the resumption of essential services in Gaza and made clear that Palestinians must not be forcibly displaced. Blinken and Abbas discussed efforts to restore calm and stability in the West Bank, including the need to stop the violence against Palestinians and bring to account those who are responsible, in reference to attacks by Israeli settlers.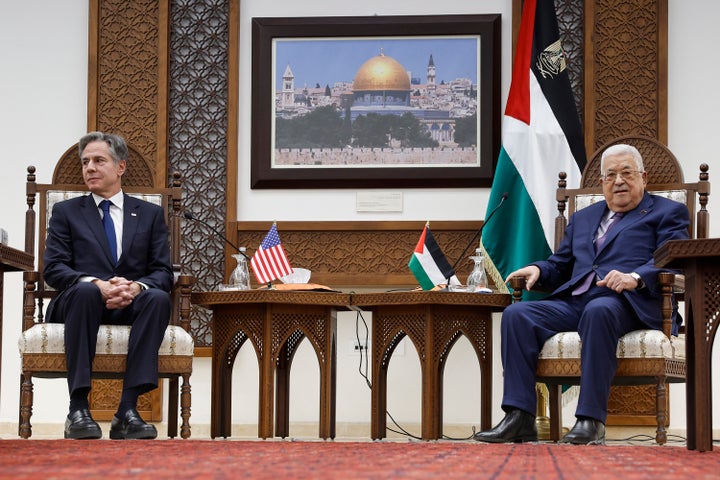 The meeting with Abbas, whose Ramallah-based Palestinian Authority has not been a factor in Gaza since Hamas took it over by force in 2007, came at the start of Blinken's third day of his latest Mideast mission, his second since the surprise Hamas attack against Israel on Oct. 7. Blinken visited Israel and met with Prime Minister Benjamin Netanyahu on Friday before meeting in Jordan with Arab ministers Saturday.
At each stop, Blinken has offered firm U.S. support for Israel's right to defend itself but also stressed that it must adhere to the laws of war, protect civilians and increase humanitarian aid supplies to Gaza. To do that, as well as to ease the flow of foreigners fleeing Gaza, he has made the case that Israel should implement rolling humanitarian pauses to its airstrikes and ground operations, something that Netanyahu has thus far flatly rejected.
U.S. officials believe that Netanyahu may soften his opposition if he can be convinced that it is in Israel's strategic interests to ease the plight of Palestinian civilians in Gaza. The soaring death toll has sparked growing international anger, with tens of thousands from Washington to Berlin taking to the streets over the weekend to demand an immediate cease-fire.
The Arab foreign ministers with whom Blinken met in Amman – from Jordan, Egypt, Saudi Arabia, Qatar, and the United Arab Emirates – issued the same demand. But Blinken said the U.S. would not push for one.
Arab states are resisting American suggestions that they play a larger role in resolving crisis, expressing outrage at the civilian toll of the Israeli military operations but believing Gaza to be a problem largely of Israel's own making.
Related