On her 14th wedding anniversary to husband Bruce Willis, and their first since his dementia diagnosis, Emma Heming chose to reflect.
Heming shared intimate video footage from the couple's vow renewal in 2019 from Turks and Caicos.
"On our 10th wedding anniversary we decided to renew our vows in the same place we said 'I do' back in 2009. I'm so happy we did. Seize every opportunity to unite and celebrate with family and friends," she captioned the video.
"Those are the moments and beautiful pockets of memories that you get to hold on to for a lifetime. And we get to keep those memories safe and alive for the ones that might not be able to."
BRUCE WILLIS' WIFE SHARES EMOTIONAL POST ABOUT CELEBRATING WEDDING ANNIVERSARY AS STAR'S BRAIN IS 'CHANGING'
The renewal was a joyous occasion that brought the expansive Willis family to the island.
Heming wrote, "A big shout out to our videographer @demimoore, our wedding singers @rumerwillis @scoutlaruewillis and our two flower girls Mabel Ray & Evelyn Penn," referencing Willis' ex-wife Demi Moore, two of their children Rumer and Scout, as well as her own children with him, Mabel Ray and Evelyn Penn.
BRUCE WILLIS' WIFE PLEADS WITH PHOTOGRAPHERS TO LEAVE HUSBAND ALONE AFTER DEMENTIA DIAGNOSIS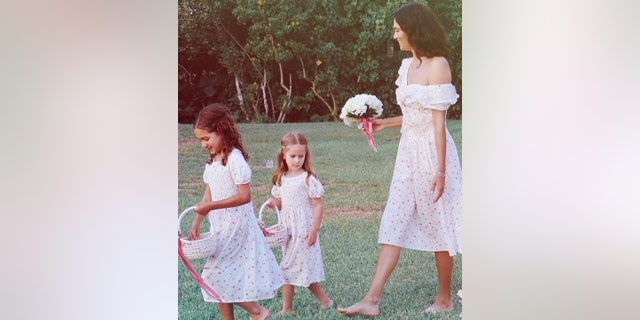 CLICK HERE TO SIGN UP FOR THE ENTERTAINMENT NEWSLETTER
Their original officiant, Steve Eads, married the couple again during the 2019 ceremony.
In her commemorative post, Heming also shouted out "sweet family and friends for always showing up for us," including Willis and Moore's youngest daughter Tallulah and her mother Zorina, as well as others.
She included the hashtags "make time" and "make memories."
The post came after Heming had previously shared a heartbreaking message about "special occasions" and the toll they can take on caregivers.
"Today marks 14 years of marriage to the greatest love of my life," she shared beneath a photo of a flower bouquet. "I woke with my heart full but what my mind kept going back to was another persons act of kindness yesterday I wanted to share as it inspired the heck out of me. In passing at a school event for our children, I mentioned to my friend that our anniversary was tomorrow. Cut to, I get a text from my friend later that day that said she left 'a little something' for me at my door. It was this sweet bouquet of flowers (pictured) with a note that said Happy Anniversary amongst other things."
"It got me thinking about how hard these types of 'special occasions' can be on caregivers," she added. "When usually our person would acknowledge the event, now their changing brains just can't. And that is what it is. So my point is this. If you know someone that is looking after someone else, don't ask what you can do, just do. This random act of kindness will honestly stay with me for a long time. I love you Juliya. You singlehandedly made this day special for us," she concluded.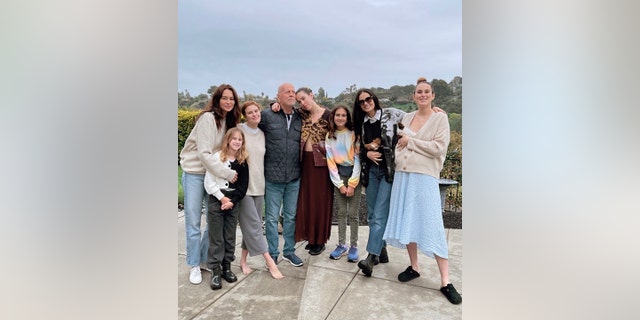 CLICK HERE TO GET THE FOX NEWS APP
Just days earlier, the family gathered to celebrate their patriarch's 68th birthday.
Moore shared a video of the group to her Instagram, which included his five daughters and wife Heming serenading Willis with a song before presenting him with a pie.
Last March, it was announced that Willis would be stepping away from his acting career due to an aphasia diagnosis. In February, his family revealed his condition had developed into frontotemporal dementia.