Newly-released body camera footage shows a Northern California sheriff's detective saving an infant girl's life with CPR after she was having trouble breathing.
Humboldt County Sheriff's Office released the April 13 bodycam footage Wednesday.
Detective Nick Carnahan and Cpl. Sydney Arnold were on a special assignment in the Eureka area, when they got a call about a choking baby.
Video shows Carnahan tapping the baby's back and performing CPR by blowing air into her nose and mouth.
GOV. NEWSOM DIRECTS NATIONAL GUARD TO HELP COMBAT SAN FRANCISCO'S FENTANYL CRISIS
The baby's face was purplish until the CPR successfully worked after about a minute, when she began to cry.
The four-month-old was then placed into an ambulance and taken to a hospital.
CALIFORNIA DEMOCRAT ADMITS BAN ON STATE TRAVEL TO RED STATES DIDN'T WORK: 'IT SEPARATES US'
"It was later determined that the infant had aspirated and the pair's quick actions saved the infant's life," Humboldt County Sheriff's Office said in a statement, adding that they shared the video with the permission of the family.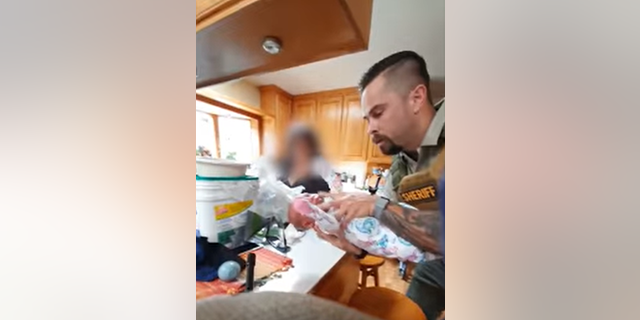 CLICK HERE TO GET THE FOX NEWS APP
According to the National Institute of Health, choking is a leading cause of death for children in the United States.
Children between the ages of 1 and 3 are especially at risk.