Firefighters in California raced to rescue a mother and daughter trapped inside a vehicle after a sinkhole opened in a roadway Monday evening and swallowed two cars as storms continue to pound the state, according to officials and local reports.
The incident happened just before 7:30 p.m. in the 11400 block of Iverson Road in Chatsworth as heavy rainfall drenched the area, the Los Angeles Fire Department said.
Firefighters arrived to find one car on top of another in the sinkhole, which officials estimated was already 15 feet deep and growing as it filled with water inundating the street.
While two people in a pickup truck that fell on top of the lower car were able to exit the vehicle without help, two others remained trapped inside the lower car.
CALIFORNIA CREWS RESCUE FAMILY FROM SUV ENGULFED BY RAGING FLOODWATERS
Andrew Wordin, LAFD battalion chief, said the lower car began to shift, "sink and roll."
"More water was flowing down from the street and was filling the hole," Wordin said. "We had to get these folks out of this car."
DANGEROUS WEATHER CONDITIONS CONTINUE IN CALIFORNIA AS TENS OF THOUSANDS FORCED TO EVACUATE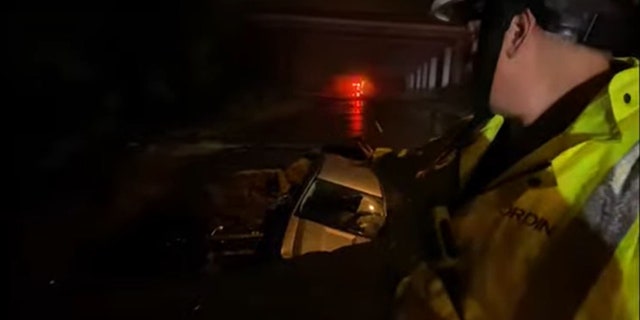 Firefighters launched a high-angle rescue using rope and an aerial ladder to lower one crew member into the growing sinkhole. Firefighters hoisted one victim at a time from the sinkhole to safety.
The woman and girl were treated at a hospital for minor injuries, LAFD spokeswoman Margaret Stewart told FOX11 Los Angeles.
A team of 50 firefighters was involved in the rescue in the suburban Los Angeles neighborhood.
CLICK HERE TO GET THE FOX NEWS APP
California has faced a relentless string of storms that began last week and have swamped roads, turned rivers into gushing flood zones and forced thousands of people to flee from towns with histories of deadly mudslides.
The Associated Press contributed to this report.