A 46-year-old man was fatally shot by a fellow campaign staffer while handing out flyers for a progressive political group in Philadelphia ahead of the city's upcoming mayoral race.
The death on the campaign trail occurred late Monday afternoon in East Germantown in the 2000 block of Church Lane when two staffers reportedly ran into one another on the street around 4 p.m.
Both staffers, who remain unidentified by police, were carrying guns when they crossed paths. According to police, the two got into an argument on the street that quickly turned deadly when the 22-year-old drew his gun and shot the 46-year-old canvasser.
The unnamed 46-year-old victim was not pronounced dead until 4:24 p.m., when he reached Albert Einstein Medical Center to be treated for a gunshot wound in the left armpit, according to police.
BATTLE FOR PENNSYLVANIA HOUSE TO BE DECIDED BY VOTERS IN PHILADELPHIA SUBURBS
Philadelphia Police Staff Inspector Ernest Ransom, recently appointed head of the Homicide Unit, suggested this was not the staffers' first meeting, telling the Philadelphia Inquirer they "had always had a beef."
Police are investigating the shooting and whether self-defense was involved. The alleged shooter, who at the time was legally carrying a firearm, was immediately taken in for questioning and has reportedly been fully cooperative with police.
CANDIDATES IN PHILADELPHIA'S MAYORAL RACE HAVE DIFFERING APPROCHES WHEN IT COMES TO THE CITY'S CRIME PROBLEM
One PA, a progressive political group in Pennsylvania, confirmed the victim was one of its staffers.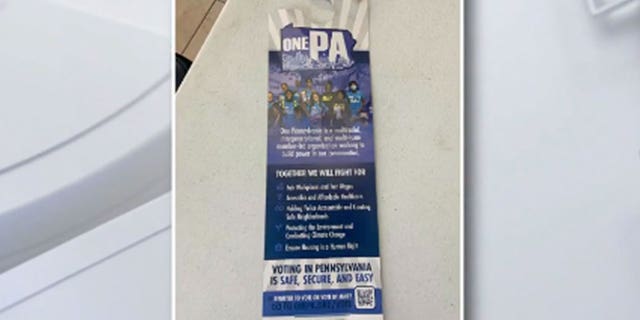 "Today, a One PA team member tragically lost their life," OnePA Executive Director Steve Paul said in a statement released after the incident. "We are mourning this senseless loss and continuing to gather the facts and investigate what happened."
The fatal shooting occurred just days before the city's May 16 Democratic mayoral primary election with issues of public safety are top of mind among candidates vying for the nomination.
Helen Gym, one of the Democratic mayoral candidates, released a statement on Twitter regarding the incident.
CLICK HERE TO GET THE FOX NEWS APP
"I was devastated to hear about the tragic death of a canvasser today. My thoughts are with the family of the victim, the One PA community, and everyone impacted by this irrevocable loss," Gym wrote. "Though the canvasser was not part of our campaign, this loss is deeply felt by all of us."