One of Canada's leading news outlets is under fire after it broadcast a segment introducing young children to drag performers.
In a CBC News story entitled "Queens and kids in class: An honest conversation about drag, gender and dress-up," several children that appear to be grade school-aged talk with a man or woman in full drag makeup, hair and apparel about what it means to be a drag queen.
The children appear uncomfortable, with two girls even admitting they were "nervous" to talk to the male drag queen.
In the video, the drag performers attempt to connect with the kids over shared hobbies and experiences of being bullied. The performers tell them that drag queens have fun, tell jokes and wear shiny jewelry. They tell the children that drag clothes and makeup are for everyone.
CANADIAN PASTOR ARRESTED SECOND TIME FOR PROTESTING CHILDREN'S DRAG QUEEN EVENTS: 'SICK, TWISTED PERVERSION'
The male performer asks a young girl if he can be "her favorite drag performer" at one point in the video.
The news organization, which receives some taxpayer funding like NPR and PBS do in the United States, received scrutiny over the segment.
Twitter accounts "Libs of Tik Tok" and "End Wokeness" shared the video, and accused the taxpayer-funded news agency of trying to "normalize" drag to children.
Former New York congressional candidate John Matland noted how some of the kids were clearly uncomfortable and blasted their parents for allowing them to go on the program to "virtue signal."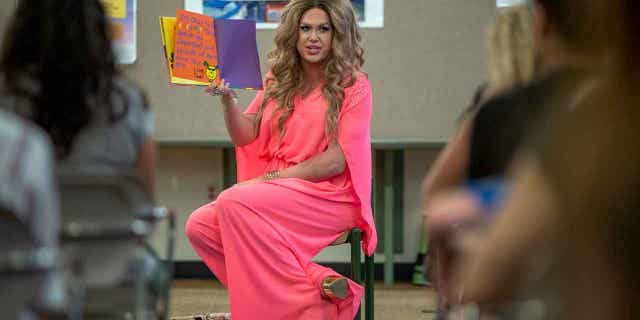 DRAG QUEEN STRADDLES GIRL AT NORTH CAROLINA PUBLIC SCHOO, VIDEO SHOWS
Director and producer Robby Starbuck wondered if the boy in the news segment was too uncomfortable with the experience to speak up.
"The boys eyes at the start tell you everything about what he really wants to say," he tweeted.
Several Twitter users said drag was adult entertainment and wondered why there was a push to bring children into it.
Maxime Bernier, Canadian politician and founder of the People's Party of Canada, called for the station to lose its taxpayer funding. "#Defund CBC!" he tweeted.
Canadian conservative podcast host Harrison Faulkner went further, saying the news outlet should be shut down over the segment.
"The CBC used our money to create a video attempting to normalize drag queens for kids in classrooms. Defunding is not enough. The complete and total shutdown of the CBC is the ONLY reasonable option at this point," he wrote.
The CBC did not immediately respond to Fox News Digital's request for comment.
CLICK HERE TO GET THE FOX NEWS APP