The feud between St. Louis Cardinals manager Oliver Marmol and one MLB umpire is already heating up, with Marmol calling the official out for his "lack of class as a man" over an apparent snub during the Cardinals' spring training season opener over the weekend.
Marmol, 36, did not hold back when detailing the interaction he had with umpire C.B. Bucknor before the start of Saturday's game against the Washington Nationals where Bucknor refused to shake his hand during the lineup card exchange.
"I went into that game pretty certain of my thoughts on him as an umpire," Marmol said. "They weren't very good, and it shows his lack of class as a man. I chose my words wisely. I just don't think he's good at his job, and it just showed his lack of class as a man."
PADRES, MANNY MACHADO FINALIZING MASSIVE CONTRACT EXTENSION: REPORTS
The duo is clearly not on good terms following their last interaction in August when Bucknor ejected Marmol from a game after he protested a strike call by Bucknor against Nolan Arenado.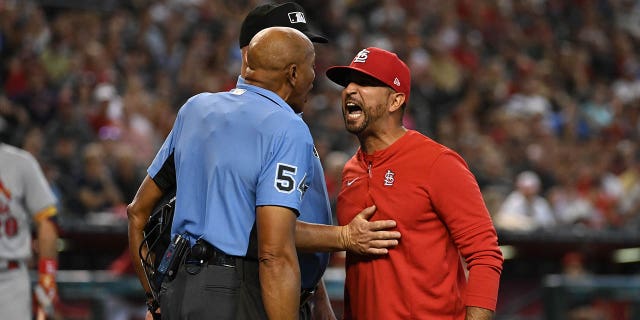 Marmol explained Saturday that shaking Bucknor's hand had little to do with keeping the peace and more to do with good sportsmanship.
CLICK HERE FOR MORE SPORTS COVERAGE ON FOXNEWS.COM
"It's not an olive branch," he said. "It's just respect. You can have disagreements. You still go to home plate. Any time I get thrown out of a game, I will go to home plate the next day for that very purpose. It's unfortunate."
"I went out to home to shake his hand. He didn't want to. He has zero class."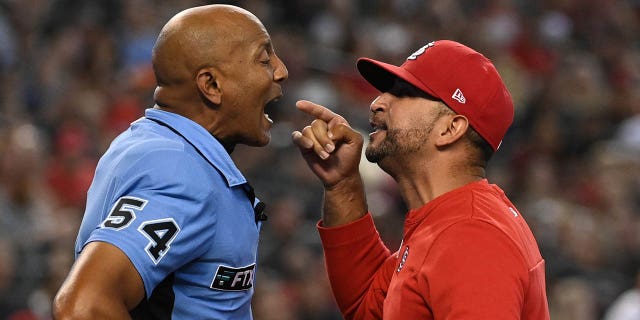 CLICK HERE TO GET THE FOX NEWS APP
The icy relations seemingly had no impact on the rest of the crew – Marmol shook hands with the other three umps.
The Associated Press contributed to this report.