Two-time Super Bowl winner Travis Kelce was spotted Game 1 of the World Series, but music superstar Taylor Swift did not appear to be in attendance.
The Texas Rangers star Adolis Garcia crushed a home run in the 11th inning to lift his team to an incredible comeback victory in Game 1 on Friday night. Earlier in the game, television cameras showed Kelce watching the game from one of the luxury suites inside Globe Life Field.
The tight end appeared to be in a suite in the ballpark while wearing a multicolored flannel and a green hat.
CLICK HERE FOR MORE SPORTS COVERAGE ON FOXNEWS.COM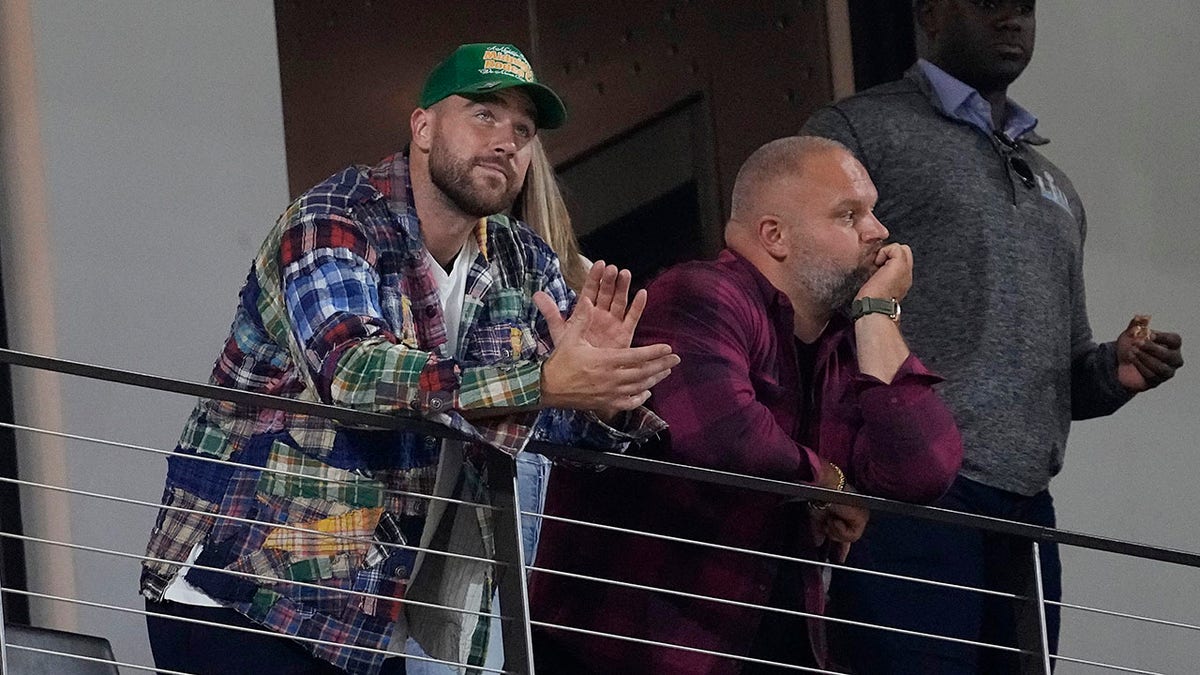 Former New York Yankees pitcher CC Sabathia and Texas native and former President George W. Bush were also in attendance. Bush threw out the game's ceremonial first pitch.
2023 WORLD SERIES: EVERYTHING TO KNOW ABOUT THE FALL CLASSIC BETWEEN THE RANGERS AND DIAMONDBACKS
At one point during the game, Kelce appeared on the ballpark's big screen and danced in his seat to Swift's hit song "Shake It Off." The NFL star held up one arm as he shook his hand and smiled as the track played over the stadium speakers.
A TikTok user post of video that appeared to show Kelce dancing to Swift's "Love Story" at an apparent postgame celebration with a group of friends.
Kelce's performance on the football field has been on somewhat of an uptick lately, which some are crediting to Swift's appearances. A television graphic that was shown during a recent Chiefs' game showed that Kelce was averaging 108 receiving yards per game. When the All-Pro tight end was "left to his own devices" he was averaging 46.5 yards per contest.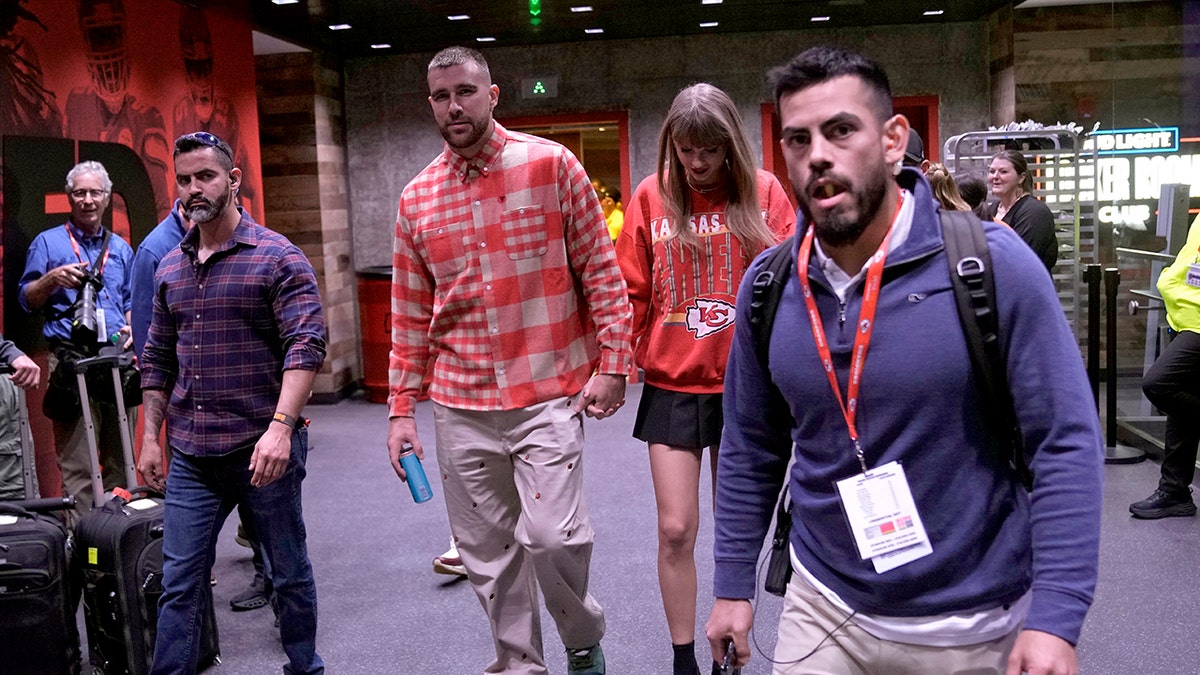 Kelce addressed the stats about his production during a recent episode the "New Heights" podcast.
"Hard for me to wrap my head around that," Travis said during the podcast that he does with his brother, Philadelphia Eagles star Jason Kelce, in reference to the now-viral stats.
Though Swift seemed to be elsewhere on Friday night, she has been in attendance at four of the last five Chiefs games. Kansas City has won every game that the pop star has attended.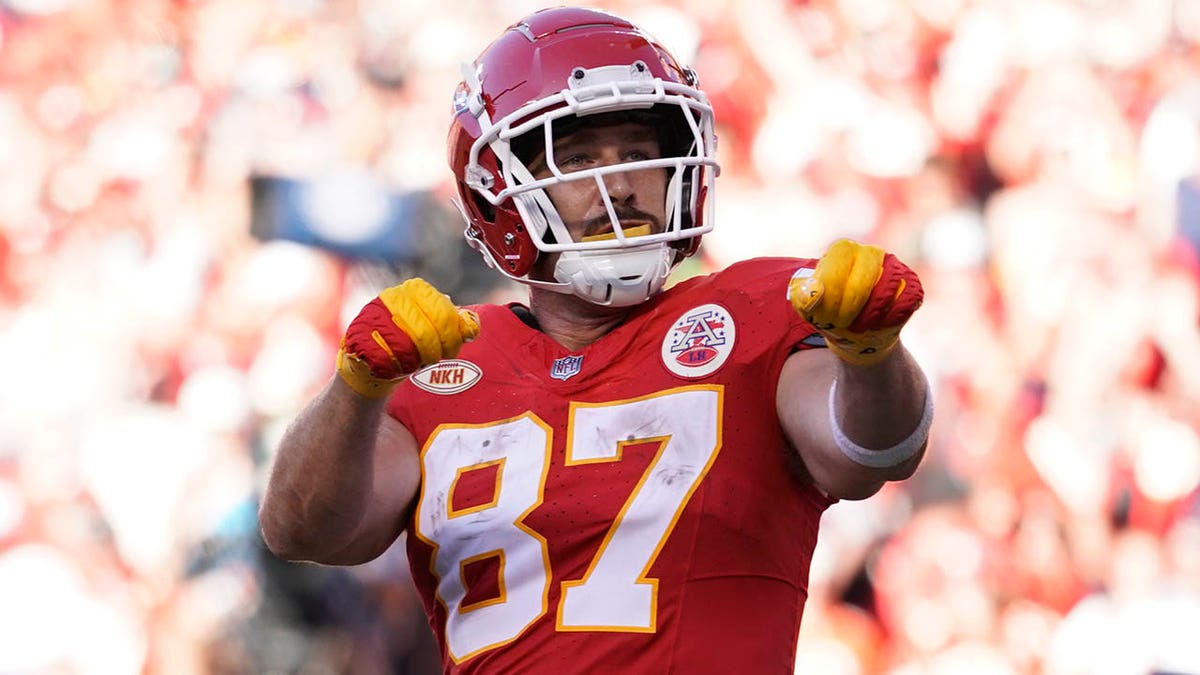 In an interview that aired on October 12, during the first Chiefs-Broncos matchup of the season, Kelce said he was enjoying the "chaos" that comes with his potential high-profile romance.
"I embrace it," the All-Pro tight end said in an interview with Prime Video's Taylor Rooks. "I love the chaos. Knowing everybody is looking at the Kansas City Chiefs, and then you add in all the madness that's happening out here in the world, and it's a whole bunch of fun for me right now."
CLICK HERE TO GET THE FOX NEWS APP
The Chiefs will travel to Denver for their game against the Broncos. Kickoff is scheduled for 4:25 p.m. EST on Sunday.