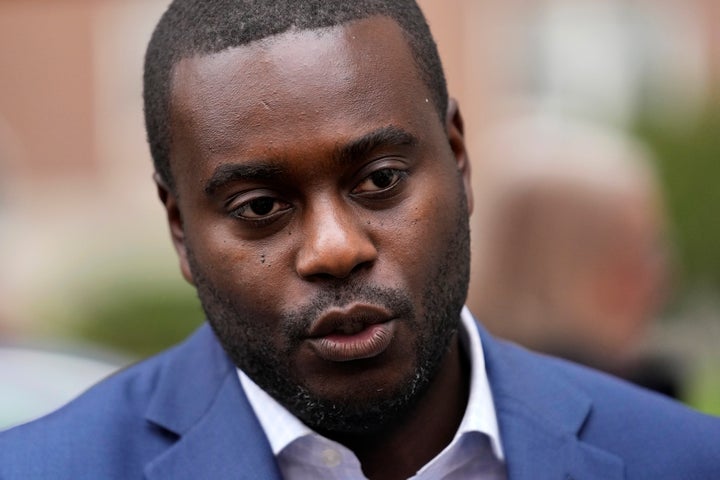 Democrat Gabe Amo defeated Republican Gerry Leonard to win Rhode Island's 1st Congressional District seat Tuesday, becoming the state's first Black candidate elected to Congress.
The former White House aide succeeds former Democratic Rep. David Cicilline, who stepped down this summer to become president and CEO of the Rhode Island Foundation.
Amo, 35, grew up in Pawtucket as the son of Ghanaian and Liberian immigrants. He emerged victorious from a crowded Democratic field in the September primary, claiming more than 32% of the vote.
Amo served in the Obama and Biden administrations, most recently as the deputy director of the White House Office of Intergovernmental Affairs. He also served at one point in the administration of then-Democratic Gov. Gina Raimondo.
Amo, who went to Wheaton College and studied public policy at Oxford University, has said he was inspired by the drive of his parents. His mother studied nursing and his father opened a liquor store in part so he could be his own boss.
"Just because my parents were born in two different West African countries, (it) doesn't mean it doesn't fit that narrative of how Rhode Island has been a haven for so many people from so many different places to thrive and build their families," Amo said after his primary win.
During the primary, Amo won the endorsement of former Democratic U.S. Rep. Patrick Kennedy, who represented the district from 1995 to 2011.
Amo said he would fight against what he described as extremist Republican attempts to slash funding for Social Security and Medicare. He also said he would work to legalize abortion rights nationwide again and fight for more legislation at the federal level to combat climate change.
He said he will also fight to ban assault-style firearms, support funding for research into gun violence prevention at the U.S. Centers for Disease Control and Prevention, and implement universal background checks.
His win marks an ongoing transition away from the state's Italian-American political hierarchy, which was embodied by the late Vincent "Buddy" Cianci, Providence's charismatic longtime mayor who went to prison for corruption.
"I certainly believe I am part of a generational shift that has been underway before me," Amo said.
Amo defeated Leonard, a U.S. Marine veteran who won the two-candidate GOP primary.
The Republican had criticized "Bidenomics," saying Biden's economic plan hasn't helped ordinary citizens. He also said he supports U.S. efforts to aid Ukraine in its war against Russia.
The last Republican to represent the 1st Congressional District was Ron Machtley, who served from 1989-1995.