After a surprisingly successful midterm election in which Democrats increased their power in state governments, party leaders now find themselves in a position to advance or protect one of the party's top issues: voting rights.
Major voting rights bills are on the move in states like Minnesota, where Democrats won complete control of state government for the first time in five years, and New York, where Democrats held on to their majorities. In Michigan, Democrats will now implement and possibly expand on voting rights reforms enacted by voters after winning full control in the state for the first time in 40 years. And in other states, like Arizona and Wisconsin, Democratic gubernatorial wins will thwart any Republican laws rolling back voter access.
After the 2020 election's dual crises of pandemic and insurrection, Democrats in several states enacted a series of bills, constitutional amendments and ballot initiatives to expand voting rights and voter access. The COVID-19 pandemic revealed the public's desire for easy access to alternatives to in-person election day voting, while the Republican Party's lies about that voting access showed the need to shore up systems of democratic elections.
With many reforms already enacted in Maryland, Massachusetts and Michigan, the big action on voting rights will occur in Minnesota, where Democrats hold a one-vote majority in the state senate.
"There is a big opportunity this session to take action on democracy reforms that we haven't had in the last 40 years," said Lilly Sasse, campaign director for We Choose Us, a coalition of grassroots, advocacy and union organizations in Minnesota backing democracy reform.
On the second anniversary of the Jan. 6 insurrection, Democrats in both chambers of the Minnesota legislature introduced the Democracy For The People Act and announced the formation of a Democracy Caucus to work together to pass legislation to expand voter access.
The Democracy For The People Act would include provisions to establish automatic voter registration, create a permanent mail ballot list, allow for pre-registration of 16- and 17-year-olds, require voting materials be distributed in multiple languages, and restore voting rights to felons on probation or parole. Additionally, the bill would increase voter intimidation and deception penalties and create a publicly funded system of small campaign donation vouchers modeled after similar programs in Seattle, Washington, and Oakland, California.
Democrats in Michigan also have a newfound opportunity to enact their top priorities after winning control of the state legislature and maintaining control of the governorship for the first time since 1983. But when it comes to democracy issues like voting rights, Michigan voters already adopted many of the proposals Democrats would put forward by backing two constitutional amendments that were on the ballot in 2018 and 2022.
One proposal provided for no-excuse absentee voting with prepaid stamps and a tracking system, the establishment of a nine-day early voting period and a constitutional right to vote without interference, intimidation or harassment, among other things. These reforms will now need to be implemented by Gov. Gretchen Whitmer and Secretary of State Jocelyn Benson, both Democrats who defeated election-denying Republicans in 2022, and the legislature.
Beyond implementing the new amendment, voting rights advocates hope the legislature continues to advance voting rights proposals. Their focus is on legislation allowing for the pre-registration of 16- and 17-year-olds and expanding protections for election workers.
Pre-registration would "streamline some of the process of young people getting into the voter registration system," according to Sharon Dolente, a senior advisor with Promote The Vote MI, a democracy reform coalition in the state. This could help alleviate the long lines that appeared at colleges and universities on election day in 2022.
In New York, where Democrats maintained their hold on the government despite a subpar election, the state Senate is continuing a tradition of passing democracy reforms as the first order of business that began in 2019 when Democrats won back control of the chamber.
"New York historically has been a state that did not keep up with other states' election administration and voting reforms," Susan Lerner, executive director of Common Cause New York, a nonprofit that works on democracy-related issues, said.
The state Senate passed legislation on Jan. 9 to legalize the provision of refreshments to people waiting in line to vote, allow counties to run portable polling locations, establish absentee ballot drop boxes, update election technology and make voter suppression a crime.
These changes follow previous legislation that has eased voter access, including the passage of automatic voter registration, early voting and a state-level Voting Rights Act modeled on the landmark federal bill of the same name.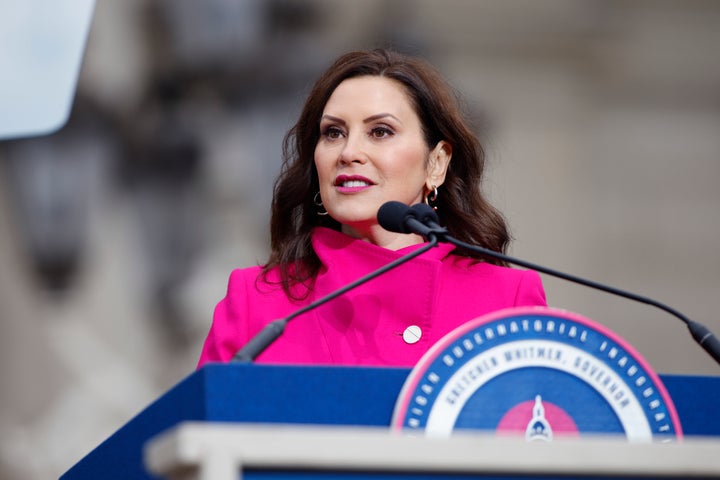 There have been hiccups as New York Democrats seek to update the state's election laws.
The legislature placed two constitutional amendments on the ballot in 2021 to allow for same-day voter registration and no-excuse absentee voting, but voters rejected them at the polls. The state Democratic Party organization spent no money supporting the amendment campaigns. However, a Republican billionaire funded a $3 million campaign against them.
While the biggest action is taking place in Michigan, Minnesota and New York, other opportunities remain afoot across the country.
In Maryland, where Democrats won complete control of the government for the first time in eight years, there is talk of passing a state-level Voting Rights Act akin to the ones enacted in New York and Virginia. A similar bill may also be considered in New Mexico, where Democrats maintained full control of the state government. And voting rights advocates also hold out hopes that Illinois and Oregon could advance bills that failed last session to allow felons to vote while serving their sentences.
And then there are the states where a Democratic win in 2022 prevents the passage of laws making it harder to vote. That is the case in Arizona, Kansas, North Carolina and Wisconsin, where Democratic governors hold the veto pen over their Republican-run legislatures.
Arizona Gov. Katie Hobbs is the only first-time governor among these four states. In her first term, her main sway over democracy issues will be preventing further Republican legislation to reduce voting access or question election results. The state GOP is still in thrall to wild conspiracies about state elections – Hobbs defeated Republican Kari Lake last fall, and Lake is still falsely insisting she won the election.
Hobbs will also have some ability to influence the operation of elections by signing off on the state's Election Procedures Manual, which sets rules on how to run elections for county officials.
The last effort to adopt a manual in 2022 was scuttled when then-Attorney General Mark Brnovich, a Republican, rejected then-secretary of state Hobbs' revisions to the 2019 manual that both of them and then-Gov. Doug Ducey, a Republican, approved. Democrats swept the races for governor, secretary of state and attorney general in the midterms and can now set these rules for local officials.