EXCLUSIVE– Denver's homeless problem is so bad that one resident resorted to dumping human excrement left by his office on the steps of City Hall to convey his frustration.
Mike Johnston, the Democratic mayor of Denver, may be on the other side of the aisle, but he understood where libertarian think tank owner Jon Caldara was coming from with his viral stunt.
"I've known Jon Caldara for a long time, so we've had more than our handful of discussions, but I think he and I share the same goal, which is what we want is be able to get people housed and be able to get back clean, safe public spaces that everyone can access," Johnston told Fox News Digital. "We know one of the reasons that happens is when folks are living out in tents and encampments, they don't have access to public bathrooms. They don't have access to trash pick-up. And so often they have no place else to drop trash and no place else to go to the bathroom, and so that's one of the reasons why we know it's not the right solution. It's inhumane, it's not good for the city."
While a Democrat, Johnston calls himself a nonpartisan mayor for Denver. The deep-blue city – President Biden took nearly 80% of the vote there in 2020 – is one of many throughout the country struggling with skyrocketing living costs and accompanying homelessness.
DENVER BUSINESSMAN DUMPS POOP FOUND OUTSIDE HIS BUSINESS ON CITY HALL STEPS, DEMANDS ACTION ON HOMELESS CRISIS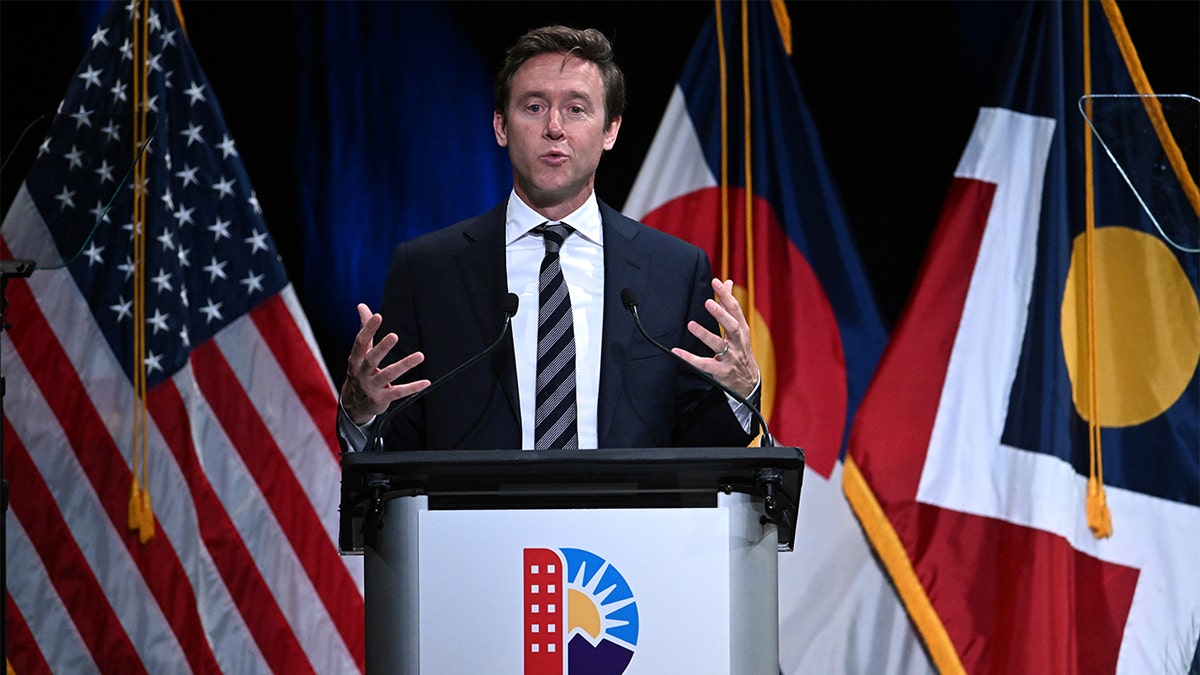 "One of the things I love about this job as a nonpartisan mayor and about this task is people from all ends of the spectrum care deeply about this and getting it done," he said, calling his plan ambitious. "We were able to bring together really diverse coalitions to work on this."
According to the Annual Homelessness Assessment Report released late last year, Denver had the 10th-largest homeless population among American cities in 2022 at nearly 7,000, and was fourth-worst among cities outside California. Johnston said he hears constantly from city businesses that have lost foot traffic and revenues, and even had to close down, because their downtown locations were beset by the various consequences of homeless people. To illustrate, Caldara shared photos of used needles, human waste and broken glass around his think tank office.
Johnston, who took office in July, immediately declared homelessness a public emergency and released a $50 million plan to get 1,000 people into transitional or semi-permanent housing by year's end, according to CBS Denver. He then hopes to keep homeless encampments that have marred city streets closed for good.
"We now have one of the highest commercial vacancy rates of any city in America," Johnston said. "We're tied with San Francisco, which also has a very significant homeless population. So we know this is one of the major drivers that changes how people feel about their downtown. It affects visitors, affects tourists, affects who wants to work downtown, affects who wants to keep their businesses downtown."
Johnston said the city has seen a 300% increase in homelessness in just the past five years, accompanied by more deaths of residents on the streets, and called it the top issue for voters and for his administration.
"We view that as a crisis on all fronts," he said. "That also means more encampments. It means more businesses who have people living or sleeping in front of their business, or in front of their home, or in their public parks."
COLORADO FENTANYL SEIZURES THIS YEAR ALREADY SURPASS ALL OF LAST YEAR, AUTHORITIES SAY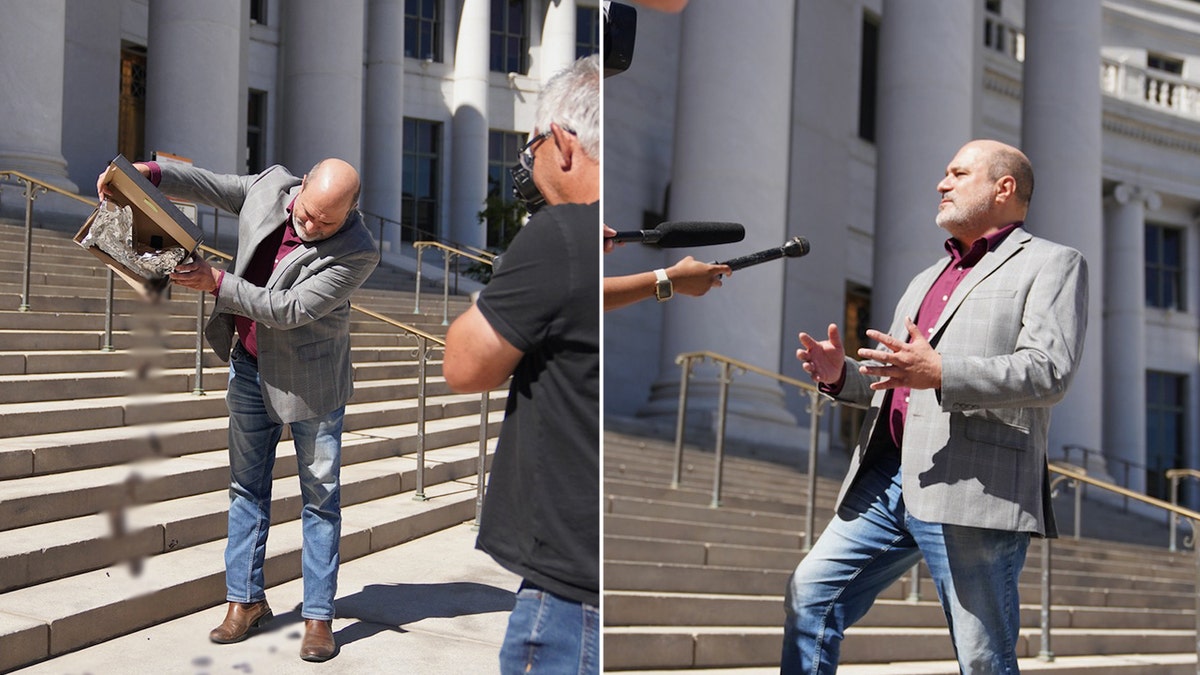 He acknowledged drug use, particularly from the fentanyl epidemic gripping the country, and mental health issues were contributing factors to homelessness, but said primarily the issue was the high cost of living in Denver.
"We believe you stabilize people in the same way that they got destabilized," he said. "We first got them back into housing. We provide wraparound services on mental health, addiction treatment, workforce training and these are meant to be transitional units. So what we're doing is bringing on hotels we've converted into micro units. We have open half-acre, acre vacant lots where we put up tiny home villages… The goal is these are transitional spots where people will come three, six months, get their lives back together, get a job, get some savings, be able to move into their own place, so they can pay rent and get back up on their feet.
"If we can get all those folks that are currently unsheltered into housing and can close those encampments and keep them closed and reactivate the city, we will have done what most other cities have struggled to do, which is actually to get people into housing and to get back vibrant, joyful, safe downtowns and no longer have encampments in them," he added.
He hopes Denver can be a model for the rest of the country in that regard.
THIS MAJOR US CITY RETHINKS ITS LIBERAL HOMELESS POLICY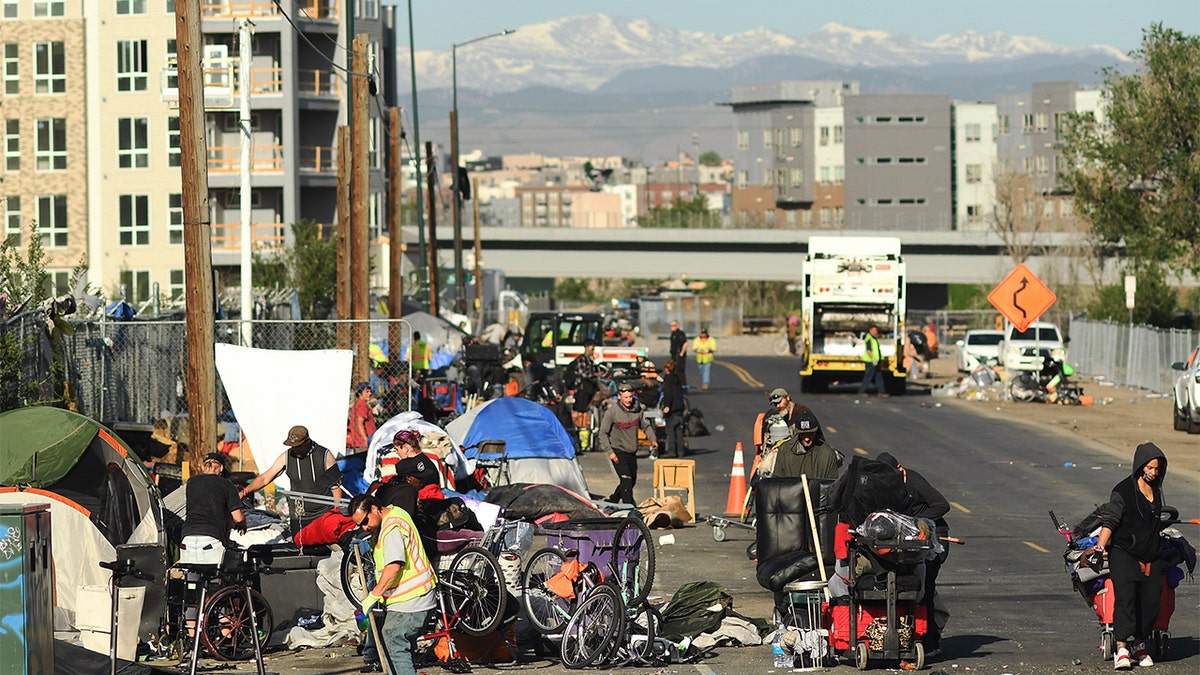 Reached for comment on Johnston's approach, Caldara scoffed.
"Another 'housing first' plan throwing $ at the homeless," he wrote in a text message, suggesting instead, "Enforce the camping ban. Arrest people. Clean up streets."
He shared a column he wrote about how Denver should look to Colorado Springs, the second-largest city in the state after the capital, as a model on how to deal with the issue. He derided Johnston's approach as "adorable" and said the housing units were effectively a safe place for the homeless "to lay down their heads at the end of a responsibility-free day of criminal activity."
Colorado Springs, Caldara said, enforces its laws against drug use, theft, assault and public defecation in a way Denver fails to do.
"People should be able to walk around and go to work without stepping over bottles, puddles of urine and vomit. And human feces," Caldara told Fox News Digital last month.
CLICK HERE TO GET THE FOX NEWS APP
Asked to respond to claims Denver doesn't enforce the law, Johnston spokeswoman Jordan Fuja said he was committed to enforcing the law for everyone.
"But we know that law enforcement doesn't have the capacity to respond to the city's volume of 911 calls. That's why his 2024 budget includes funding for the largest police recruit class since 2005, which will put us on the path to meet the full authorized strength of the police department," she said in a statement.
Democratic San Francisco Mayor London Breed raised eyebrows among some progressives with a plan requiring anyone receiving welfare to submit to mandatory drug testing and treatment programs, but Johnston's office there would be no such requirements to live in one of the "micro-communities."
"There will not be sobriety requirements to enter one of the micro-communities. Each community will be operated by service providers who create and maintain community rules that must be followed by those living in the community," Fuja said.
For more Culture, Media, Education, Opinion, and channel coverage, visit foxnews.com/media.