Former Attorney General Bill Barr expounded on the Durham report, saying it is clear those involved in Russiagate were not trying to stop Russia from purportedly meddling in U.S. politics, but to stop Donald Trump from attaining the presidency.
"It shows that there appear to have been two different standards used, obviously — one that applied to Trump and one that applied to other cases involving Hillary Clinton, either the foundation or very specific allegations… of foreign influence attempts going through the Clinton administration," he said.
"And these were handled much differently than how they handled Trump, which obviously adds to the evidence that this was a biased investigation."
"Apparently, it wasn't so much to stop the Russians. It was to stop Trump," he said.
BARR: TRUMP AND I HAVE DIFFERENCES BUT HIS PROSECUTION HAS BEEN 'UNJUST TREATMENT' LIKE RUSSIAGATE
Barr claimed the feds had "specific information" that a foreign country had deployed a "non-U.S. person" to make a contribution to Clinton's campaign, and that when it came up, they initially declined to commence a FISA investigation.
However, he noted how the same feds were eager to initiate a FISA probe of Carter Page, then a Trump campaign aide.
"They get this very fuzzy statement that just said the Russians have some stuff from a 28-year-old volunteer — unpaid volunteer — in the campaign, and they launched immediately into a full-blown investigation and sought a FISA application against the U.S. person," Barr said.
BARR: DURHAM PROBE A 'GRAVE INJUSTICE' TO TRUMP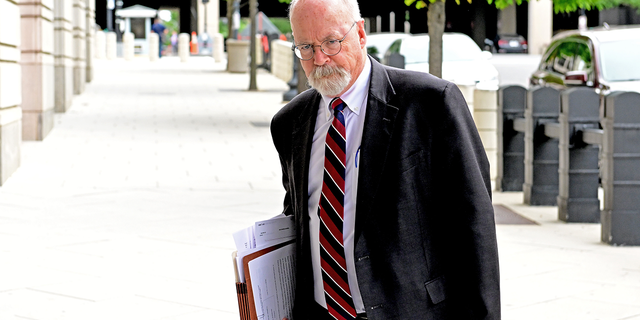 "I mean, it just boggles the mind, but so many omissions and commissions have clearly no reasonable basis that it obviously suggests that this was not a good-faith investigation."
Barr said, however, it might be hard to prove a corrupt motive by those involved, though he noted the evidence from Durham shows it was "not just inadvertent sloppiness and mistakes."
"They had an agenda."
Addressing criticisms the entire FBI is irretrievably damaged by the results of the probe, Barr said it is important to know that most of the rank-and-file at the bureau were not party to the potentially politicized decision-making at the top.
"People who are treating the FBI as a monolith are making a mistake. There were objections within the FBI as to how far they were taking this thing — the Russiagate investigation — and when they were dropping things relating to Hillary Clinton, there were objections within the FBI."