Ellie Goulding took to Instagram to update fans on her condition after she was hit by a firework mid-song during her performance at the Victorious Festival in Portsmouth, U.K. last weekend.
The 36-year-old singer was singing her hit Calvin Harris collaboration "Miracle" when a pyrotechnic that blasted up from the stage appeared to strike her in the face.
Goulding was heard exclaiming "F—" and appeared to cover her face briefly before continuing on with her set in a video of the incident that was posted by a fan on TikTok.
In a post to her Instagram Story Wednesday, the British pop star addressed the mishap and told fans that she had not been injured.
ELLIE GOULDING THREATENS TO BACK OUT OF COWBOYS' HALFTIME SHOW OVER SALVATION ARMY COMPLAINTS
"To those asking I am ok! Pyro didn't hit me directly in the face. Face is intact. Love you thank you x," Goulding wrote, adding an emoji of a firework.
The Grammy Award nominee is not the first artist to suffer a pyrotechnics accident during an onstage performance. In 2015, Michael Clifford, the lead guitarist for the Australian pop band 5 Seconds of Summer, suffered facial burns after his hair caught fire when he accidentally walked into a pyrotechnics display.
Clifford later posted a photo in which one side of his face was seen covered with bandages, writing "What the f—s up. sorry I couldnt finish the encore, but at least I look like two face. thanks for worrying every1 x."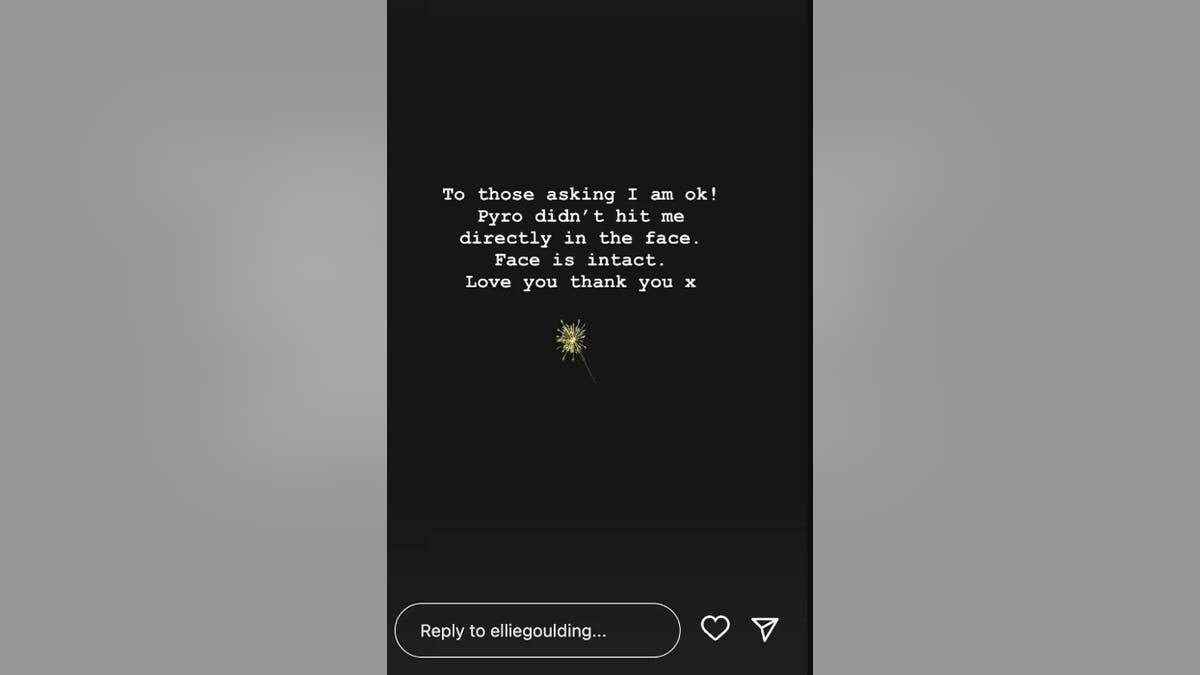 A day later, Clifford performed with the band during their third show at the Wembley Stadium in London.
In 2019, a tragedy occurred when Spanish pop star Joana Sainz García died following an onstage pyrotechnics malfunction.
LADY GAGA'S DAD SAYS DANGEROUS CONCERT TREND WHERE OBJECTS ARE THROWN ON-STAGE IS 'A SHAME'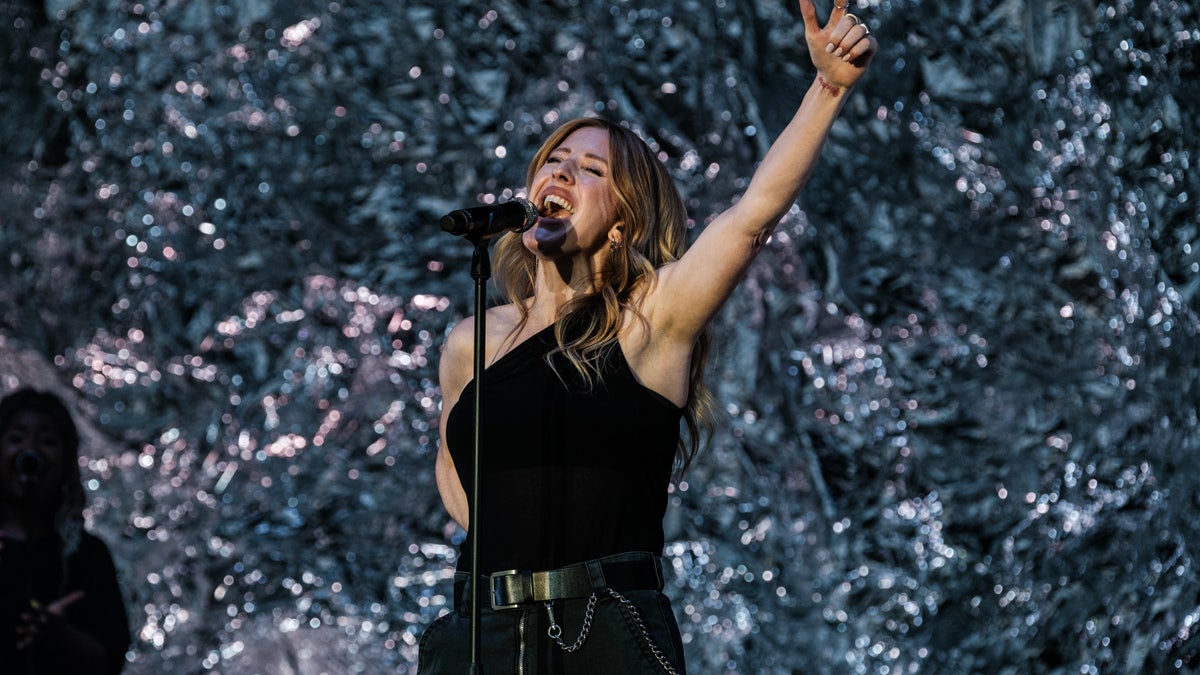 Goulding is set to go on her "Higher Than Heaven" tour later this year, kicking off in Dublin on Oct. 16 before wrapping on Nov. 7 in Berlin.
During an April interview with People magazine, Goulding opened up about struggling with anxiety and experiencing "scary" symptoms including headaches, dizziness and heart palpitations.
"It makes me feel really unsafe," the "Love Me Like You Do" hitmaker admitted.
CLICK HERE TO SIGN UP FOR THE ENTERTAINMENT NEWSLETTER
Goulding explained that she had faced highs and lows regarding her mental health since giving birth to her first child, son Arthur, 2, with her husband Caspar Jopling, 31.
"At times it was debilitating… Being around Arthur automatically zaps [my anxiety] away, and I feel like it's my body trying to mess with me because it's saying, 'We want you to be with Arthur all the time,' biologically," the singer told the outlet.
She continued, "I've had no choice but to put myself and being a mother first, and then everything else I will do to the best of my ability."
CLICK HERE TO GET THE FOX NEWS APP
Goulding credited Jopling with helping her cope during rough patches. "He's way more rational and pragmatic than me," she said.
"I delve constantly in the past and worry about the future," Goulding added. "It makes for good songwriting, but it doesn't make for good mental health."