EVERETT, Wash. – Within 60 seconds of pulling into a superstore parking lot, Tyson Tungate was approached by a man looking for drugs.
"I'm clean and sober, bro," Tungate told another man who stumbled across the pavement toward him. "You can do it too," he encouraged a woman as she piled garbage bags and blankets into a shopping cart.
CRIME TURNED PORTLAND INTO A 'HOLLOWED OUT SHELL.' ITS NEIGHBORS ARE TRYING TO KEEP IT FROM HAPPENING TO THEM
Tungate's sister found him just weeks earlier in the same lot, a gathering spot for drug dealers, addicts and the homeless. He weighed 115 pounds, shifted from side to side as she tried to talk to him, and shivered under layers of hoodies.
"I was a walking skeleton," Tungate, 33, said. "It was shocking that I was like that, and I didn't think anything was wrong with me."
Now he's 60 days sober, navigating the recovery system in a state where the addiction and homeless crises are unfolding in plain sight.
MOTHER OF FENTANYL CRISIS VICTIM SLAMS BIDEN ADMIN AS DRUGS POUR INTO US: 'HARD TO GET PEOPLE TO LISTEN'
Tungate and his half sister Jacquelin Hernandez were raised separately after her mother left their father.
"My mom's side of the family are all Christians," Hernandez told Fox News. "They're all sober and everybody kind of stayed together, no dysfunction. And my dad's side was the opposite. It was all dysfunctional alcoholics, drug addicts."
Tungate grew up phoning the local bar whenever he needed to talk to his father. He started smoking pot in high school, a habit that soon progressed to abusing OxyContin and then heroin.
"The needle took me," he recalled, sitting in the living room of a clean and sober home. "I was stubborn and didn't think I had a problem. I thought I could hide it. And I hid it pretty good for some time until I started getting track marks."
But he didn't become homeless until his mother kicked his older brother out.
"My brother would steal money from her, steal pills from her," he said. "I didn't feel right that he wasn't in the house. So I went with him."
A few years later, his mother died of an overdose. Her son spent his 20s flickering in and out of jail.
WATCH: RECOVERING ADDICT WHO WITNESSED 100+ OVERDOSES RESCUED BY SISTER:
WATCH MORE FOX NEWS DIGITAL ORIGINALS HERE
Washington has the fourth-largest homeless population in the country (25,211), exceeded only by California, New York and Florida, according to 2022 Housing and Urban Development estimates. About half of Washington's homeless are believed to be unsheltered, and many — like Tungate — are stuck in a pattern of chronic homelessness.
Tungate said he was good at being a drug addict. He made sure his feet stayed free of infection and frostbite so he would be able to walk to his next fix. He carried 12 blankets in his shopping cart so he could give 11 away to other people struggling to stay warm on the streets of Washington. And he often collected more money panhandling for a couple hours than he would have at a 9-to-5 job.
"Washington is very gloomy. The streets are no joke," he said. "I've seen things that other people should never see in their life."
Tungate estimates he's witnessed more than 100 overdoses during his years on the streets, including about 20 that were fatal.
Methamphetamine used to be the most common drug involved in overdose deaths, according to the King County Medical Examiner's Office. But in 2021, fentanyl exploded onto the scene.
"With this fentanyl nowadays, the Narcan, it's not even touching it," Tungate said. "It's like useless. Sometimes you have to hit a person three or four times with Narcan."
OREGON LAWMAKERS CONSIDER CUTTING MILLIONS FROM ADDICTION SERVICES AFTER DECRIMINALIZING DRUGS
But late last year, Hernandez heard her brother was hanging out around a nearby superstore. She'd had limited contact with him since the birth of her son about 12 years previously.
"I just didn't understand why nobody was going out there and saying anything to my brother," she said. "He's our family."
She drove over to the store, found her brother, and asked him if he wanted to get clean. For his entire adult life the answer to that question had been "no." But now, with the fear that every high could be his last, he said "yes."
"Family has power," Tungate said. "I believe that my sister was sent by [God] to save me. She's like my guardian angel."
Hernandez' neighbor, a recovering addict who had previously been homeless as well, put her in contact with a man who helps people get into treatment. Tungate went to detox, then a 28-day residential treatment program.
He regained 60 pounds, his mental clarity and his smile.
Inspired by the YouTube channel "Tales from the Streets," Hernandez has recorded Tungate's progress from day one. He barely recognizes himself when he looks back at the first video.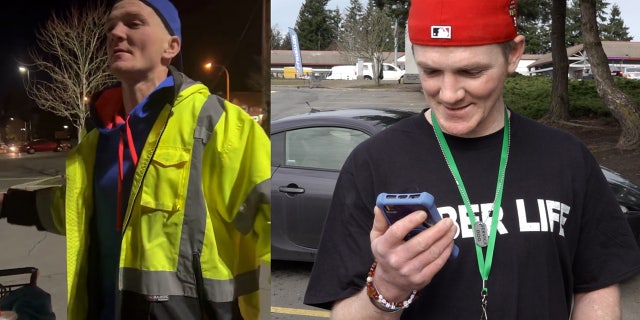 CLICK HERE TO GET THE FOX NEWS APP
"When I was in my addiction, I looked like I was pissed off all the time," he said. "I have a smile on my face everywhere I go now."
These days, his dreams extend beyond his next fix. He hopes to get a car and a house, start a family, all "the normal things." He's considering becoming a counselor and helping others get clean.
"No matter how bad your drug addiction is, you can get through it," he said. "If I could do it, I know you guys can."