A climate activist with "Extinction Rebellion" admitted the group's radical protests have alienated the public in a tense interview with "Good Morning Britain" on Wednesday.
Marijn van de Geer, the far-left British climate group's media director, said they were temporarily shifting away from disruptive protests in 2023 to draw in more supporters including those who would be afraid of getting arrested.
Van de Geer said they realized their activism turned away less "privileged" supporters who were wary of the police.
"As a White middle class person in a quite privileged position my experience with arrest has been fairly normal, but there are people from other backgrounds who might have a very different experience and who have very different association with getting arrested. They are, with our tactics, automatically excluded from joining us on the street," Van de Geer told hosts Susanna Reid and Richard Madeley.
NYC CLIMATE PROTESTERS BLOCK INTERSECTION, CLIMB ON TOP OF SUBWAY STATION
The climate group's radical protests have included activists gluing themselves to public buildings and roads, blocking newspaper deliveries, smashing windows and spraying fake blood on government buildings.
But the GMB hosts pointed out how their disruptive protests haven't been supported by the public either.
"There's another factor that basically it does not have public support," Madeley said. While the public shares concerns about global warming, he said the climate activists' "tactics have alienated the public."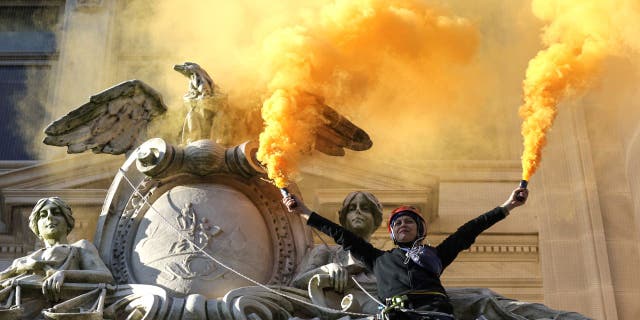 Van de Geer agreed the decision was very much a result of "listening" to these concerns.
"We've listened to the public," she said. "They say over and over again, 'We support what you stand for, we don't like how you do it.'"
FLASHBACK: FOUNDER OF CLIMATE GROUP VANDALIZING FAMOUS PAINTINGS SAID HOLOCAUST WAS 'NORMAL EVENT'
Reid took her turn grilling the activist on the group's other bizarre methods. She played a 2019 clip of an activist on the show being interviewed while dressed as a head of broccoli.
"What on earth was that about?" Reid scoffed. "What purpose does that serve?"
Van de Geer distanced her group from its offshoot "Animal Rebellion," but the television host kept pressing.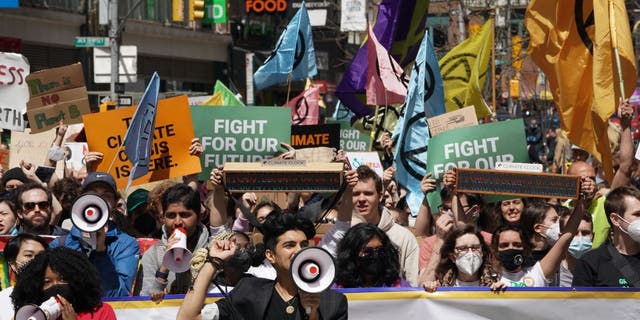 "When you say, 'we quit,' it's an acknowledgment of failure isn't it?" she said about the group changing tactics.
However, the climate activist rejected Reid's assessment. Van de Geer said their protests going forward would be "targeted" to positions of power rather than demonstrations like roadblocks which "inconvenience the public."
Mandeley hit the activist once more before the interview's conclusion.
"It's not actually worked at all, in terms of governments changing policy, has it? There hasn't been one tiny…change," he said. "The government hasn't acknowledged any of it?"
"No, that's the problem, and that's why we can't stop," Van de Geer said.
Just Stop Oil, which van de Geer called the "more radical flank" of Extinction Rebellion, made headlines in October for vandalizing famous paintings to protest fossil fuels.