More than two years after her disappearance, a Georgia man has been charged with his fiancee's murder.
The body of mother of three Tiffany Foster, 35 when she was last seen alive, has yet to be recovered. Regardless, investigators told Fox News Digital they have ample evidence that she is dead and 47-year-old Reginald Robertson is responsible.
"There are other avenues and leads still in progress that may also be released at a later date," the Coweta County Sheriff's Office wrote in a press release.
Now, Robertson faces charges for felony murder, malice murder, concealing death of another, rape, kidnapping, false imprisonment, forgery, financial card theft and financial card fraud, according to court records.
POLICE IN MISSING ALABAMA WOMAN CASE SAY NO EVIDENCE OF TODDLER ON INTERSTATE
When Foster vanished in March 2021, according to local outlet WXIA, Robertson was the first person to report her disappearance and pleaded for her safe return.
"If anyone do [sic] know anything could you please contact this office and let them know," Robertson said at a press conference.
Foster was last seen at her apartment complex in Newnan, Georgia. Her final communication was a text message to her mother, according to WSB-TV – her family, friends and coworkers have not heard from her since.
FLORIDA POLICE IDENTIFY BODY FOUND 16 YEARS AGO OF WOMAN NEVER REPORTED MISSING
She missed classes in her criminal justice program and work in the following days and never boarded a booked flight to Texas on March 11, per the outlet.
Foster's abandoned vehicle was recovered with her cellphone and purse inside on March 8, 2021. In March 2023, Robertson was charged for allegedly stealing it.
At the time, he was also slapped with charges for allegedly kidnapping and assaulting her in an altercation that took place in November before Foster's March disappearance, the Coweta County Sheriff's Office told Fox News Digital.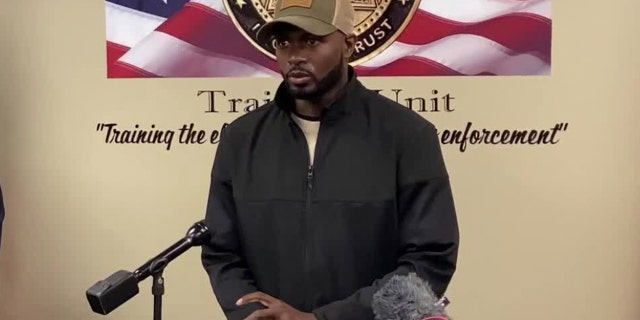 OHIO MAN GETS 30 YEARS FOR COLD CASE MURDER; TELLS COURT 'I AM A MONSTER'
At the time, police told FOX 5 Atlanta, Robertson was uncooperative with investigators. It is unclear what new evidence has been obtained to justify murder charges handed down last Thursday.
CLICK HERE TO GET THE FOX NEWS APP
Since his March arrest, Robertson has remained in custody at Coweta County Jail.