An impounded dog has been reunited with her family after nearly a year apart thanks to a social media post.
A pitbull mix named Juicee was brought to the Austin Animal Center as a stray in June 2022. The center's Spanish language Facebook page named "Mascotas de Austin" posted a picture of her as an adoptable dog back in December.
But the picture recently made its way to a Facebook group, where friends of Juicee's owners spotted the dog. The owners had moved from Texas to Miami, Florida.
"I never thought to see her again," her owner said to FOX 7 Austin. The family was told by a neighbor that Juicee, who was originally named Kardashian, died.
NATIONAL PUPPY DAY: HOW TO PREPARE FOR A PUPPY, WHAT TO DO WHEN IT ARRIVES
The family promptly drove over 20 hours to Austin to pick up the dog. Juicee had been under the care of the Austin Animal Center for 301 days.
Pictures show the moment where Juicee saw her family for the first time in nearly a year. The excited dog wagged her tail and jumped up on them.
US ARMY SPECIALIST HOPES TO RESCUE HELPLESS PUP FOUND OVERSEAS: 'STRUGGLING TO SURVIVE'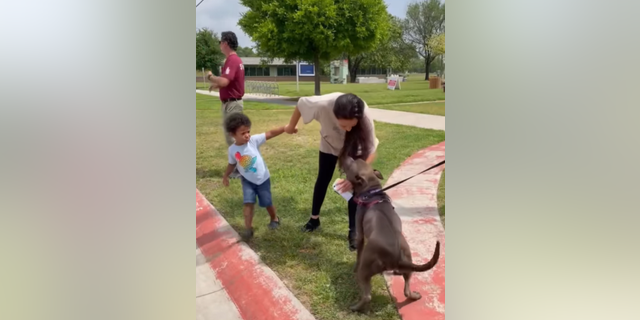 "Juicee was unsure of strangers while she was in the shelter, but the second she saw her family, she was all tail wags and smiles," Austin Animal Center public health educator Luis Herrera said to FOX 7 Austin.
"A simple share can be part of a miracle," he added. "Today we had an amazing example of the importance of social media for Spanish speakers and their pets."
CLICK HERE TO GET THE FOX NEWS APP