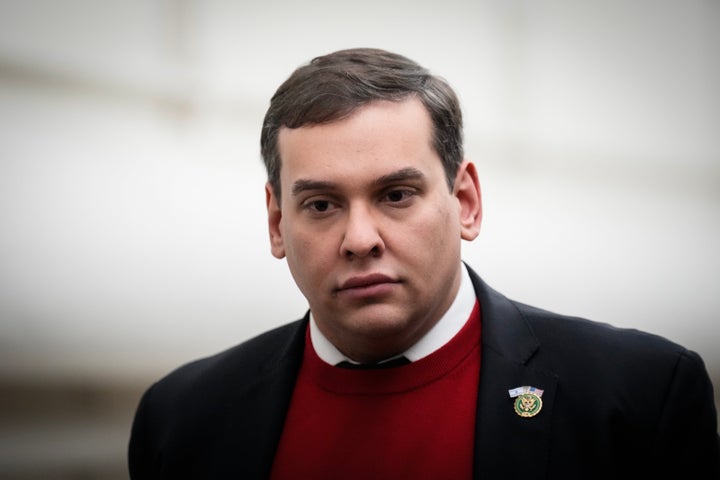 Rep. George Santos (R-N.Y.) said Thursday that he will not seek reelection, after a House watchdog found "substantial evidence" that he committed fraud, violated ethics rules and illegally used campaign funds for personal purposes.
The scathing report, released earlier that day by the House ethics committee, details what it describes as "a complex web of unlawful activity involving Representative Santos' campaign, personal, and business finances."
The monthslong investigation "revealed that Representative George Santos cannot be trusted," the report states. "At nearly every opportunity, he placed his desire for private gain above his duty to uphold the Constitution, federal law, and ethical principles."
The ethics committee referred its findings to the Department of Justice. Meanwhile, members of Congress are moving to expel Santos from his seat.
In a statement Thursday, Santos denounced the report as "biased" and said the committee "went to extraordinary lengths to smear myself and my legal team."
"I will remain steadfast in fighting for my rights and for defending my name in the face of adversity," he said. "I am humbled yet again and reminded that I am human and I have flaws, but I will not stand by as I am stoned by those who have flaws themselves."
"I will continue on my mission to serve my constituents up until I am allowed," he went on. "I will however NOT be seeking re-election for a second term in 2024 as my family deserves better than to be under the gun from the press all the time."
The report itself does not specifically recommend expulsion from Congress or any other formal punishment, as ethics committee Chair Michael Guest (R-Miss.) indicated earlier this week. But a spokesperson for Guest told the Washington Examiner on Thursday that he would move Friday morning to oust Santos.
"Chairman Guest feels that the evidence uncovered in the Committee's investigation is more than sufficient to warrant punishment, and that the most appropriate punishment is expulsion," the spokesperson said in a statement. "So, separate from the Committee process and his role as Chairman, he plans to file an expulsion resolution during tomorrow's 9:00 a.m. pro forma session."
Joining others in calling for Santos's expulsion, Rep. Robert Garcia (D-Calif.) called the New York Republican a "liar and a fraud" and "unfit to serve."
"The committee's condemning report has made it crystal clear that the GOP's decision to wait 9 months to act was not only irresponsible but dangerous," Garcia said in a statement. "Let us not forget that prior to the release of this damning report George Santos already faced 23 criminal charges including wire fraud, conspiracy, making false statements, falsifying records, aggravated identity theft and credit card fraud."
At least four House members who voted against expelling Santos last month told Axios they are now on board.
"I purposely waited for the results of the ethics committee report to come out before passing judgment," Rep. Greg Murphy (R-N.C.) told the Washington Examiner. "However, given their findings of the facts of this case, I find his behavior reprehensible and not worthy of a member of Congress. I will vote to expel him."
Santos, a first-term congressman, was indicted in New York in October on 23 counts and could face a lengthy prison sentence if convicted. He has pleaded not guilty, repeatedly denied any wrongdoing and resisted a steady drumbeat of calls for him to resign.
In its report, the investigating subcommittee called the situation "unprecedented in many respects," and said the "integrity of the House has been called into question in a significant and overt manner that the Committee cannot ignore."
"While it is not uncommon for Committee investigations to involve multiple allegations and a pattern of misconduct, the sheer scope of the violations at issue here is highly unusual and damning," the report reads.