Two bills introduced in the Georgia state legislature this week could lead to state prosecutors facing disciplinary sanctions, removal from office or easier voter recalls if they decline to bring charges against people accused of misdemeanors.
Both House Bill 229 and House Bill 231 were introduced in the Georgia House of Representatives on Thursday, and are aimed at addressing district attorneys and county solicitors general refusing to prosecute certain crimes, such as low-level marijuana possession.
House Bill 231 would create a Prosecuting Attorneys Oversight Commission, which would have the ability to investigate judicial misconduct and recommend punishments to the state Supreme Court.
BRIAN KEMP'S GOP STAR RISING AS GEORGIA'S GOVERNOR INAUGURATED FOR SECOND TERM STEERING KEY BATTLEGROUND
The oversight commission would have the final decision on disciplining or removing a prosecutor, but a prosector objecting to a decision by the commission could ask the state Supreme Court for a review.
The bill also provides that a district attorney can't be disciplined or removed over their decision not to charge a person for a crime, unless the decision was based on certain scenarios, such as a prosecutor who "categorically refuses to prosecute any offense or offenses of which he or she is required by law to prosecute."
House Bill 229 provides that a district attorney must "review every individual case for which probable cause for prosecution exists, and make a prosecutorial decision available under the law based on the facts and circumstances of each individual case." It adds that refusing to do so would violate a district attorney's oath of office, a crime punishable by up to five years in prison.
GEORGIA GOV. BRIAN KEMP ACTIVATES 1K NATIONAL GUARD TROOPS AHEAD OF ANTI-COP PROTESTS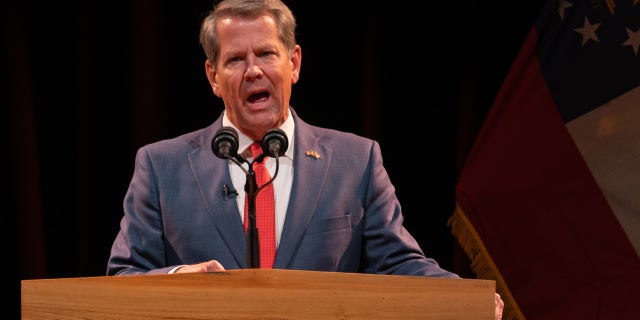 Republican Georgia Gov. Brian Kemp has been a sharp critic of prosecutors refusing to charge misdemeanors and has vowed to tackle the massive rise in crime affecting areas like Atlanta.
During his State of the State speech last month, he emphasized his efforts to fight crime, and promised legislation to address the growing problem.
CLICK HERE TO GET FOX NEWS APP
The Associated Press contributed to this report.