"The prosecution of President Trump in New York is a political stunt by a prosecutor whose campaign was funded by George Soros," Hyde-Smith said in a statement posted to her Facebook page."That charade is all about self-promotion by the prosecutor and has nothing to do with justice. I believe the whole affair will backfire on the prosecutor and Democrats."
Hyde-Smith is the sixth GOP senator to back Trump's bid for another White House term, joining Lindsey Graham (S.C.), Markwayne Mullin (Okla.), Eric Schmitt (Mo.), Tommy Tuberville (Ala.) and J.D. Vance (Ohio).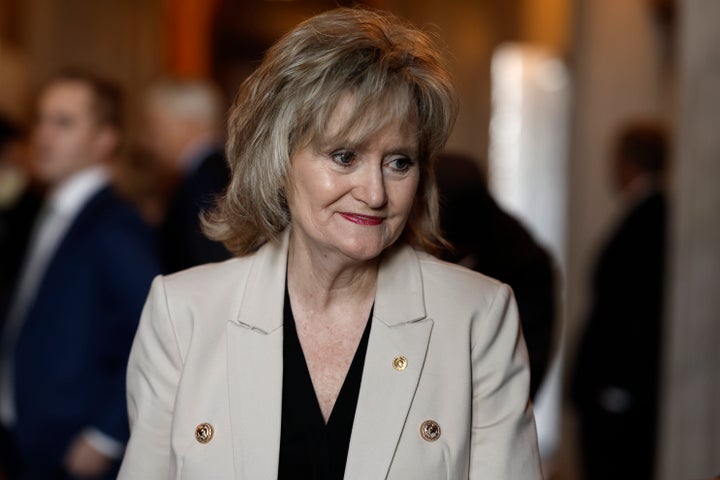 In her statement, the Mississippi senator cited Trump's policies as a reason to support him again. She did not mention Trump's unprecedented effort to overturn his 2020 presidential election defeat, which Hyde-Smith supported, and the violent Jan. 6, 2021, riot at the U.S. Capitol that followed.
"Because of his agenda, we secured hundreds of miles across the U.S.-Mexico border, we cut taxes, we appointed conservative judges, we had a healthy economy, wages were increasing, we were respected around the globe, and we were energy independent," she said. "I support a return to those policies and to President Trump's effective leadership."
While Trump's allies in the Senate rushed to his defense prior to the unsealing of Manhattan District Attorney Alvin Bragg's indictment against the former president, most top Senate Republicans stayed silent, notably including Senate Minority Leader Mitch McConnell (R-Ky.) and Senate Minority Whip John Thune (R-S.D.).
Sen. John Barrasso (R-Wyo.), the No. 3 Senate Republican, meanwhile, called the indictment a "politically motivated prosecution by a far-left activist."
Sen. Bill Cassidy (R-La.), who voted to convict Trump during his second impeachment trial after the Jan. 6 riot, was more measured in his remarks following the indictment over the weekend.
"No one should be above the law, but no one should be a target of the law," Cassidy said on "Fox News Sunday."
"The particular problem is that it's going to lead to all kinds of political theater, theater that is going to distract from the issues," he added.