The indictment and statement of facts unveiled by Manhattan District Attorney Alvin Bragg says that Trump falsified Trump Organization records to "conceal criminal conduct that hid damaging information from the voting public during the 2016 presidential election."
That criminal conduct was part of a scheme hatched by Trump, his lawyer Michael Cohen and then-National Enquirer publisher David Pecker to keep adult film actor Stormy Daniels and model Karen McDougal from going public with their stories of past affairs with Trump in the final weeks of the 2016 presidential campaign.
There are novel elements to this case that could complicate Bragg's legal pathway to a conviction while arming Trump and his allies with talking points about a supposedly overreaching prosecutor.
Falsification of business records is often charged as a misdemeanor but can be bumped up to a Class E felony under New York state law if committed in conjunction with another crime. As Bragg noted in his Tuesday news conference, the Manhattan district attorney's office routinely brings felony charges of the falsification of business records in connection with another alleged crime.
In this case, Bragg stated that the underlying crimes that the false business records aimed to conceal included violations of state and federal election laws and further illegal false statements related to business and tax law.
The federal election law references the illegal campaign contribution that Cohen pleaded guilty to in 2018. The state election law Bragg pointed to is one that makes it illegal "to promote or prevent the election of any person to a public office by unlawful means." The other illegal false statements include those admitted to by AMI Inc. in its own company records regarding its payment to McDougal and by Cohen regarding his tax filings.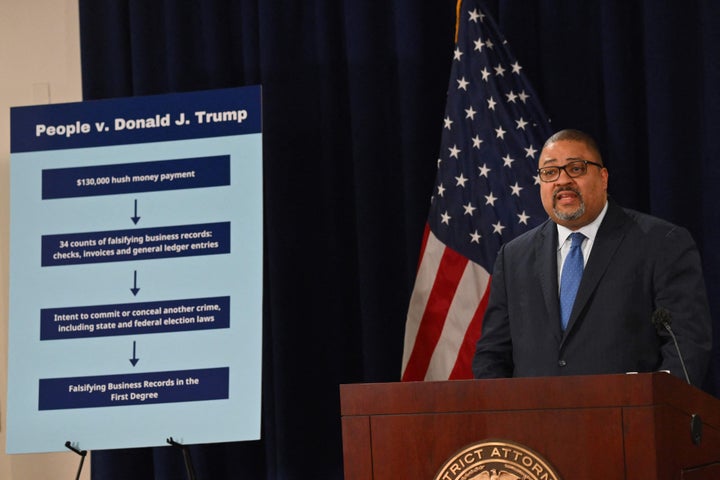 It is highly likely that Trump's lawyers will seek to challenge the use of federal and state election laws in this case.
No previous felony prosecution by the Manhattan DA on falsification of business records has relied on federal campaign finance charges. Such federal charges are not prosecuted by state and local prosecutors but rather by the Department of Justice. Bragg will likely argue that he is not bringing such charges but rather referencing the crime that Cohen admitted in his plea agreement.
Similarly, Bragg's reliance on a state election law also presents a challenge as Trump was running in a federal election, not a state election. State election law is preempted by federal election law for federal elections. But since Bragg is not bringing charges under this statute, it's not clear if that will matter.
Bragg's strongest case may be the further false statements made by AMI and Cohen. Both of them admitted in court to making false statements in their business and tax records, respectively, and did so as part of the scheme to silence the women and protect Trump's campaign.
The scheme involved Cohen paying Daniels $130,000 to buy her silence in the final weeks of the 2016 campaign while AMI, the parent company of the National Enquirer, purchased the rights to McDougal's story for $150,000 with the promise of running her story. But, in a scheme referred to as "catch and kill," the Enquirer never ran McDougal's story.
Trump eventually reimbursed Cohen for the payoff to Daniels through monthly payments disguised as payments for legal retainer. But there was no contract for a legal retainer. These are the source of the 34 counts against Trump of falsifying business records.
While neither the indictment nor the statement of facts explicitly says what the other crime is that bumps the falsification of business records charges up to felonies, it does lay out facts about crimes admitted to by Cohen and AMI.
Cohen pleaded guilty in 2018 to making an illegal campaign contribution as part of the scheme. Since the $130,000 payoff to Daniels was made solely to aid in Trump's election, Cohen's donation constituted an illegal excess contribution to Trump's campaign committee, according to Cohen's guilty plea.
"This payment was illegal, and [Cohen] has since pleaded guilty to making an illegal campaign contribution and served time in prison," Bragg writes in the statement of facts.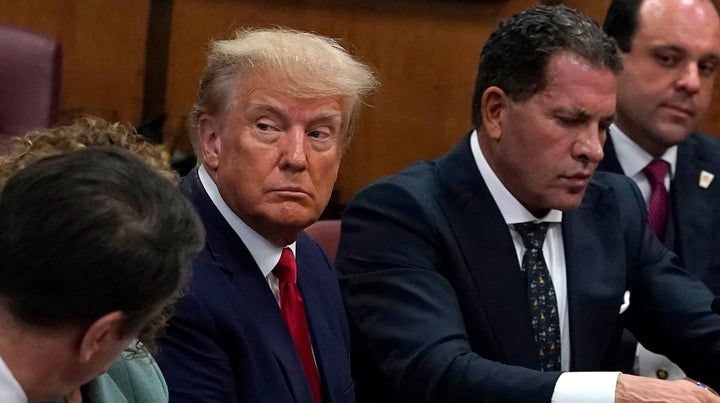 AMI "admitted that the payoffs were unlawful," Bragg argues, in its 2018 non-prosecution agreement in which the company stated it purchased McDougal's story on false premises, as the National Enquirer never intended to run her story.
In addition, Bragg notes that these illegal payoffs were made with the knowledge of and in coordination with Trump.
The scheme allegedly began in August 2015, two months after Trump announced his campaign, when Pecker told Trump and Cohen that he would work as their "eyes and ears" to search out negative stories and help squash them. Pecker also agreed to publish negative stories about Trump's primary and general election opponents.
In June 2016, Pecker approached Trump and Cohen after McDougal had come to him to sell her story of an affair with Trump from 2006 to 2007. The three men discussed how to purchase her silence. AMI ultimately bought the rights to her story with the promise of "two magazine cover features … and a series of articles that would be published under her byline" so long as she remained otherwise publicly silent about the alleged affair.
But the Enquirer never ran a story on McDougal's allegations nor did she publish anything under her own byline. AMI falsely characterized the payments to McDougal in its own books in violation of New York state law, Bragg states.
Whether these legal challenges present problems for Bragg in the courtroom remain to be seen. But they will be used to fuel attacks from Trump and Republicans in an effort to undermine the first ever criminal charges brought against a former U.S. president.