Judge Janet Protasiewicz, a liberal, won a heated race for an open Wisconsin Supreme Court seat on Tuesday, shifting the balance of power on the state's high court from conservatives to liberals for the first time since at least 2008.
Although Wisconsin's judicial races are officially nonpartisan, Protasiewicz's victory over former Supreme Court Justice Daniel Kelly, a conservative, in the most expensive judicial race in U.S. history, is a game-changer for the state's embattled Democrats.
Without saying exactly how she would rule, Protasiewicz, a Milwaukee County Circuit Court judge, ran as a supporter of abortion rights and opponent of Wisconsin Republicans' gerrymandered state legislative and congressional maps, which she called "unfair."
The new 4-3 liberal majority on the court is expected to strike down a state-level abortion ban that took effect after the U.S. Supreme Court decision overturning the federal right to an abortion in June. That law, which dates to 1849, makes performing an abortion a felony punishable by as much as six years in prison.
Assuming that Democrats and their allies challenge the state's maps once again, a majority-liberal court would likely be sympathetic to throwing those maps out as well.
Referring to the latter possibility, Wisconsin Democratic strategist Joe Zepecki told HuffPost in March that a prospective Protasiewicz win represented an "opportunity to have an opportunity."
With that in mind, the Democratic Party of Wisconsin put the full weight of its infrastructure behind Protasiewicz's campaign. The state party's efforts included the direct transfer of $8 million to Protasiewicz's campaign.
The transparent way in which Wisconsin Democrats treated the race as a contest over liberal priorities and political power prompted Kelly and his conservative allies to accuse Protasiewicz of judicial activism that would tailor judicial rulings to her preferred policy outcomes.
"Democrats have pretty much tipped their hand that they see this as a policy-making opportunity," Ben Voelkel, a spokesperson for Kelly's campaign, told HuffPost. "That's a complete misattribution of the role of the judiciary."
But Protasiewicz, who has promised to recuse herself from cases involving the Democratic Party of Wisconsin, insisted that Kelly was the candidate with the worrisome partisan bias. She noted, in particular, the paid work he had done representing the Republican Party of Wisconsin at a time when it was exploring ways to challenge the results of the 2020 presidential election.
The party's former chairman testified to Congress that he even consulted Kelly about a plan to appoint an alternative slate of electors that would have voted to overturn President Joe Biden's victory. Kelly said he was only asked if he knew about the plan and replied that he didn't. But in an effort to turn out his base in the closing stretch of the campaign, Kelly appeared at events with Scott Presler, a diehard Donald Trump supporter who attended the "Stop the Steal" rally on Jan. 6, 2021, that spilled into the U.S. Capitol riot shortly after.
"I don't think he believes in a representative democracy," Protasiewicz told HuffPost in a late March interview in Milwaukee.
To shift the terms of the debate away from abortion rights, Kelly and the outside groups backing him seized on Protsaiewicz's public safety record, arguing that she had sentenced violent criminals too lightly.
Based on conversations HuffPost had with a number of voters in the city of Milwaukee and its surrounding suburbs, that message got through — even to some solid Democrats.
Less than two weeks before Election Day, Neal Bryant, a production supervisor at a rodenticide plant and lifelong Democrat, told HuffPost that he needed to do "more research" about the judicial race.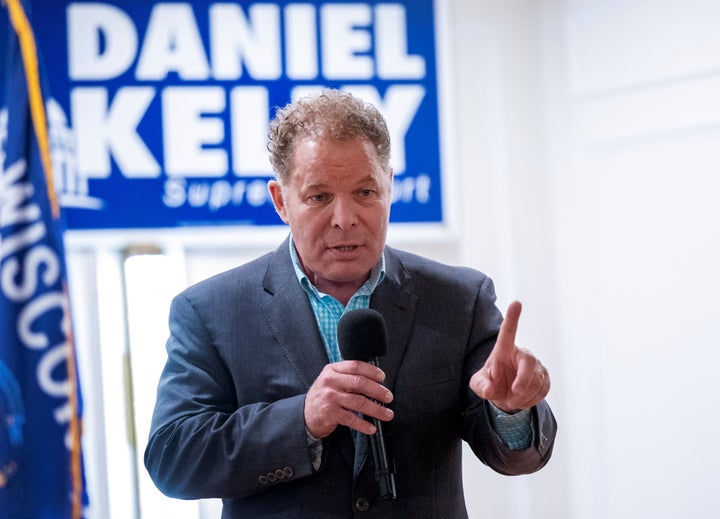 "She let a lot of inmates free that committed a lot of rape and sexual assault," said Bryant, describing his dilemma between bites of breakfast at a diner on Milwaukee's predominantly Black North Side. "And the other one, he's against women's right to an abortion."
In a pitch to Wisconsin's right-wing base voters, Kelly also claimed that a liberal majority on the state Supreme Court risked endangering more than a decade's worth of conservative reforms from permissive gun rights laws to reductions in union rights and strict voter ID laws.
Jeff and Karen Grossman, conservative former Illinois residents who work at a Lutheran church in the Milwaukee suburb of Mequon, worried that a Protasiewicz win would open the door to Democratic hegemony in the Badger State.
"I'm not saying that Republicans are perfect, either," Jeff Grossman told HuffPost after the couple cast their ballots for Kelly in late March."But I fear that the state of Wisconsin gets to look like the state of Illinois where the voters don't have a right anymore. They don't have a say."
In the end though, liberal and moderate voters' concerns about abortion rights and the fair administration of elections took precedence, driving turnout in an off-season, off-year race, and helping Democrats maintain the gains they have made in recent years with formerly Republican voters in the Milwaukee suburbs.
HuffPost spoke to a former corporate executive in Mequon, who declined to provide her name, because she had had tensions with conservative neighbors over her political views. In 2020, someone pulled a Biden yard sign off of her family's front lawn.
A fiscal conservative, the Mequon voter had previously supported former Republican Gov. Scott Walker because she liked his "anti-union stuff." But since Trump's election in 2016, she told HuffPost, she's been "all in on the Democrats." Some of her neighbors' opposition to wearing masks and getting the COVID-19 vaccines pushed her further still from the GOP.
"I'm a big believer in human dignity and gay rights, women's rights," she added, summarizing her liberal positions on social issues.