A woman in Alaska was kicked in the head by a moose while walking her dog last week, and it was all caught on camera.
"I thought someone had not been paying attention and hit me with a bike or something," Tracy Hansen told KTUU. "I had put my hands up to my head, and I'm like, 'I'm bleeding.'"
She then looked up and realized she had been kicked by a large moose that she and her dog walked past earlier.
"Knowing that the moose had been somewhere behind me and now, here this moose is in front of me, and I'm like, 'Was that the moose?'" Hansen said.
ALASKA BUILDING COLLAPSE KILLS 1, 2 OTHERS HOSPITALIZED
The incident may have been hard to believe if it were not for video captured by fellow Anchorage resident Kate Timmons.
"Oh, God! You guys, this moose is chasing this person," Timmons starts the video by saying.
ALASKA WOMAN ADMITS SHE KILLED 'BEST FRIEND' AFTER BEING PROMISED MILLIONS IN CATFISHING SCHEME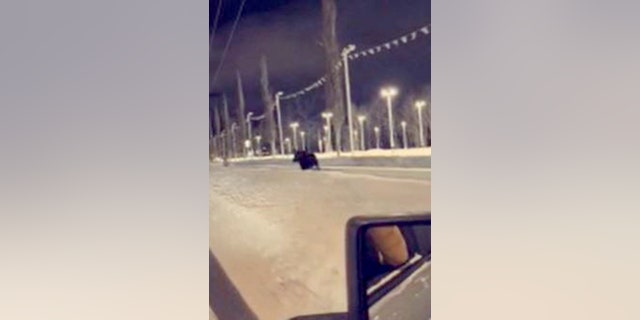 "Watch out! Watch out!" Timmons yells at Hansen as her family is passing by in a car as the incident unfolded. She then shouted at the moose to "get going" and asked Hansen if she was okay.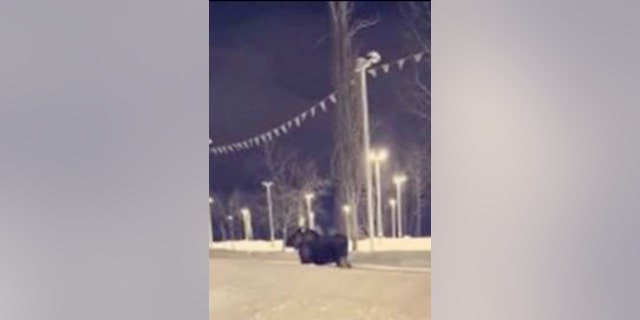 CLICK HERE TO GET THE FOX NEWS APP
"My husband was able to help pull her over the snow bank, so we could get her in the truck with her dog and kind of get her out of the way," Timmons told KTUU. "It definitely seemed unprovoked from our standpoint, and it happened so fast it was just like, a matter of getting her out of the situation, getting her help, making sure, you know, my big thing was that she didn't have a head trauma, that there wasn't a bleed or something."
Hansen is still recovering from her injuries, according to NBC News. She said the incident will not stop her daily walks with her dog.