White House press secretary Karine Jean-Pierre on Wednesday dismissed Arkansas Gov. Sarah Huckabee Sanders' response to President Joe Biden's State of the Union as an attempt to stir up "fake conspiracies."
Sanders' rebuttal speech emphasized the GOP effort to restrict abortion and ban the presence of gender ideology and critical race theory in schools. Sanders, who served as former President Donald Trump's press secretary until 2019, said Democrats' priorities show that the choice between Republicans and Democrats is a choice between "normal or crazy."
Jean-Pierre rejected Sanders' comments and accused Republicans of whipping up "fake" issues.
"The way we see it is the choice is between political fighting over fake conspiracies and delivering for the American people," Jean-Pierre said Wednesday when asked about Sanders' speech. "The president is focused on the latter."
SARAH SANDERS DELIVERS GOP REBUTTAL TO BIDEN SOTU, SAYS AMERICANS HAVE A CHOICE 'BETWEEN NORMAL OR CRAZY'
In a briefing with reporters as Biden traveled to Wisconsin to deliver a speech on his economic agenda, Jean-Pierre said it's the Republicans who are pursuing a crazy agenda.
"But what is not normal is some politicians' obsession over some of our most vulnerable kids or taking away women's rights to make their own health care decisions or even teaching America's history," she said.
HOUSE REPUBLICANS CALL FOR IMPEACHMENT OF HOMELAND SECRETARY MAYORKAS AHEAD OF STATE OF THE UNION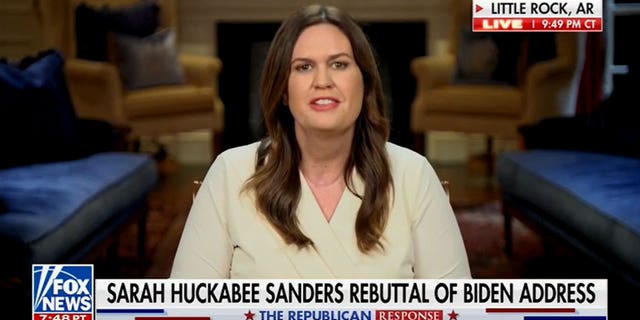 Sanders used her remarks to promise that Republicans will lead with courage on issues that regular American voters care about.
"At 40, I'm the youngest governor in the country. At 80, he's the oldest president in American history.  I'm the first woman to lead my state. He's the first man to surrender his presidency to a woke mob that can't even tell you what a woman is," Sanders said.
BIDEN PLAGUED BY NEGATIVE APPROVAL RATINGS AHEAD OF SECOND STATE OF THE UNION SPEECH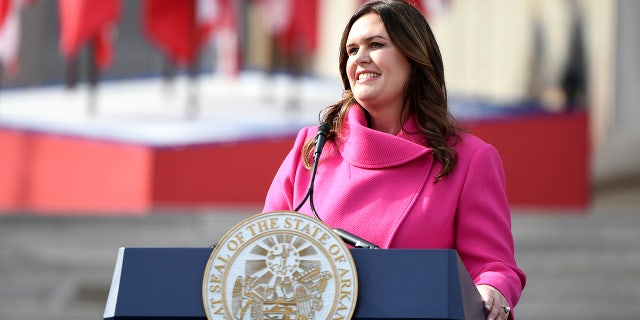 CLICK HERE TO GET THE FOX NEWS APP
"Make no mistake: Republicans will not surrender this fight," Sanders said. "We will lead with courage and do what's right, not what's politically correct or convenient."