Why did President Joe Biden ever choose Pete Buttigieg to lead the Department of Transportation? That's exactly what Rep. Jim Jordan took to Twitter to ask on Friday as Buttigieg continues to face criticism for his handling — or lack of — a train derailment in East Palestine, Ohio.
The Norfolk Southern derailment, which took place on Feb. 3, has prompted health and environmental concerns as many of the 38 involved cars spilled toxic chemicals, including vinyl chloride, butyl acrylate, isobutylene, and other harmful chemicals, into the nearby area.
Jordan, R-Ohio, suggested in a tweet that Buttigieg's hiring "wasn't a good idea" as he has "no transportation experience."
"Maybe hiring a guy with no transportation experience to be the Secretary of Transportation wasn't a good idea?" Jordan asked.
BUTTIGIEG DODGES QUESTIONS WHILE HIS PRESS SECRETARY REFUSES TO BE ON CAMERA IN EAST PALESTINE
Buttigieg, a former mayor of South Bend, Indiana, ran against Biden during the 2020 Democratic presidential primary. He dropped from the race, endorsed Biden, and was later chosen to join Biden's administration.
He is also a former U.S. Navy intelligence officer.
"Secretary Pete's response to East Palestine has been a total disaster," Jordan added in another tweet.
"But don't worry, it was a 'lesson learned,'" the Republican continued, citing Buttigieg's own comment during an interview with CBS News. "Can you imagine the media's reaction if a Republican tried that bogus excuse?"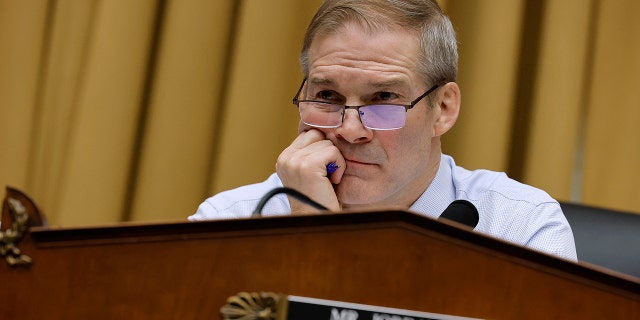 Buttigieg visited Ohio on Thursday, nearly three weeks after the East Palestine train derailment, and was also mocked for appearing to wear dress shoes while surveying the affected areas. Other officials wore heavy work boots as they trolled the muddy site of the catastrophic train derailment.
Ohio Senate GOP spokesperson Tom Evans wrote on Twitter, "Not shocked at all by Mayor Pete wearing dress shoes to East Palestine."
In another tweet, Jordan said: "The people of East Palestine have shown us once again that D.C. elites don't get Real America."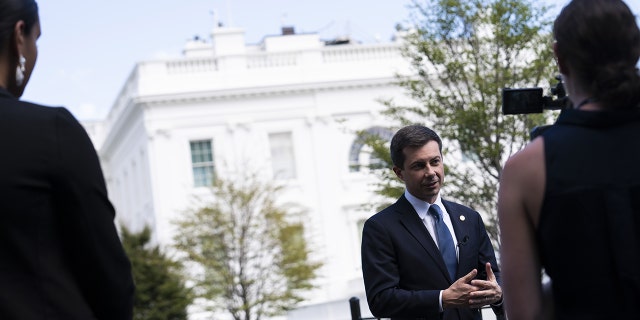 BUTTIGIEG MOCKED FOR APPEARING TO WEAR DRESS BOOTS WHILE ON THE GROUND IN EAST PALESTINE, OHIO
Buttigieg spoke during a news conference during his trip but did not answer the media, instead sending his press secretary, Kerry Arndt, to respond to reporters' inquiries.
A Department of Transportation spokesperson told FOX News Digital after the incident that "the secretary was wearing boots."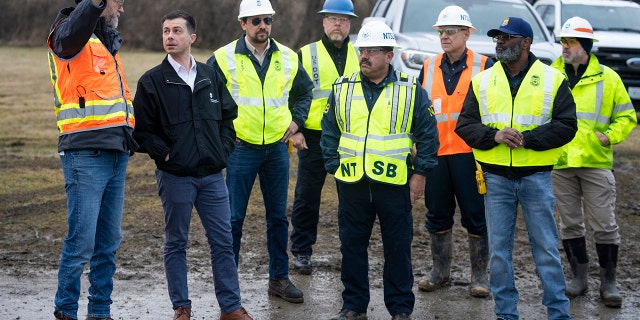 "We do not have a record of what brand they are," the spokesperson added.
Buttigieg put out a three-pronged plan to increase rail safety and accountability and made several public comments before his visit.
BUTTIGIEG BLAMES TRUMP, RUBIO AMIDST EAST PALESTINE DERAILMENT BACKLASH: 'NOW THAT IT'S CAMPAIGN SEASON'
Buttigieg has been subject to almost constant criticism from Republican lawmakers and others as he struggled to clear the supply chain crisis that saw shipping prices skyrocket under the COVID pandemic, provide clear answers for flight disruptions and Federal Aviation Administration system outages, or promptly address the train derailment in Ohio and others across the country.
Amid the backlash, Buttigieg has defended his response and has blamed former President Donald Trump and Republicans like Sen. Marco Rubio, R-Fla.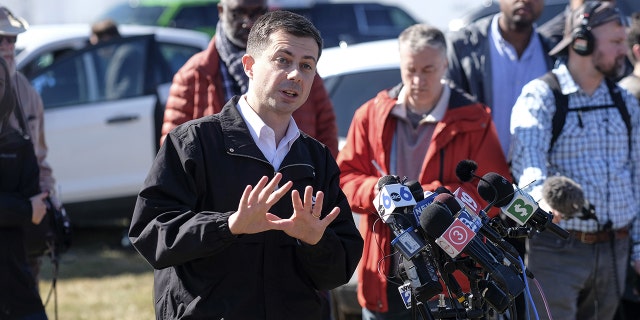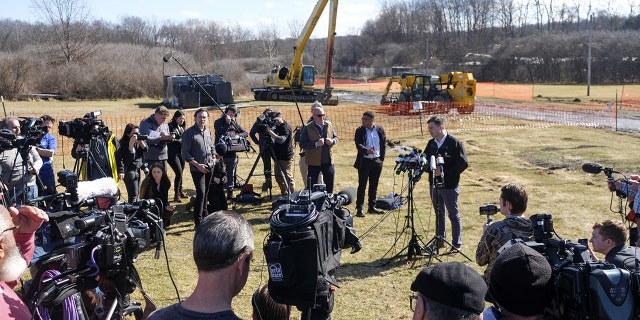 "You know, the sort of theatrics of Donald Trump being in Palestine were odd, but this is a community that voted overwhelmingly for him. The county that Palestine is in voted 71/29 for Donald Trump. I want you to reflect on the irony. In 2016, it was 68/26. This is a Trump county. What do you make of the fact he went there despite the fact the regulations he rolled back were partly responsible for this tragedy?" MSNBC's Joy Reid asked Buttigieg during a segment Thursday.
Buttigieg responded, "It was definitely an ironic thing to do."
"You take down regulations, you water down regulations, you weaken the power of the administration to deal with freight railroad companies, and then you show up wanting to be a great friend of the people who have been impacted by a rail disaster," he added.
CLICK HERE TO GET THE FOX NEWS APP
The Biden official continued, "You know, this is somebody who as far as I know never went to a derailment site when one of those happens on his watch. And there were thousands. Even ones with fatalities. Never even sent his Transportation Secretary to go. Now that it's campaign season, I guess things are different. We were there to work. We were there to get things done."
Rubio and other lawmakers have called for Buttigieg to resign.
Fox News' Lindsay Kornick contributed to this report.