A "Just Stop Oil" protester leaped onto the famous green baize and turned it orange after dumping an orange powder on it during the world snooker championship in Sheffield, England on Monday.
The Crucible Theatre was packed for the snooker championship yet play had to be suspended after the two protesters bombarded the famous arena after the tournament began.
Robert Milkins and Joe Perry were playing their match when a male protester, 30, jumped into the scene and leapt on the table, moving all the snooker balls as he poured an orange powder on it. Half of the baize was covered in orange, while the other half remained green.
CLICK HERE FOR MORE SPORTS COVERAGE ON FOXNEWS.COM
The crowd began jeering at the man whose bold actions led to security whisking him away, but not before causing damage to the table and the match.
A woman protester, 52, tried to disrupt the match between Mark Allen and Fan Zhengyi, but she was stopped by referee Olivier Marteel before getting onto the table to do the same thing the male protester did.
ENGLAND'S LEE GETS 12-YEAR BAN SNOOKER FOR FIXING
Vacumm cleaners were brought into the arena to clean up the orange dye on the Milkins-Perry table, but former snooker world champion, Stephen Hendry, who was broadcasting the match on the BBC, said the "scary" incident could leave the table irrecoverable.
"For me, straight away as a snooker player I am thinking, 'Is the table recoverable?' We don't know what that is on the table," he said, via The Associated Press.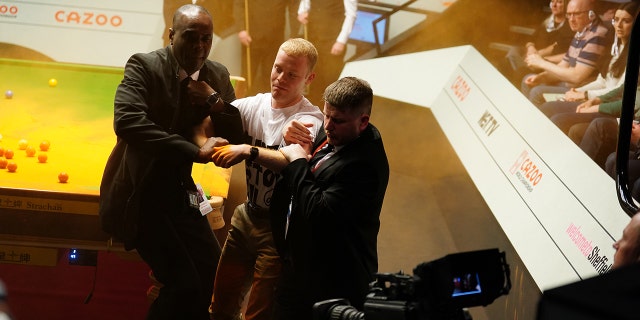 Though the protesters were wearing "Just Stop Oil" t-shirts, the group owned up to the incident.
"They are demanding that the government immediately stop all new UK fossil fuel projects and are calling on UK sporting institutions to step into civil resistance against the government's genocidal policies," the group said.
Play later resumed in the Allen-Zhengyi match 45 minutes after things settled down, but the Milkins-Perry match saw the table covered as it needed to be re-clothed overnight.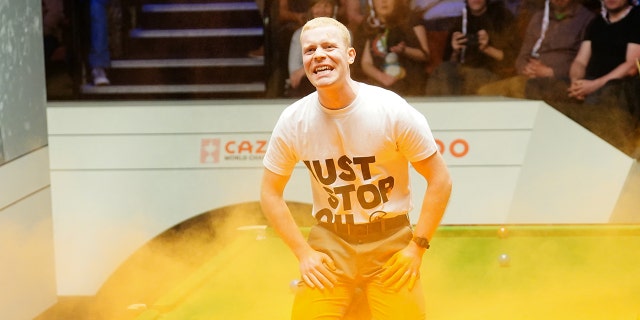 CLICK HERE TO GET THE FOX NEWS APP
Snooker is a cue sport that is played on a billiards table, called a baize, where 22 balls — the white cue ball, 15 red and six others that are yellow, green, brown, blue, pink and black — each account for points.
The Associated Press contributed to this report.