Kentucky Gov. Andy Beshear (D) said two of his close friends were among those killed, and a third among those hospitalized, following Monday morning's shooting at a downtown Louisville bank.
"This is awful," he told reporters, his voice shaking. "I have a very close friend that didn't make it today. And I have another close friend who didn't, either. And one who's at the hospital, that I hope is going to make it through."
A total of four people were killed and at least nine others wounded after a man opened fire at the Old National Bank around 8:30 a.m. The gunman, who is believed to be a former bank employee, died at the scene following a gunfight with responding officers, police said at a press conference.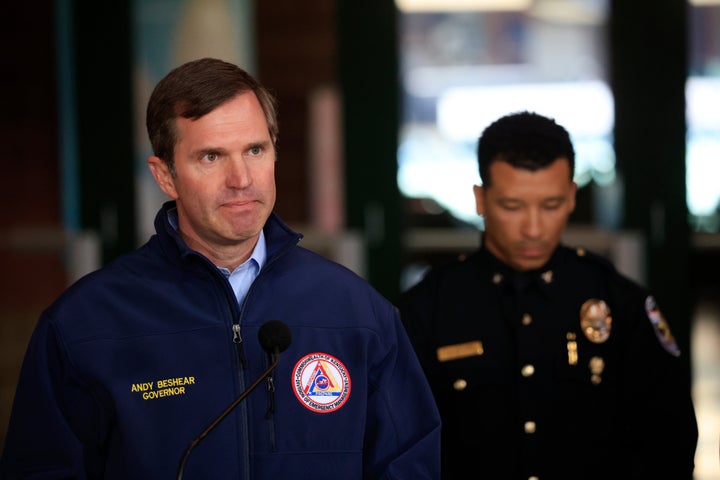 Those wounded included two responding officers, one of whom underwent surgery for their injuries, which were described as critical.
"When we talk about praying, I hope people will for those that we are hoping can make it through the surgeries they are going through," said Beshear, who choked up while thanking first responders for "doing their best to try to save some of my friends, and many others."
"Our bodies and our minds are not meant to go through these types of tragedies, and so I hope that all of the brave officers that stepped into the line of fire, that are worried about one of their fellow officers, will reach out for help when they need it," he said.
President Joe Biden also released a statement that called on Congress to pass legislation that would help curb gun violence.
"Too many Americans are paying for the price of inaction with their lives," he said. "When will Republicans in Congress act to protect our communities?"
"We have to do more to stop gun violence. It's ripping our communities apart," the president said from the White House.
Beshear did not comment on gun laws in the immediate wake of Monday's violence.
In the past, following last year's school shooting in Uvalde, Texas, that left 19 students and two teachers dead, Beshear said any change to gun reform would be up to the Republican-controlled legislature. He said he would personally like to see more efforts to remove guns from someone that a court "deems dangerous."