Liberal social media users continued to voice their vitriol for Independent Arizona Sen. Kyrsten Sinema after she appeared at World Economic Forum in Davos with Sen. Joe Manchin, D-W.Va., on Tuesday.
During their joint appearance at the forum, both Manchin and Sinema reiterated their support for the filibuster, a position that frequently drew ire from Democratic members of the Senate.
"And we still don't agree on getting rid of the filibuster?" Manchin said.
"That's correct," she replied, high-fiving Manchin in the process.
JOHN KERRY MOCKED FOR SPEECH ON WEF'S 'ALMOST EXTRATERRESTRIAL PLAN' TO SAVE THE PLANET: 'LIBERAL DELUSIONS'
Sinema's defense of the filibuster as well as the large sweater she wore during the event were both attacked on Twitter as "horrid" and akin to a "Batman" villain.
"'If the Mayor refuses to pay the ransom, I, Lady Sinema, will shrink all of Gotham City! Bwahahahahaha,'" American Independent senior writer Oliver Willis joked.
"Why is she dressed like a sheep," Jezebel editor-in-chief Laura Bassett asked.
"A bath mat is not a vest," Raw Story reporter Sarah Burris wrote.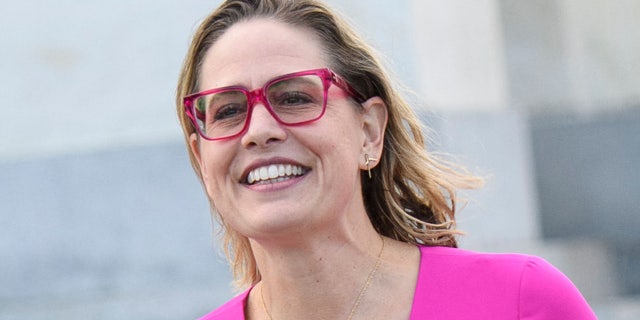 MSNBC host Chris Hayes tweeted, "I've heard from wealthy donors that Sinema is at her most comfortable and gregarious around rich donors and you can really see it here!"
"After Manchin/Sinema chose to stand w/the GOP & refuse to repeal the filibuster, the child tax credit expired and childhood poverty increased 41%, which meant 3.7 MILLION MORE children were forced into poverty. But yeah, high fives all around. Horrid," lawyer Qasim Rashid explained.
"Clearly Kyrsten Sinema heard she was going to Davos & thought it was some kind of Game of Thrones fan convention," Occupy Democrats contributor Tara Dublin wrote.
FORMER CNN HOST BRIAN STELTER SLAMMED FOR HOSTING DAVOS PANEL ON DISINFORMATION: 'REASON WHY HE'S UNEMPLOYED'
Liberals and some in the media have criticized and attacked Sinema for her moderate positions such as her support for the filibuster during the Biden administration. After months of media backlash, left-wing activists confronted Sinema on her positions in an Arizona State University bathroom back in Oct. 2021.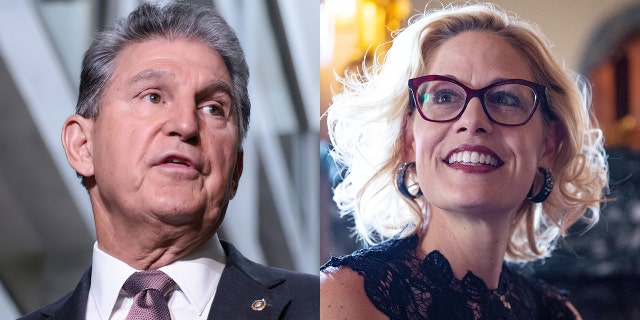 The backlash Sinema faced from far-left protesters as well as Democratic members of Congress eventually led her to switch her party affiliation from Democratic to Independent in December. Liberal media members continued to target her by accusing the senator of spoiling the slim majority the Democrats gained in the Senate after the midterm elections.
CLICK HERE TO GET THE FOX NEWS APP
In an op-ed for the Arizona Republic, Sinema explained her decision writing, "Americans are told that we have only two choices – Democrat or Republican – and that we must subscribe wholesale to policy views the parties hold, views that have been pulled further and further toward the extremes."