Memphis authorities will release body camera footage Friday night of police beating Tyre Nichols, a 29-year-old Black man who died three days after his Jan. 7 arrest for an alleged traffic violation. The city's police chief warned Thursday that the footage will depict violence that is "heinous, reckless and inhumane."
"I expect you to feel outrage in the disregard of basic human rights, as our police officers have taken an oath to do the opposite of what transpired on the video," Memphis Police Chief Cerelyn "CJ" Davis said in a video statement.
She urged residents to remain calm in the wake of the video's release, something Shelby County District Attorney Steve Mulroy met with activists to request as well. On Thursday, President Joe Biden called for peaceful protests.
Davis and prominent civil rights attorney Benjamin Crump compared the video to the 1991 beating of Rodney King by Los Angeles police, which sparked mass protests and riots when the officers involved were acquitted.
In the Nichols case, five officers ― Desmond Mills, Justin Smith, Tadarrius Bean, Demetrius Haley and Emmitt Martin ― were identified for their involvement. They were fired from the department on Monday.
On Thursday, a grand jury charged them with second-degree murder, two counts of official misconduct, one count of official oppression, one count of aggravated assault and two counts of aggravated kidnapping. The former cops bonded out of jail later that day.
An independent autopsy commissioned by the family indicated Nichols "suffered extensive bleeding caused by a severe beating," according to Crump and attorney Antonio Romanucci, who are representing the family. Nichols' family and attorneys viewed body camera footage of the beating earlier this week.
Davis said Friday morning that while police initially said Nichols was stopped for reckless driving, she now believes there is no evidence for that allegation.
The incident became a harsh reminder that police in the city regularly use excessive force on Black residents, who make up 63% of its population. It was not the first time a traffic stop has turned either violent or fatal in Memphis, and a study found that Black drivers were stopped there at disproportionate rates. Driving while Black in Memphis and the state of Tennessee have been costly, and at times deadly, for residents.
Moreover, emerging details suggest the five officers were not random bad apples, but rather part of the department's controversial SCORPION unit. Nichols' family and local activists are already calling for the unit to be broken up.
A Pattern Of Bias
From 2017 to 2021, Black drivers were twice as likely to receive multiple citations on one ticket, according to a study conducted by the criminal justice advocacy group Decarcerate Memphis.
Additionally, in a sample of 487 criminal court cases that stemmed from traffic stops in 2019 and 2021, about 90% of defendants were found to be people of color, with the majority of them facing misdemeanor charges. Prosecutors later dropped two-thirds of those cases.
Decarcerate Memphis organizer Chelsea Glass said the group presented the information to the city council and public officials last year, but that they were ignored.
Traffic stops have turned fatal before. A city police officer pulled over Martavious Banks in 2018 for an alleged lack of car insurance. Police shot him 20 times; he survived and settled a lawsuit against the city in 2021.
Also in 2018, police pulled over D'Mario Perkins because they said his license plate was not registered to his vehicle. Perkins told officers he was suicidal, but during a confrontation, they shot him 10 times. He died at the scene and the officers were never charged.
"In the case of Tyre Nichols, it is a culmination of all of the things we have warned them about," Glass told HuffPost.
The Decarcerate Memphis analysis also found that the state suspended driver's licenses mainly for unpaid traffic debt, and that more than 93 percent of residents with non-reinstated licenses in the state were living in poverty. Revenues from traffic fines in Memphis increased from $10 million in 2009 to $13 million.
Last year, Tennessee instituted a law on reckless driving that lawmakers claimed would help prevent road rage incidents. The bill made reckless driving a class A misdemeanor.
But Glass argued the law criminalizes Black drivers and gives police too much leeway to over-charge people for crimes while driving.
"There is a whole lot of scare tactics and fear campaigns going on around people speeding and actual reckless driving," Glass said.
An Aggressive Unit
Police launched the SCORPION unit in November 2021, utilizing an acronym that stands for Streets Operation to Restore Peace In Our Neighborhoods. It was ostensibly designed to address violent crime, but developed into what critics see as a rogue police force unit with a harsh bias toward Black residents of Memphis.
On Thursday night, Crump and Romanucci penned a letter comparing SCORPION to the widely criticized Gun Trace Task Force in Baltimore and a similar roving unit in Chicago, where officers were involved in robberies and home invasions. They demanded that the city disband the unit.
In SCORPION's case, officers operated in unmarked cars targeting specific areas, often predominantly Black neighborhoods.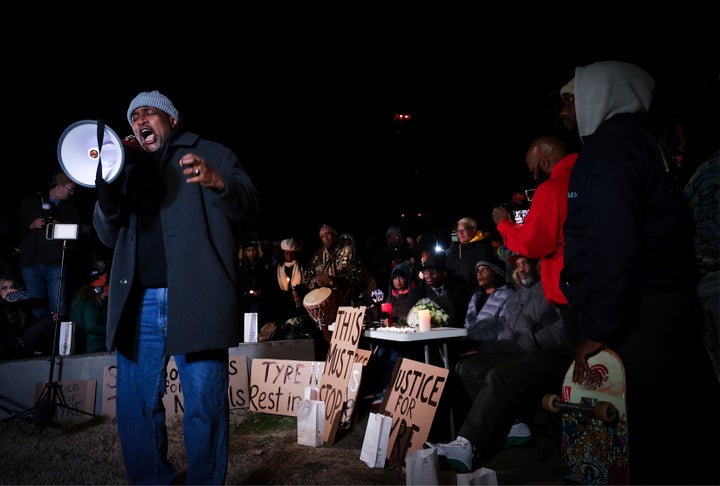 The unit appeared to be targeting residents during traffic stops as recently as two months before Nichols' arrest, according to court documents found by HuffPost.
In some cases, the unit loaded up charges that were later dropped. Back in October, all five officers in Nichols' case were present when officers stopped a man named Jamarian Johnson due to a "strong odor" of marijuana coming from his car.
The officers said they discovered marijuana paraphernalia and a handgun in the vehicle and later accused Johnson of using the vehicle to transport drugs. Police charged Johnson with evading arrest; possession of a controlled substance with intent to sell, manufacture or deliver; and unlawful possession of a weapon.
But on Jan 19, prosecutors dropped the case against Johnson. HuffPost reached out to MPD about the arrest but did not get a response.
Mckinney said they approached him in unmarked cars and didn't initially say what the stop was for, though they later accused him of carrying drugs. He said their vests said "MPD SCORPION UNIT" on the back.
When McKinney asked for a lawyer, he said that one officer told him, "This ain't court. This ain't the time for lawyers." The police eventually let McKinney leave the scene without any charges, he said.