The black box recovered from the crash site of Nepal's most deadly airline disaster in 30 years will soon be delivered to France for inspection, Nepali authorities said Tuesday.
The plane, an ATR-72, was on a 30-minute flight from the capital of Kathmandu to Pokhara International Airport. First responders recovered voice recordings and flight data from the crash site on the second day of the search. The reason for the plane's sudden lurch to the ground is unknown, but Nepali authorities hope that France–where the plane was produced–can help decipher the data.
Searchers recovered the final three bodies from the crash site on Tuesday. In all, 72 people were killed in the crash, including four crew members.
Nepal's Civil Aviation Authority plans to inspect the voice recordings on its own but has delivered the flight data to ATR's headquarters in France.
CHINA EASTERN PLANE CARRYING 132 PEOPLE CRASHES, NO SIGN OF LIFE AMONG DEBRIS: REPORT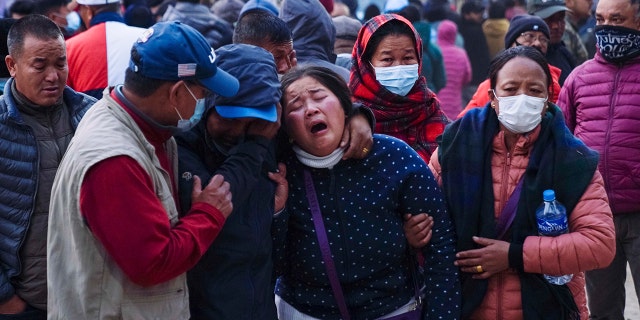 The ATR 72 took off from the Nepali capital of Kathmandu at 10:32 a.m. local time and checked in again with flight controllers at 10:50. The plane is believed to have crashed soon after the check-in.
DOZENS KILLED IN NEPAL PLANE CRASH AFTER AIRCRAFT PLUMMETS INTO RIVER GORGE
Nepal, home to eight of the world's 14 highest mountains, including Mount Everest, has a long and tragic history of air crashes. According to the Flight Safety Foundation's Aviation Safety database, there have been 42 fatal plane crashes in Nepal since 1946.
Footage of the crash taken by eyewitnesses near the destination airport in Pokhara shows the plane descending smoothly toward a landing before the plane's left wing drops aggressively and the craft careens into a hill.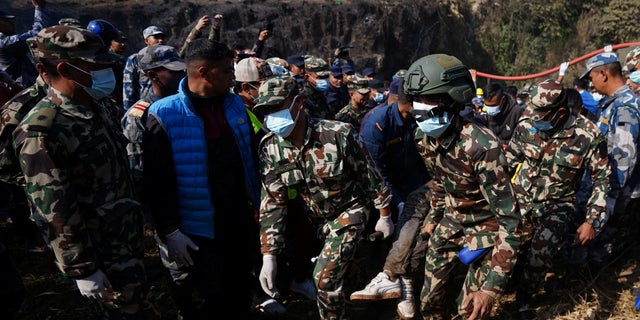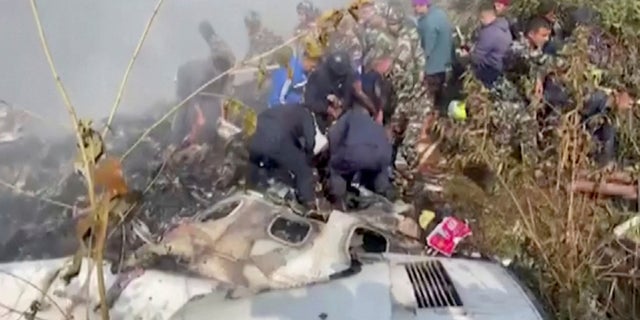 CLICK HERE TO GET THE FOX NEWS APP
Sunday's passenger list included 53 Nepali citizens, five Indians, four Russians, two South Koreans, one Australian, one Argentinian, one Irish and one French, Nepali authorities said.