New Hampshire Republican Gov. Chris Sununu criticized divisions within the GOP during a speech in Indianapolis Friday at the National Rifle Association's annual conference.
Sununu said Republicans need to focus on an inspirational message and expand their base across the political spectrum if they hope to win in the 2024 election, and that the party must move past complaining about the results of previous elections.
"When we are always yelling at each other, we are not going to get it done," he said at the conference. "Just to talk about the politics, I get nervous about 2024. If we don't have those independents, if we don't have those folks back on the team, those disenfranchised voters, it ain't gonna happen for us."
The governor, who is mulling a potential presidential run, has previously predicted that former President Trump would lose to President Biden again if he were the GOP nominee.
JIM JORDAN DECLARES HE IS '100% FOR PRESIDENT TRUMP' IN 2024 AMID ONGOING LEGAL ISSUES
"We can yell and scream all we want, but we want winners. We want winners for tomorrow," Sununu said in Indianapolis on Friday.
"No one gets inspired by getting yelled at, I try to remind them. Look like you're enjoying your job," he continued.
Sununu has not yet announced whether he will run for president in 2024. The Republicans to have already announced their candidacies for president include Trump, former South Carolina Gov. Nikki Haley, entrepreneur Vivek Ramaswamy, businessman Perry Johnson and former Arkansas Gov. Hutchinson.
Florida Gov. Ron DeSantis and former Vice President Mike Pence are considering runs for president.
TRUMP MOCKS DESANTIS, PENCE DURING STUMP SPEECH AT NRA CONVENTION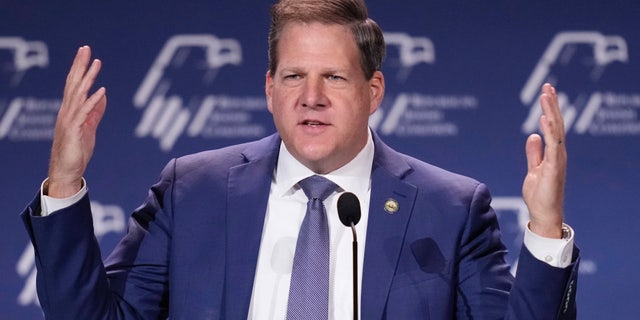 CLICK HERE TO GET THE FOX NEWS APP
The New Hampshire governor in February formed a political action committee called "Live Free or Die," which is also his state's motto.
"Think big. Think excited. Think positive. How do you grow? How do you inspire?" Sununu asked Friday.
Sununu said the Republican Party has the best chance of winning elections when it presents a positive, forward-looking message.