The co-hosts of Fox News Channel's "Outnumbered" reacted in horror and shock upon initially seeing the newly released body cam footage of the attack that left the husband of Rep. Nancy Pelosi, D-Calif., unconscious and severely injured on the floor of his own home.
After seeing the footage, "Outnumbered" co-host Emily Compagno remarked that it was a "heinous, brutal attack" and claimed she understood why Pelosi's criminal defense team didn't want it released to the public.
Released Friday afternoon the body cam footage from San Francisco police captured the climax of the attack on Paul Pelosi in his San Francisco home that happened in November.
DAVID DEPAPE BREAKING INTO PELOSI HOME CAPTURED ON US CAPITOL POLICE SURVEILLANCE FOOTAGE
The footage depicted the front door of the Pelosi household swinging open to Pelosi and DePape tugging on a hammer before DePape managed to wrestle it away from the 82-year-old, take a massive swing and hit Pelosi on the head.
As soon as DePape swung the hammer, the police officers barged through the front door, incapacitated the suspect, and found Pelosi rendered completely unconscious by the hammer blow.
The "Outnumbered" co-hosts found the graphic footage disturbing and several remarked on how violent the attack on Pelosi was. As soon as they finished playing the video, co-host Harris Faulkner expressed regret over not warning viewers about the content prior to showing it.
She stated, "The producers are apologizing to me, but I want to apologize to you. We had no idea what that was going to look like, and that should have had a warning and a graphic warning before we showed it and then on screen."
Faulkner turned to Fox Business host Kennedy, noting she saw her averting her eyes when the attack happened onscreen.
The Fox Business host explained herself, saying, "I have a hard time seeing violence like that and that was just a natural reaction. I know it's our job to look at those things and analyze them and take them in, but also the anticipation, we know it's going to happen but I'm squishy in that sense."
"It's hard for me to see things like that," she added.
FEDERAL INDICTMENT REVEALS WHAT PAUL PELOSI ATTACK SUSPECT WAS WEARING WHEN POLICE ARRIVED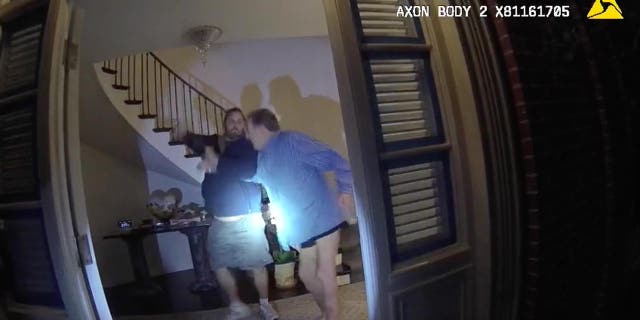 Faulkner declared, "Thank the Good Lord that [police] were there" and turned to "Fox and Friends" co-host Todd Piro, who agreed, stating that police "followed every procedure that they should have."
Addressing Nancy Pelosi's recent claims that she didn't want to watch the video, Piro added, "Nancy said she wasn't sure she was going to watch it." He then addressed her directly, saying, "Don't watch it."
Compagno described the visceral nature of the bodycam footage, stating, "We saw the windup of DePape, it was especially powerful. That's partly what made this so graphic."
She continued, saying, "The windup that he engaged was absolutely horrific and the police responded immediately. But that just goes to show that immediately is still a nanosecond slower than that force of the hammer, which we then saw the result to poor Paul Pelosi there."
CLICK HERE TO GET THE FOX NEWS APP
Campagno then claimed she now understood why the criminal defense team in the case argued against release of the footage, stating, "I can see why the defense argued against it. It seems pretty clear that that was a heinous brutal attack that we just witnessed… That was an absolutely brutal attack."