Parents are concerned that a new New Jersey law requiring all students in grades K-12 to be taught "media literacy" as a means of fighting so-called misinformation could have negative consequences.
Garden State schools will have to teach media literacy to students of all grades, in an attempt to help youngsters learn how to determine what is "disinformation."
Fox News contributor Joe Concha, a New Jersey resident and parent, can't believe Governor Phil Murphy, D., would go down the same road as the Biden administration's failed "Disinformation Governance Board."
"Here's the bottom line without ambiguity: The government should not be involved in what is misinformation and what is not. It's beyond subjective and will be weaponized for political power," Concha told Fox News Digital.
NEW JERSEY REQUIRING STUDENTS TO LEARN 'MEDIA LITERACY' TO FIGHT 'DISINFORMATION'
"For example, if I said even one year ago that coronavirus likely came from a lab in Wuhan China that studies coronavirus, I would be accused of spreading misinformation by Democratic leaders and the social media companies that serve at the pleasure," Concha continued. "Turns out that wasn't misinformation."
Gov. Murphy tweeted "K-12 media literacy education will empower future leaders to accurately assess information — essential in preserving our democracy in a time of disinformation."
He signed the bill after it passed on a bipartisan basis last month in the state legislature.
The law is aimed at helping students better determine credible sources by learning the difference between news and opinion, as well as primary and secondary sources, and improving their research methods and literacy skills.
Concha believes Murphy should be more worried about fundamentals of education.
"We are ranked far behind other advanced countries in the basic blocking and tackling our children need to compete in the real world with — math, science, reading, writing. Governor Murphy and his priorities are completely out of whack here," Concha said. "Let's get back to blocking and tackling please."
Parents Unite co-founder and executive director Ashley Jacobs, whose organization is dedicated to working toward diversity of thought in schools, believes the law is essentially New Jersey admitting students have not been taught how to think critically using facts and logic.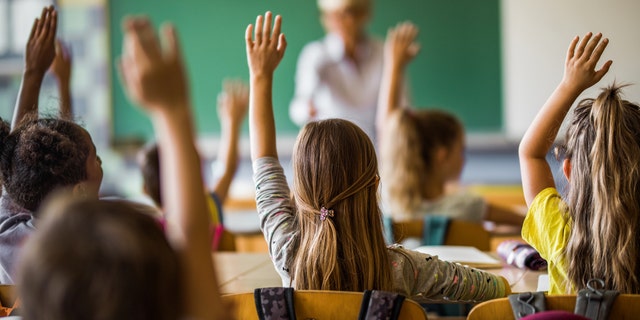 CRITICS SLAM TIMING OF BIDEN'S 'MINISTRY OF TRUTH' TO POLICE INTERNET FOR 'DISINFORMATION'
"How will standards be developed? How will students be assessed? How will students be taught to search for objective truth? Whose truth is the truth? Sadly 'disinformation' has come to be defined as 'things people don't agree with,'" Jacobs told Fox News Digital.
Jacobs also cautioned parents that typically when something is added to curriculum, something else has to be removed.
"What will that be?" she asked.
Other critics feel the law could lead to censorship and certain news outlets being pumped up while others are disparaged. Some called for homeschooling and one person responded to the governor's tweet by saying the law "smacks of indoctrination."
In 2022, the Biden administration announced a that a "Disinformation Governance Board" is being established to combat "disinformation," but the project was widely mocked and quickly abandoned.
BIDEN'S WAR ON 'DISINFORMATION' RAMPS UP AS GOP ACCUSES OFFICIALS OF PLAYING POLITICS WITH THE TRUTH
Liberal radio host and Fox News contributor Leslie Marshall expressed support for the New Jersey law.
"In the environment they're growing up in, I would appreciate any assistance by teachers to help me as a parent who can't be there 24/7 to help my children to better discern fact from fiction," she told Fox News Digital.
Marshall said that people believing false information about things like Democratic pedophile rings or the 2020 election being stolen had led to violence in both cases, and she also said the law could help aid impressionable youngsters in staying away from poisonous social media habits or worse.
"We need to teach kids facts and in the world we're growing up in, we need to teach them how to fact-find," she said.
CLICK HERE TO GET THE FOX NEWS APP