President Joe Biden on Monday made an unannounced visit to Kyiv and met with Ukrainian President Volodymyr Zelenskyy, ahead of the one-year anniversary of Russia's war against Ukraine later this week.
Biden was previously scheduled to depart the U.S. for Warsaw, Poland, later Monday.
This marks Biden's first visit to the country since Russia's invasion on Feb. 24, 2022.
"When [Russian President Vladimir] Putin launched his invasion nearly one year ago, he thought Ukraine was weak and the West was divided," Biden said in a statement released by the White House. "He thought he could outlast us. But he was dead wrong."
Biden added he would announce new sanctions "against elites and companies that are trying to evade or backfill Russia's war machine."
Biden spoke alongside Zelenskyy at Mariinsky Palace, pledging half a billion dollars of additional assistance to Ukraine, including more military equipment.
The president added that while the international community feared Kyiv would not withstand Russia's attack, Ukrainians have managed to fight on.
"One year later, Kyiv stands. And Ukraine stands. Democracy stands," Biden said.
The two leaders left Mariinsky Palace together, and then did a walkabout outside the gold-domed St. Michael's Cathedral.
They entered the cathedral for a short time, and when they exited air raid sirens could be heard across the capital.
They later laid a wreath at the Wall of Remembrance for the fallen heroes of the war.
Zelenskyy shared a photo on his Telegram account, showing him and Biden sharing a handshake.
"Your visit is an extremely important sign of support for all Ukrainians," Zelenskyy wrote.
He arrived in Kyiv around 8 a.m. local time, where he was greeted by Ambassador Bridget Brink, before departing for Mariinsky Palace where he was welcomed by Zelenskyy and his wife, Olena Zelenska.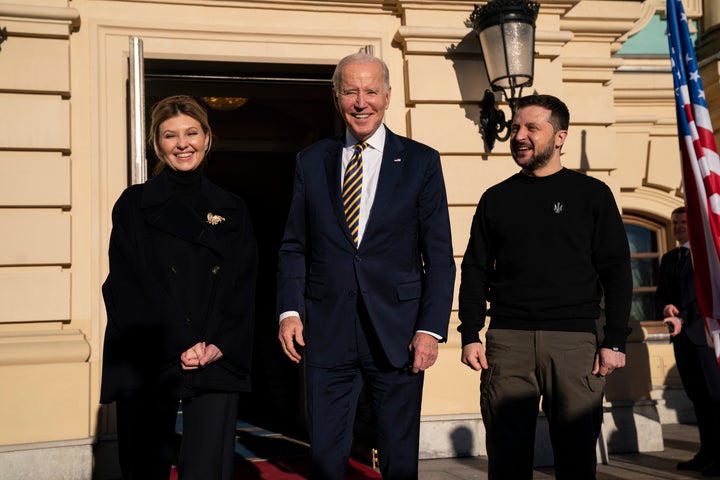 Biden is due to meet with Polish President Andrzej Duda on Tuesday, and also deliver remarks reiterating U.S. support to Ukraine "for as long as it takes."