Actress Raquel Welch died Wednesday, her representative confirmed to Fox News Digital. She was 82.
The superstar catapult to fame in the sixties with "Fantastic Voyage" and "One Million Years B.C."
Welch starred alongside a few of Hollywood's leading men through the years, including Frank Sinatra, Robert Wagner, James Stewart, Dean Martin and Burt Reynolds.
Her role as "Loana the Fair One" in "One Million Years B.C." where she rocked a "prehistoric" bikini almost didn't happen as Welch had zero interest in making a "dinosaur movie."
RAQUEL WELCH RECALLS STARRING IN 'ONE MILLION YEARS B.C.': I ALMOST DIED'
"I told (Fox's studio head) Dick Zanuck I didn't think I was going to do it because it was a dinosaur movie and I didn't want to be caught dead in a dinosaur movie," Welch told Fox News Digital. "And he was not sympathetic to that.
"He said, 'No, you're going to do it Raquel. And listen Raqui, you're going to become a huge star!' I said, 'What? What am I even going to wear? What happened in dinosaur time?… He said, 'Don't worry, they'll figure something out.' And they sure did."
RAQUEL WELCH TALKS WORKING WITH ROBERT WAGNER, MEETING ELVIS PRESLEY AND FRANK SINATRA
Reluctantly, the then-26-year-old, who had already worked alongside her teen idol Elvis Presley in 1964's "Roustabout," agreed to take on the role. Welch was sent far away from Hollywood, specifically the volcanic Canary Islands.
"We were so far from civilization," she recalled. "I mean, there was a hotel at the bottom of the volcano near the sea. And I was at the top. And it was snowing!"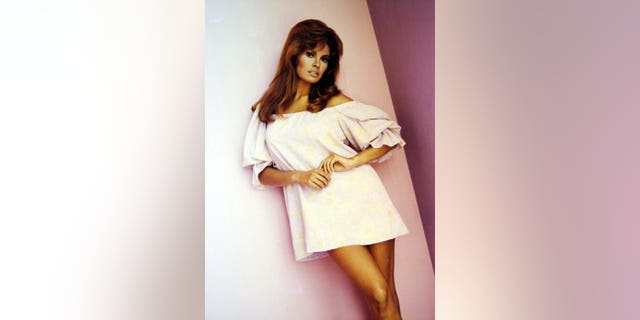 Welch, who was filmed wearing the skimpy costume during severe weather conditions, developed tonsillitis on set that she insisted became worse with time.
"I had already so much penicillin when I was wearing the fur bikini that I almost died," she claimed. "… I had to rush, turn my car around and head right back to the doctor's office, just run upstairs, jump in the elevator and all that.
CLICK HERE TO SIGN UP FOR THE ENTERTAINMENT NEWSLETTER
"And I barely got there. They had to shoot me with an antidote. Otherwise, I would have died. It was really rough shoot, man. Really rough. And then I came to London and everybody knew who I was."
Welch earned a Golden Globe for best actress in a comedy after starring in 1973's "The Three Musketeers." She revealed winning the award was one of her proudest career achievements.
"Every single [film] contributed to my [transition]," she told Fox News Digital.
"I played a lot of action figures, like in Westerns… I carried a gun, I was a very formidable woman who could handle herself, who could ride and shoot… I also showed myself in a lot of different periods of time… I worked in Spain for a lot of the Westerns, which is where most American Westerns were filmed."
Welch is survived by her two children, Damon and Tahnee.
CLICK HERE TO GET THE FOX NEWS APP
Fox News Digital's Stephanie Nolasco contributed to this report.