Democrats are all but banging pots and pans in the streets in protest of a federal judge's decision on Friday to block the U.S. Food and Drug Administration's approval of mifepristone, one of two abortion pills that has been used commonly, safely and legally for decades.
President Joe Biden warned that the ruling from U.S. District Judge Matthew Kacsmaryk, a Texas-based judge nominated by former President Donald Trump, represents the GOP's "next big step" toward banning abortion outright. Senate Majority Leader Chuck Schumer (D-N.Y.) said Kacsmaryk just "completely eviscerated the FDA as we know it." The Justice Department, which represents the FDA, has already appealed the decision.
Amid all this, Senate Republicans have gone virtually silent. Why?
Because this is precisely the ruling they wanted ― or, at least, the one they should have foreseen when they voted to confirm a staunch opponent of abortion rights to the federal bench.
They're not about to say this out loud. They know how unpopular and out of step it is to celebrate more rollbacks of reproductive rights. They know that access to abortion medication has broad support. They know their party is getting clobbered in elections all over the country because of their attacks on abortion rights, particularly after the Supreme Court struck down Roe v. Wade last year.
So with Congress in recess for two weeks, Republican senators are hoping to get away with saying nothing at all.
But if you doubt they're happy with the judge's decision, look no further than their 2019 vote to confirm Kacsmaryk to his lifetime federal court seat. They knew he had a record of strongly opposing abortion rights. And every GOP senator but one, Susan Collins of Maine, voted for him.
"In 2019, I voted against Judge Kacsmaryk's confirmation, and I disagree strongly with his decision in this case," Collins said in a Monday statement. "Mifepristone is an FDA-approved drug that has been on the market for more than two decades and extensively studied."
Collins is one of two self-described pro-choice Republican senators. The other one, Lisa Murkowski of Alaska, voted for Kacsmaryk. She did not respond to a request for comment about his ruling targeting abortion medication.
Of the 49 Republicans in the Senate, Collins is also one of just two who have said anything about Kacsmaryk's ruling. The other one, Sen. Cindy Hyde-Smith (R-Miss.), celebrated the decision on Twitter as a "victory for pregnant mothers & their unborn children."
That leaves 47 other Senate Republicans trying to avoid publicly saying what they think about a federal court order aimed at banning abortion medication nationwide, and arguably laying the groundwork for a total abortion ban through the courts.
Sen. James Lankford (R-Okla.) sort of talked about Kacsmaryk's ruling on Twitter, but only to criticize Democrats for suggesting the Biden administration ignore it. A spokesperson for Lankford did not respond to a request for comment about whether Lankford is happy with the court decision. Sen. Lindsey Graham (R-S.C.) talked generally on Fox News Sunday about how he thinks being pro-life is "a winning message," but said nothing about the court ruling.
None of them can claim to be surprised by Kacsmaryk's ruling. They knew that Kacsmaryk ― the former deputy general counsel for First Liberty Institute, a right-wing Christian advocacy group ― was rabidly anti-abortion when Trump tapped him for a judgeship in 2017. They watched national reproductive rights groups protest his nomination for more than a year.
For all of Trump's unqualified and ideological court picks, Kacsmaryk stood out as one of his most extreme nominees in part because of his record on abortion rights. He opposed the employer contraceptive mandate in the Affordable Care Act, representing First Liberty Institute in a lawsuit when it tried to avoid providing the health care required by the Department of Health and Human Services to female employees. His organization took a hard-line stance against the contraception provision.
Kacsmaryk played a lead role in opposing a Washington state law that required pharmacists to provide birth control to women. Before becoming a judge, he had criticized Roe v. Wade, describing the landmark 1973 Supreme Court decision as one in which "seven justices of the Supreme Court found an unwritten 'fundamental right' to abortion hiding in the due process clause of the Fourteenth Amendment and the shadowy 'penumbras' of the Bill of Rights, a celestial phenomenon invisible to the non-lawyer eye." (What?)
Kacsmaryk, an active member of the conservative Federalist Society, was also known for his record of attacking LGBTQ+ rights.
He fought against protections for LGBTQ+ people in employment, housing and health care. He said that including protections for LGBTQ+ people in the Violence Against Women Act would be "a grave mistake." In 2015, when Utah passed nondiscrimination protections, Kacsmaryk called the law "a bad idea" because of the suggestion that discrimination based on sexual orientation and gender identity should be taken as seriously as other forms of discrimination. He signed a 2016 letter that described being transgender as "a delusion."
Carl Tobias, the Williams Chair in Law at the University of Richmond and a judicial nominations expert, said the fact that the right-wing Christian legal advocacy group Alliance Defending Freedom intentionally sought out Kacsmaryk to try its medication abortion case in his court "should come as no surprise" to any GOP senators. The group is focused on outlawing abortion and scaling back rights for LGBTQ+ people.
"In Kacsmaryk's Judiciary Committee hearing and throughout his confirmation process, Senate Democrats and interest groups clearly demonstrated that he had spent much of his legal career as an anti-abortion and anti-LGBTQ rights crusader by litigating cases in opposition to reproductive freedom and rights for LGBTQ individuals," Tobias said.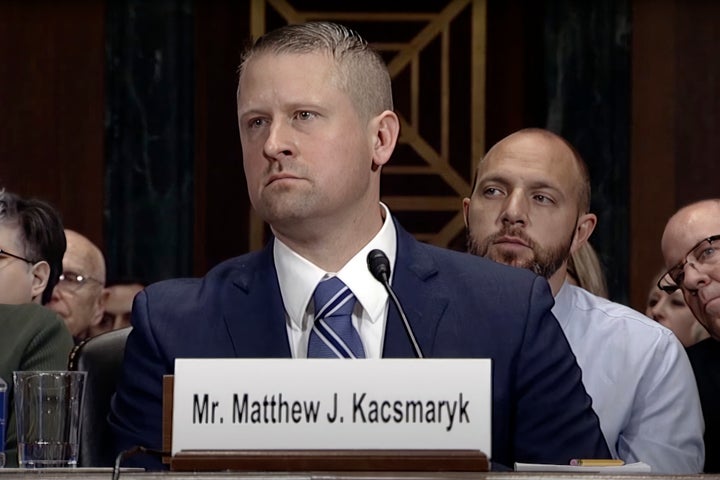 Of the 49 Republicans in today's Senate, 38 were there for Kacsmaryk's confirmation vote. On Tuesday, HuffPost reached out to all 38 of them for comment on whether they are pleased with his ruling on abortion medication.
None gave an answer. Only Collins and Hyde-Smith had previously weighed in.
Sens. Ted Cruz and John Cornyn, both Texas Republicans, were the ones who recommended Kacsmaryk to Trump for a judgeship. Kacsmaryk had previously volunteered on both of their Senate campaigns, and both senators raved about him when he got confirmed in 2019. Cruz even called him his "good friend."
"I am glad to see the Senate vote today to confirm my good friend, Matt Kacsmaryk, to fill this crucial judicial vacancy for the Northern District of Texas," Cruz said at the time. "As a passionate constitutionalist, Matt has served Texas well in his various professional and public service roles and proven himself to be a remarkably experienced and deserving candidate for this vacancy."
"Matthew's experience as a federal prosecutor and advocate for the First Amendment will serve him well in this role," Cornyn said at the time. "I'm grateful for my colleagues' support for his confirmation and thankful to President Trump for his nomination."
Neither Cruz nor Cornyn provided comment Tuesday about whether they are happy about Kacsmaryk's abortion pill ruling.
"I'll be in touch if we have anything for you on this," said a spokesperson for Cornyn. A spokesperson for Cruz didn't reply at all.
Sen. Josh Hawley (R-Mo.) possibly knows more about Kacsmaryk's court case than anyone. His wife, Erin Morrow Hawley, is an attorney at the center of the lawsuit in Kacsmaryk's courtroom, focused on trying to cancel the FDA's approval of abortion medication.
Like virtually everyone else in his caucus, Hawley did not respond for a request for comment about Kacsmaryk's ruling.

Igor Bobic contributed reporting.