DANA POINT, Calif. ― Any grassroots Republican activists thinking about heading to the party's winter meeting to lobby members ahead of Friday's election for chair should probably check their credit card limits.
Rooms at the Waldorf Astoria Monarch Beach resort, where the Republican National Committee is holed up this week, start at $1,283 for Wednesday night, with a AAA discount, and $881 for Thursday night. Those rates do not include a mandatory $55 a night resort fee.
"It costs $75 just to park a car!" complained conservative radio host John Fredericks as he sat in the lobby bar, adding that breakfast for two had set him back $120. "And we're supposed to be the party of the working class? This is like the Politburo going to the Black Sea."
The hotel sits of a bluff with a commanding view of the Pacific and features a 30-meter-long swimming pool and easy access to a secluded beach. It offers attendees a golf course, spa and the several high-end boutiques, including a Cartier's jewelers. Rooms have deep jacuzzi tubs and come with copies of the Robb Report luxury-lifestyle magazine stacked with the hotel brochure.
Fredericks, a frequent guest on Steve Bannon's "War Room" podcast and a supporter of coup-attempting former President Donald Trump, said it was obvious why the party chose the most expensive hotel for miles around.
"Why do they do hold it there? So you can't go," he told Bannon on a recent broadcast. "The grassroots is sick and tired of being dictated to by the arrogance of these people and the elitism…. I'm trying to give our base access to what's going on."
RNC members and staff pointed out that, thanks to the block rate negotiated with the hotel, members, their invited guests and party staff are paying a base rate of only $250 a night.
Though that discount makes the rooms affordable for members ― many of whom are not especially wealthy and who, for the most part, pay their own expenses to attend meetings ― it still leaves hefty fees for food and incidentals.
"It's ridiculous," groused one RNC member who spoke on condition of anonymity about the restaurant prices. "I'm looking for every free meal I can get."
An RNC official, who also spoke on condition of anonymity, said the party is limited in its options. A hotel has to have at least 350 rooms and enough meeting space for the various committees and subcommittees to gather simultaneously, be able to cater multiple meals for hundreds and, most important, be willing to deal with potential protests and negative publicity. "Most hotels don't want to deal with a Republican event," the official said.
That block rate, though, is available only to people whom the party or one of its 168 members wants to be there.
And that, by definition, excludes the precinct- and state-level "anti-establishment" party activists who are most interested in blocking incumbent chair Ronna McDaniel from winning a fourth two-year term.
"Reelecting her is going to destroy the party," Fredericks said.
Choosing expensive hotels also has the effect of dissuading some media outlets from being there to cover meetings.
In the past, RNC-hired security staff has worked to limit the access of journalists. In 2021, at the winter meeting on Amelia Island, Florida, the party's contracted security restricted reporter movements within public areas of the Ritz Carlton. A year later in Salt Lake City, RNC security actually demanded reporters show their room keys at the Great America Hotel or be thrown off the property.
If the intent of choosing such an exclusive venue was to ward off theatrics and controversy, it may not have succeeded.
Fredericks, working with Bannon, staged a candidates debate Wednesday at a nearby Marriott Residence Inn, but it wound up featuring only election conspiracy theorist Mike Lindell, a major sponsor of both of their podcasts.
A meeting room of 50 Bannon fans, many wearing Trump gear, filled the room as Fredericks, who is using hundreds of thousands of Hilton Honors points to cover his room rate, told them that they would not be welcome at the Waldorf Astoria.
"Good luck walking down the hallway with the Mussolini Gestapo there," he warned.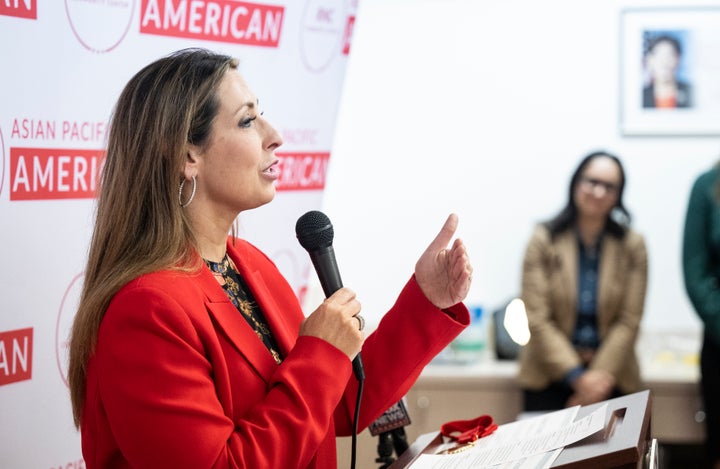 Caroline Wren, a former fundraiser for Trump who is now supporting Harmeet Dhillon's challenge to McDaniel and who appeared at the debate to represent Dhillon, chimed in with: "If we were winning elections, it would be fine. But we're not."
On Wednesday evening, failed Arizona gubernatorial nominee Kari Lake mingled in the lobby, and Turning Point USA head Charlie Kirk is also expected to pay a visit. Both are Dhillon supporters.
Meanwhile, former Arkansas governor and potential 2024 Republican presidential candidate Asa Hutchinson is attending the meeting to pitch attendees. Fellow potential candidate and former Secretary of State Mike Pompeo is not attending but sent copies of his new book for distribution to the members. Trump, who has already announced his candidacy for 2024, is not appearing personally but sent three of his staff.
The RNC's 168 members are scheduled to vote on officers, including chair, on Friday. Closed-door, member-only candidate forums began Wednesday and are to conclude Thursday.