"Twisted Sister" front man Dee Snider's performance at San Francisco Pride has been canceled after the legendary classic rocker supported fellow rock legend Paul Stanley's rebuke of allowing children to undergo gender transitions.
In a statement, the group behind world's premiere LGBTQ pride event announced that Twisted Sister's scheduled performance of "We're Not Gonna Take It" at the event was being canceled due to his recent political stance.
SF Pride claimed that it originally intended the 80's hard rock anthem to be the "unofficial rallying cry" of its pride celebration in June this year, but had to pull the plug thanks to Snider's stance on promoting sex reassignment for minors.
DEE SNIDER BACKS FELLOW ROCKER'S STANCE AGAINST GENDER TREATMENTS FOR KIDS: NO 'RASH CONCLUSIONS'
Snider, who has expressed support for the LGBTQ community in the past, angered SF Pride for publicly supporting Stanley's social media post which called gender-affirming care for minors a "sad and dangerous fad."
The KISS front man added, "There is a BIG difference between teaching acceptance and normalizing and even encouraging participation in a lifestyle that confuses young children into questioning their sexual identification as though some sort of game and then parents in some cases allow it."
Snider, whose famous for his drag-inspired stage persona, commented on Stanley's post, saying, "You know what? There was a time where I 'felt pretty' too. Glad my parents didn't jump to any rash conclusions!"
"Well said, @PaulStanleyLive," the musician added.
Another user replied to Snider's comment, saying, "Dee, PLEASE, PLEASE DON'T fall for the bulls— being spun by the Right. This is no fetish, it's not 'confusion,' and it's been noted for thousands of years though only seriously studied in the past 100. PLEASE!"
TWISTED SISTER'S DEE SNIDER TALKS BAND'S BREAKUP, STAYING SOBER IN THE '80S: 'I MADE PEOPLE'S LIVES MISERABLE'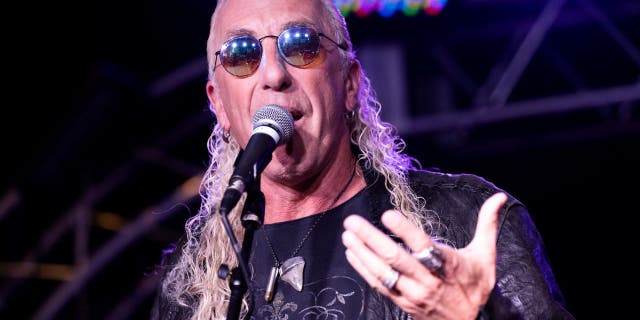 However, the singer didn't back down. He shot back, saying, "I'm not, Elle. Parents need to be less reactionary; Right and Left. No need to steer the child in either direction. Let the kid figure it out for themselves knowing their family is supportive. I had a vet/cop harda– dad who, while he shook his head A LOT…let me do my thing."
Snider's social media comments cause a stir on Twitter and caught the attention of SF Pride, which rebuked him with a statement on Tuesday. The organization wrote, "San Francisco Pride was on the cusp of announcing Twisted Sister's 'We're not gonna take it' as the unofficial rallying cry of this year's SF Pride Parade & Celebration, with the band's frontman Dee Snider performing the song on our center stage. Dee has always been a vocal supporter of LGBTQ+ rights."
It continued, "However, when we were notified about the tweet in which Dee expressed support for Kiss's Paul Stanley's transphobic statement, we were heartbroken and angry. The message perpetuated by that tweet casts doubt on young trans people's ability to self-identify their gender."
CLICK HERE TO GET THE FOX NEWS APP
The organization added, "We have mutually agreed to part ways, but appreciate Dee seeing this as a teachable moment and a reminder that even allies need to be educated to ensure that they are not casually promoting transphobia."