The "Scooby Doo" spin-off series "Velma," produced by actress Mindy Kaling, continued to rile up viewers with more sexual content this week as it officially became the worst-rated animated show. The fifth and sixth episodes of the series were released on Thursday and contained the usual woke content, with one especially egregious scene.
Episode six, titled "The Sins of the Fathers and Some of the Mothers," focused primarily on the titular character attempting to reconnect with her distant father to help her locate her missing mother. They start by meeting up at an old diner they frequented to only have it revealed that it has become a strip club named "Nana's Nipples."
Various strippers pole dance around the diner, though Velma's father pays them and his daughter no attention, instead he obsesses over work. After he leaves to take a phone call, Velma decides the best way to evoke a response from her dad is to pole dance herself.
"I'm doing what every girl is doing up here," Velma says. "I'm just trying to get my dad's attention."
'SCOOBY-DOO' SPINOFF 'VELMA' JOKES ABOUT SEXUALIZING TEENS AS WOKE SERIES ENDURES BLISTERING RATINGS, REVIEWS
Neither her father nor the other patrons are amused, with one man moaning, "Oh, yeah. Keep it all on." And another saying, "Show me nothing, baby."
The previous episodes came under fire for joking about sexualizing teens and kids, particularly due to the fact that the titular character is in high school and a lesbian.
In episode four, Velma joked, "Our whole lives, girls are told by guys there's a right way to be hot, and I'm not it. Guys even teach us to be ashamed of our own bodies. Every little kid knows how to draw a penis, but make a little kid draw a vagina, and what happens?"
Her friend Norville replied, "You go to jail?" to which she said, "Exactly."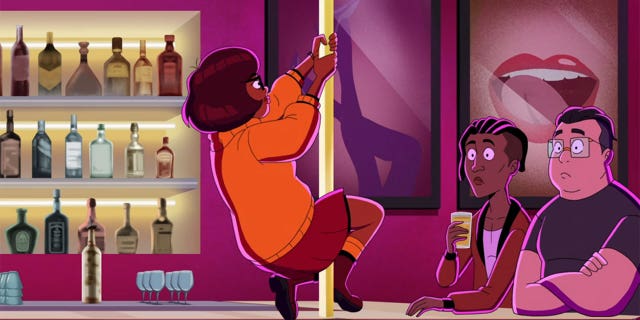 'ADULT' SCOOBY DOO REBOOT 'VELMA' RIPPED BY CRITICS, AUDIENCES: 'WHERE DID EVERYTHING GO SO HORRIBLY WRONG?'
Since the show premiered on Jan. 12, the series endured vicious reviews from both audiences and critics. As of publication, "Velma" garnered over 46,000 one-star ratings on the Internet Movie Database (IMDb) website, with less than 2,000 giving the show a 10 out of 10. The aggregated 1.3 IMDB rating makes "Velma" the third-worst rated show and this week it was announced the series is the worst-rated animated show on the site.
Aside from the adult and sexual content, many viewers criticized the series as an insult to fans of the long-running kids' series "Scooby-Doo" with various race-swapped characters and no appearance of the title character whatsoever.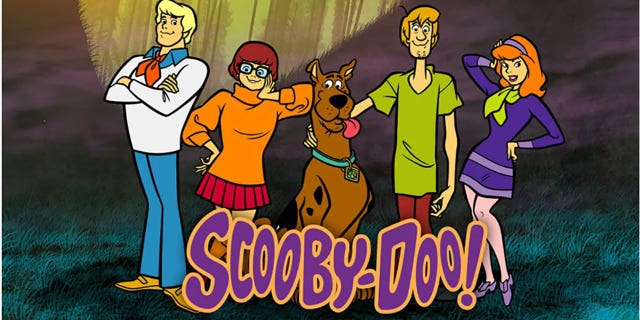 CLICK HERE TO GET THE FOX NEWS APP
However, the sixth episode did feature an indirect reference to the character. While searching for her mom, Velma speaks with her school principal who revealed that her mother was likely researching a covert government project known as the Special Covert Operation Brain Initiative or SCOOBI.
"Wait, what did SCOOBI do?" Velma asks.
Fox News' Gabriel Hays contributed to this report.