Speaking at the Seattle Public Library on Saturday, actor-writer Kirk Cameron encountered a small group of protesters who objected to his pro-faith, pro-family and pro-country messages during his children's book event, with one individual hoisting a large sign that said, "You are growing to be a real pain — you know that."
The sign's message and lettering was a play on "Growing Pains," the TV sitcom in which Cameron first came to fame as a young actor.
Cameron told Fox News Digital in a message on Sunday, "One nostalgic protester — protesting a book about humility? — lugged a huge sandwich board that said that I was 'growing to be a real pain.' Nicely played, sir!" added Cameron.
FORGET PRIDE — LET'S FOCUS ON HUMILITY, SAYS KIRK CAMERON AS NEW CHILDREN'S BOOK COMES OUT
The protesters who showed up, however, were largely overwhelmed by the many supportive parents, children and families who came out to see him and hear him. Coach Joe Kennedy of Bremerton, Washington, joined him as well.
Said Cameron about his latest public library book-focused event, "In the city most famous for coffee and grunge music, we were awakened with a joyful song of gratitude from hundreds of parents and kids at the Seattle Public Library."
He added, "My new children's book, 'Pride Comes Before The Fall,' was a huge hit and the kids instantly understood the importance of its main lesson: Always be humble and kind."
He said he "was especially struck by the parents who said, 'Thank you for coming to Seattle — where people forget there are good, God-loving and patriotic families.'"
KIRK CAMERON REJECTS DRAG QUEEN STORY TIME, IS INSTEAD SPEAKING ABOUT FAITH, FAMILY AT ARKANSAS LIBRARY
Cameron's new book is out June 1 from Brave Books.
He told Fox News Digital a few days ago in a phone interview, "With a nation that is so saturated with the idea that pride is a good thing, the Bible warns us that pride is the deadliest of the seven deadly sins. Before greed, gluttony, sloth, wrath, envy and lust – is pride."
It's "the mother vice that gives birth to all the other dangerous things on the list," he said.
And so "I want to teach children the importance of being humble and kind" through this new book.
NEW JERSEY FAMILIES BRING KIRK CAMERON TO 'TEARS OF HOPE' AT 10TH PUBLIC LIBRARY BOOK EVENT
It is his second children's book, after "After You Grow," which was a bestseller.
Other books that address the other seven deadly sins are also being planned, he said.
At the Seattle event, Coach Kennedy told the assembled families that a game plan for life included, "Love God and love this country," according to Brave Books.
"Humility is the road to blessing."
Kennedy, a native of Washington, also "shared his humble story of faith," Cameron said, "then reminded the kids to always do the right thing and consider others more important" than themselves."
Added Cameron, "Thank you, Seattle!"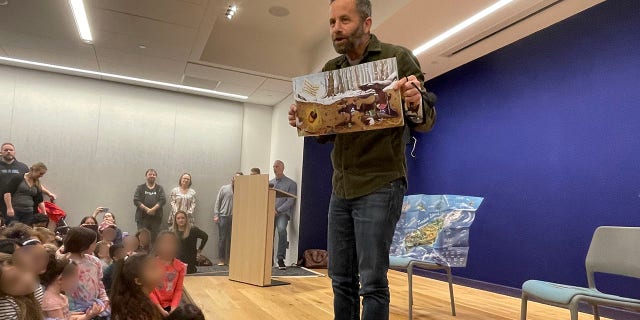 Since late last year, Cameron has been traveling to public libraries all over the country to meet with families and deliver his patriotic and faith-filled messages as he reads from his books.
He's been joined by special guests at many of the events.
CLICK HERE TO SIGN UP FOR OUR LIFESTYLE NEWSLETTER
He has more events planned as part of this tour, especially as the new book comes out.
"Humility is the road to blessing," he also said recently to Fox News Digital.
CLICK HERE TO GET THE FOX NEWS APP
"With a nation that is perpetuating this idea that it's good to be full of pride — especially this coming month, as we see signs that celebrate pride all over the place — we have to warn children that it's humility that will lead to the good life, not pride," he noted.