Donald Trump has attacked the judge in his criminal case from the safety of his Florida country club and on his social media platform, yet failed to raise a single word of complaint to Justice Juan Merchan's face when he was seated just yards away at Trump's arraignment.
"Yes." "I do." "Thank you."
Those responses to Merchan's questions made up half of the total words the coup-attempting former president uttered during the 45-minute hearing Tuesday at a courthouse in lower Manhattan. The first two words were the point of that initial appearance: "Not guilty."
Trump's other answers were to Merchan's questions about whether he understood the instructions Merchan was giving him about courtroom rules and his attorneys.
Just hours later at his Mar-a-Lago home in Palm Beach, Trump delivered a 25-minute speech attacking the various prosecutors looking into his actions, and claiming without evidence that Merchan is biased against him.
"I have a Trump-hating judge with a Trump-hating wife and family whose daughter worked for Kamala Harris and now receives money from the Biden-Harris campaign. And a lot of it," Trump said to a crowd of specially invited supporters.
Trump had expressed the same sentiment in an all-caps post on his Truth Social site a few hours before entering the courtroom: "THE HIGHLY PARTISAN JUDGE & HIS FAMILY ARE WELL KNOWN TRUMP HATERS. HE WAS AN UNFAIR DISASTER ON A PREVIOUS TRUMP RELATED CASE, WOULDN'T RECUSE, GAVE HORRIBLE JURY INSTRUCTIONS, & IMPOSSIBLE TO DEAL WITH DURING THE WITCH HUNT TRIAL. HIS DAUGHTER WORKED FOR 'KAMALA' & NOW THE BIDEN-HARRIS CAMPAIGN. KANGAROO COURT!!!"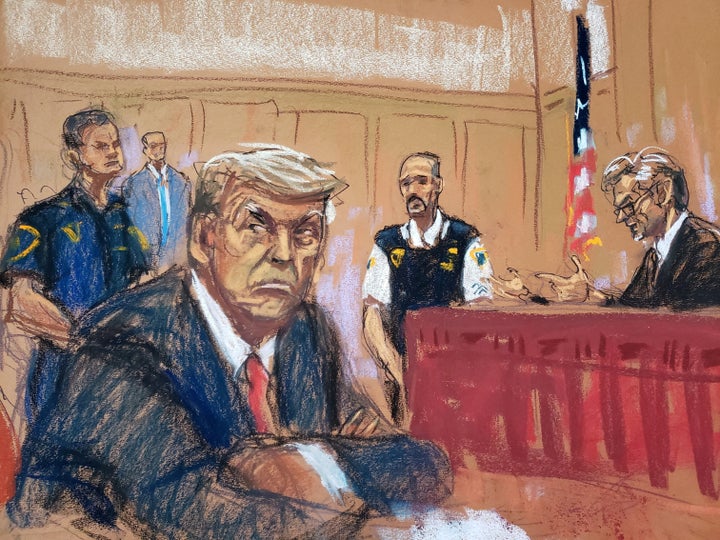 Trump campaign staff did not respond to HuffPost's queries about why Trump did not avail himself of the opportunity to raise his concerns directly to Merchan.
Other Republicans believe they have a pretty good idea why.
"Because when it comes to real life, Trump is a coward," said Jennifer Horn, a former chair of the New Hampshire GOP. "His arrogance and bravado disappear when his MAGA audience isn't there."
Mike Murphy, a former top GOP consultant who has worked on a number of presidential campaigns, said Trump in reality possesses little of the strength he boasts of. "Trump's private game is always different than the public show he puts on for his voters, who he considers rubes," he said.
Trump's arraignment Tuesday was for a grand jury indictment handed up the previous week that included 34 felony counts of falsifying business records stemming from his payment of $130,000 in hush money to an adult film star in the days before the 2016 election. Trump wound up winning by just 77,744 votes across three key states ― meaning that the successful suppression of Stormy Daniels' story may have been the deciding factor in his victory.
The next court date in that case is not until December, but Trump also faces potential charges from three other criminal probes. Georgia prosecutors are investigating Trump's attempt to coerce officials into overturning his loss to Democrat Joe Biden in that state. The U.S. Department of Justice is also investigating Trump's actions leading up to and on Jan. 6, 2021, including his use of fraudulent slates of pro-Trump electors and his attempt to block the certification of Biden's election. DOJ is conducting a separate inquiry into Trump's refusal to turn over top-secret documents in defiance of a subpoena demanding he do so.
Horn said Trump understands that Tuesday was just the start, and that it will only get worse. "I think he's afraid," she said. "He knows this is only the beginning."
Rick Tyler, who worked on Texas Sen. Ted Cruz's 2016 run for the GOP nomination, said: "Outside of the courtroom Trump is the casting director, screenwriter, set designer and the main actor in his real-life reality game show. Inside the courtroom, he is a criminal defendant."