Video of former President Trump's deposition in which he was questioned about claims by writer E. Jean Carroll that he raped her in the 1990s was made public Friday.
The deposition occurred in October and shows Trump being questioned by Carroll's attorney, Roberta Kaplan.
Trump denied raping Caroll, saying, "It's the most ridiculous, disgusting story. It's just made up."
At one point, Trump insulted his accuser.
COURT REJECTS TRUMP'S REQUEST FOR MONTH-LONG DELAY IN DEFAMATION TRIAL
"She said that I did something to her that never took place. There was no anything. I know nothing about this nut job," Trump says, adding that Carroll is "a complete scam."
"I will sue her after this is over, and that's the thing I really look forward to doing," he added. "And I'll sue you, too."
During her questioning, Kaplan attempted to get the former president to admit he sexually assaulted his client.
"So, sir, I just want to confirm: It's your testimony that E. Jean Carroll said that she loved being sexually assaulted by you?"
Trump replied: "Well, based on her interview with Anderson Cooper, I believe that's what took place. And we can define that. … I think she said that rape was sexy – which it's not, by the way."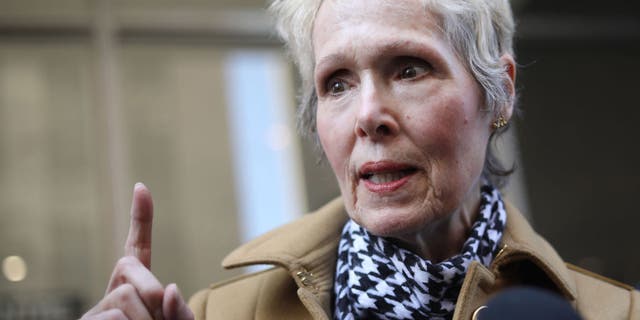 Kaplan showed Trump a photo of him with his then-wife Ivana Trump, Carroll and her then-husband, John Johnson. Trump then mistaking referred to Carroll as his other former wife, Marla Maples, whom he was married to for six years.
Trump said the photo was "very blurry," as reasoning for the mistake.
Carroll, a journalist and advice columnist, accused Trump of raping her in a Bergdorf Goodman department store changing room in the 1990s. She claims that Trump damaged her reputation in 2019, when he denied raping her.
Jurors watched the deposition video this week. Trump repeatedly denied raping Carroll, calling her a "whack job" and that was "mentally sick."
"I say with as much respect as I can, but she is not my type," Trump said. "She wouldn't be my type in any way, shape, or form."
CLICK HERE TO GET THE FOX NEWS APP
He later told Kaplan that he wasn't interested in her either.
"You wouldn't be a choice of mine either, to be honest with you, I hope you're not insulted," Trump said.
He later called Kaplan a "political operative" and a "disgrace."
Trump is not expected to testify in person at his trial and his team will not be calling any witnesses.
Summations are expected Monday and the jury could get the case Tuesday.