Observers tuned into the House speakership vote on Tuesday were surprised to find known rivals Rep. Alexandria Ocasio-Cortez, D-N.Y. and Rep. Paul Gosar, R-Ariz., chatting casually in the House chamber.
In a clip captured by C-SPAN and widely shared online, Gosar and Ocasio-Cortez, seated alongside each other, are engaged in what appears to be a friendly conversation during a break after House GOP Leader Kevin McCarthy's speakership bid fell short of the required 218 votes, prompting another round of voting.
The exchange was shocking largely because of the lawmakers' contentious history with one another, which came to a head when Gosar tweeted an animated spoof video depicting violence against Ocasio-Cortez and President Biden. At the time, Ocasio-Cortez accused Gosar of being a "white supremacist." Gosar was censured and stripped of his committee assignments as a result.
LIVE UPDATES: THE VOTE FOR HOUSE SPEAKER
The civility of their most recent exchange piqued the curiosity of many on Twitter, who marveled at the unexpected dynamic between the lawmakers while speculating about what they were discussing.
"Wait?!?!? @AOC and Paul Gosar, the guy who made that cartoon of him killing her, are talking on the floor? Now I have seen everything," The Independent's" Eric Michael Garcia wrote.
"Congressman Gosar and AOC are seen scheming," journalist James Dunn responded.
"AOC and Gosar chatting on the CSPAN feed, which is unexpected," Washington Post's Philip Bump wrote.
"Any body language or lip-reading experts wanna weigh in on this conversation between AOC and Paul Gosar just now?," Daily Wire senior editor Cabot Phillips asked.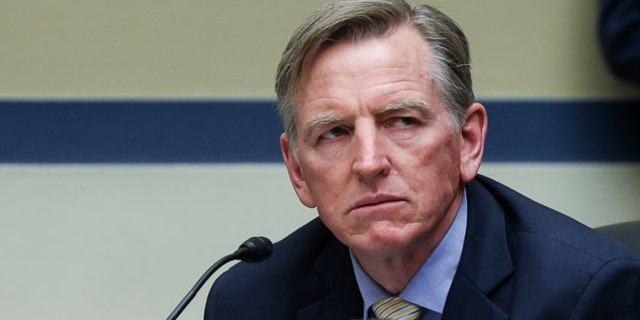 "'Snape was only trying to protect Harry. Dumbledore knew when Voldemort killed Harry's parents, at that moment, his soul latched onto the only living thing in the room—Harry himself. Dumbledore knew Harry was a horcrux and would have to die,'" Newsmax's Alex Salvi joked.
"Kickboxing. It's the sport of the future," quipped NPR's Peter Sagal.
"Oh, to have a hot mic. Paul Gosar and Alexandria Ocasio-Cortez engaged in an animated conversation…but about what?" NBC Universal's Mike Sington wondered.
"Oh to hear this conversation right now between Rep. Paul Gosar and Rep. @AOC," Punchbowl News'Heather Caygle agreed.
"This is truly a historic day…. Paul Gosar is chatting with AOC on the House floor," Spectrum News' Joel Siegel wrote.
ABC News congressional reporter Gabe Ferris offered curious users some insight into what the two were discussing.
"On her floor convo with Rep. Gosar earlier, AOC tells me that McCarthy made claims within the GOP conf. that some Ds would walk away to lower the threshold," he tweeted." "Gosar was asking AOC for clarification — would she walk away? "We would never do that," AOC told me. Jeffries all the way."
The Intercept's Eric Michael Garcia reported that the two lawmakers are united in their opposition to McCarthy's House speakership.
"I caught up with @AOC about why she spoke with Paul Gosar," he wrote. "She said he never apologized for the cartoon showing him killing her. She added that "I think that the common thread here is that neither of us wants to see Kevin McCarthy be Speaker of the House"
Other users pointed out that Ocasio-Cortez was also seen chatting with Rep. Matt Gaetz, R-Fla.,earlier in the day.
"What was up with Gosar and Gaetz talking to AOC? They wanted to know if D's might skip a vote to give McCarthy a path to victory. She said no. Also: Gosar did not apologize during their exchange for posting a video of himself murdering her," Semafor's Benjy Sarlin wrote.
CLICK HERE TO GET THE FOX NEWS APP
"Hard to guess why AOC is caucusing with Gaetz and Gosar so much, but it's not a great sign. Under normal circumstances, there would be no reason for them to be communicating at all," investigative journalist Dave Troy responded.
McCarthy's second and third vote for Speaker failed, resulting in the House adjourning for the day until noon on Wednesday.