The Transportation Security Administration intercepted a record 6,542 guns at airport checkpoints across the country last year.
The number is an all-time high for guns intercepted at U.S. airports. It roughly translates to about 18 guns intercepted every day.
With the exception of pandemic-disrupted 2020, the number of weapons intercepted at airport checkpoints has climbed every year since 2010.
Experts tell The Associated Press that the issue is not people seeking to do harm by getting a gun through security, but more often than not, people just forget they had a gun with them.
NEW ORLEANS MAN STOPPED FROM CARRYING AR AND 163 ROUNDS OF AMMUNITION ONTO FLIGHTD
TSA administrator David Pekoske told The AP that guns tend to be intercepted at bigger airports in areas with laws more friendly to carrying a gun.
The top 10 list for gun interceptions in 2022 includes Dallas, Austin and Houston in Texas; three airports in Florida; Nashville, Tennessee; Atlanta; Phoenix; and Denver.
FLORIDA COUPLE SHOWS OFF BACKYARD POOL SHAPED LIKE REVOLVER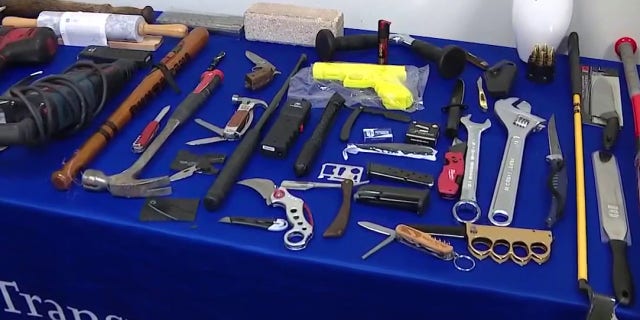 Punishment ranges from arrest to just having the gun confiscated. Local and state laws play a major role in determining repercussions. Sometimes flyers are allowed to give the gun to another person that is not traveling with them and continue on their way.
Unloaded guns can be put in checked bags, but proper procedures must be followed.
So far this year, TSA agents have stopped 14 firearms from being carried onto planes, and 13 of those guns were loaded.
Those carrying the guns were between the ages of 24-52.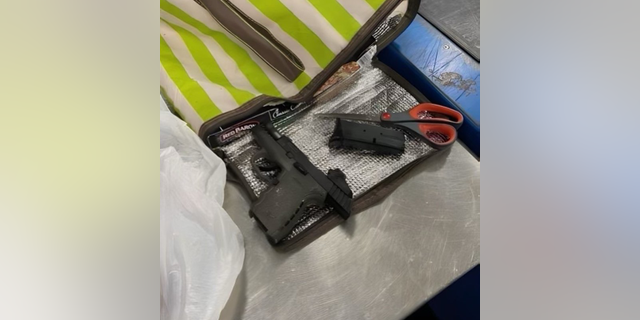 "If you are going to travel with your gun it must be in your checked bag but be sure you know exactly what the gun laws are on each side of your trip," said TSA Federal Security Director Arden Hudson. "Guns may not be legal to transport even in checked baggage in some jurisdictions."
The Associated Press and Fox News' Greg Wehner contributed to this report.